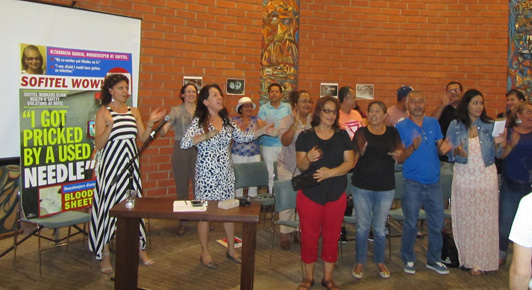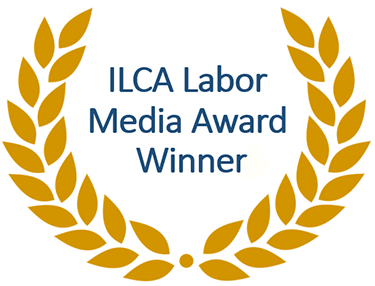 ILCA, Second Place, Best News Story
BEVERLY HILLS, Calif. – "We consistently find needles, bloody sheets, and bodily fluids on the towels," said Sofitel housekeeper Altagracia García at an open testimony Monday night about working conditions at the hotel. One time she got pricked by a needle, and a coworker sprayed Windex on her wound. Management, she said, would not send her to a doctor to be examined. "For months I worried about being infected with hepatitis or even worse, HIV."
García and several other workers from the toney Beverly Hills-adjacent hotel offered dramatic testimony at an "Invisible No More" panel before four experts on different aspects of labor. Temple Emanuel, a nearby Reform Jewish congregation, opened its chapel for the occasion.
Other workers echoed the theme of the needles and bloody sheets. Sofitel Los Angeles at Beverly Hills sits right across the street from Cedars-Sinai, a prestigious private hospital, also with a well known anti-union policy. Some of the workers referred to "patient dumping." Patients discharged from serious operations register at the hotel for their recuperation and continuing care. But there is no special training for hotel workers on handling medical clientele, which can be dangerous.
Sofitel L.A. is part of the Paris-based Accor Group, which has worldwide interests also in the Novotel, Pullman, Ibis, Mercure and Fairmont chains. The Sofitel-branded L.A. hotel is 75 percent owned by a firm called Gem, and 25 percent by Accor. The average percentage globally is more like 80 to 20 percent. Panelists pointed to a split between the ownership and the brand. Poor labor practices, or other problems, can hurt business, but the owners will often blame the brand, while the brand says it's the owner's fault. In either case, union organizers say, employees lose out, unless they have a strong and vibrant union.
The four-person panel, sponsored by the hotel workers' union UNITE-HERE and CLUE (Clergy and Laity United for Economic Justice), included:
Los Angeles City Councilmember Paul Koretz represents the district in which the hotel sits, and is one of the most consistently pro-labor Council members. Rabbi Dr. Aryeh Cohen, a faculty  member at American Jewish University, is the rabbi in residence at the progressive human rights organization Bend the Arc, and is on the CLUE executive board. Peter Rosenblum is a professor of International Law and Human Rights at Bard College. Ron Oswald, visiting Los Angeles from his home in Geneva, Switzerland, expressly to participate in these hearings and discussions about unionizing the Sofitel, is General Secretary of the IUF (International Union of Food, Agricultural, Hotel, Restaurant, Catering, Tobacco and Allied Workers' Associations).
The panelists were asked to consider the questions: "Are these conditions acceptable? What is a reasonable solution?"
In April 2016, in response to the "patient dumping" problems at the hotel, workers filed a formal complaint to California Occupational Safety and Health Administration (OSHA), citing the high risk of contamination. Even under those conditions, workers say, the hotel did not supply workers with disposable gloves. In the rush to complete her daily tasks, García said she slipped and fell in a bathroom, and has not been able to return to her job.
Hotel workers speak out
One after another, workers cited other problems at Sofitel. Each housekeeper is assigned to clean 13 rooms per shift. But, unlike other hotel chains, Sofitel does not provide carts for the workers to wheel their supplies down the corridors. Mirna Saavedra testified that they have to hand carry all the equipment they need – a bucket with five different cleaning liquids in one hand, and bags for the toiletries and trash in the other. For each room they clean, they have to make three to five visits to the storeroom at the end of the hall, to pick up fresh bedding, towels and supplies. That means anywhere from 39 to 65 trips to the storeroom per shift, which not only wastes employees' time, but places greater physical burdens on them with all the walking and the carrying. One day, Ms. Saavedra decided to take a cart out of the storeroom for her rounds, and the next day her supervisor gave her a reprimand. "Who do you think you are?" she said her boss asked her. "I'm here giving this testimony because I want to be treated with respect," Saavedra added.
Francisco Montoya, a kitchen worker, spoke of Lupe Cruz, the anti-union human resources person the hotel hired, who showed the staff videos of workers getting arrested by the police. "Is that what you want?" Cruz asked, according to employees who said they were forced to attend his session.
Victoria Tapid, a server in the hotel bar, told of flagrant sexual harassment, not only on the part of management but also by the paying guests. She said employees are told to "suck it up" when patrons molest them. She cited an instance when an inebriated patron actually buried her head into the employee's cleavage, and the manager instructed her to go back and flirt and see if she could sell the party another bottle of champagne. "I'll be pleasant and smile," Tapid declared, "but there's a line I won't cross."
Employee of the Month Roman Cabrera in guest services had his picture posted in the hotel, but said that once he participated in an April 25th delegation of workers to management to discuss working conditions, his picture was taken down. He reported hearing managers literally screaming at housekeepers and humiliating them to the point where the worker was unable to defend herself. He also commented on the failure of the hotel to pay minimum wage, which for hotel employees in L.A. was supposed to reach $15 an hour as of July 2015. Workers were paid not much more than a third of that. What is more, he said, understaffing means it's hard to take your required break during your shift.
The panel responds
The panel listened, heard, and responded. Council member Koretz confirmed that "wage theft is pretty common" in L.A., with some $25 million being stolen from employees each week. It comes in several forms, such as failure to pay minimum wage and denying workers their break time. He was well aware of union-busting companies coming in to scare and discourage workers – he's seen it across the street where Cedars-Sinai spent millions of dollars trying to stop the nurses from forming a union, and so far the hospital has been successful. But most uncommon, said Koretz, is not to use carts for the housekeepers. That only results in added time and injuries; "It's stupid management practice, a lose-lose proposition." Also he was shocked by the unusual occupancy at the hotel by Cedars-Sinai patients and their medical waste. "The City will do whatever we can to correct it."
Rabbi Cohen said he was overwhelmed by the "total disregard for humanity" that he heard. If visitors to L.A. expect a warm welcome, how can it be that an upscale hotel like the Sofitel treats its employees with such little respect? "The good news is that Pharaoh never believed that Egypt would be destroyed." There is hope, he added, and the people of faith in CLUE are willing to walk that road with the union.
Prof. Rosenblum admitted he was "humbled in your presence, by your willingness to tell these stories…. It's about workers in this country." Earlier in his career he said he worked in places he called dictatorships, where companies showed one face to the public to hide the reality they practiced in-house. But eventually, violations of the law, of best practices, and against the very reputation of the company, will be exposed. "What you have described are symptoms; the real issues are respect and the right to establish a process to make things better, knowing that concerns will be addressed."
Ron Oswald from the IUF stated that Sofitel does not work this way in any other country. It's only here in the U.S. that they think they can get away with it. Corporate headquarters in Paris has no explanation for why conditions are so terrible here. He did say, however, that based on IUF complaints, the union-buster Lupe Cruz has been fired. "You're being denied your fundamental human right to form a union. U.S. law is behind you, the IUF is behind you, and the United Nations Declaration of Human Rights is behind you. Where there's a union in place you make sure that problems get fixed. It's not a question of if, it's just a question of when, and as long as it takes, you will have our support."
The IUF has 420 affiliates in 127 countries. UNITE-HERE is one – it's the largest hotel workers union in the world – and the United Food and Commercial Workers (UFCW) is another. In fact, these are the two single largest entities within the IUF, which formally represents 2.3 million workers, and informally as many as 10 or 11 million, because in many poor countries even the $3 per capita dues to the national union is too burdensome to impose.
The evening closed with some hearty union handclapping and a rousing chant of "Sí se puede!" Participants in the event also signed a letter to the general manager of Sofitel seeking a way forward toward union representation.
Photo: Hotel wokers of Sofitel Los Angeles at Beverly Hills rallying for dignity and a union. Altagracia García, featured in the poster, is standing center in black and red.  |  Eric Gordon/PW