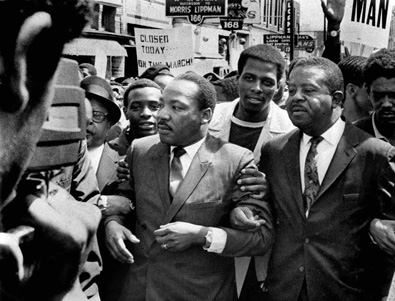 CHICAGO – On Jan. 15, 1915 there was a big march on City Hall by some 1,500 jobless and hungry people demanding relief. Among the organizers were Lucy Parsons and Jane Addams.
. In attendance was Ralph Chaplin, a Wobbly. After the demonstration he sat down to complete the writing of the words for the famous labor anthem "Solidarity Forever." He had begun writing he song back in 1914 during a miners strike in Huntington, West Virginia.
The words of the first verse:
When the union's inspiration through the workers' blood shall run,
There can be no power greater anywhere beneath the sun;
Yet what force on earth is weaker than the feeble strength of one?
But the union makes us strong.
Video of Tom Morello The Night Watchman singing "Solidarity Forever"
Fourteen years later, also on Jan. 15, but in 1929, Martin Luther King Jr. was born.
And on the same calendar day, Jan. 15 in 1943 (during WW II), the Pentagon (headquarters for the U.S. Department of Defense) was dedicated. It remains until this day the largest office building in the world. The dedication took place just 16 months after the groundbreaking. As many as 13,000 workers labored on the construction site on any given day.
Photo: Dr. Martin Luther King Jr. and Rev. Ralph Abernathy, right, lead a march on behalf of striking Memphis sanitation workers March 28, 1968, a week before he was assassinated. Sam Melhorn/ The Commercial Appeal/AP