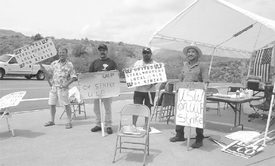 Mexican steelworkers show support with 1-hour work stoppage
HAYDEN/KEARNY, Ariz. — Thousands of Mexican miners and metallurgical workers staged one-hour work stoppages in an action in solidarity both with striking copper miners here and striking steelworkers in one of Mexico's largest steel mills, Sciartsa, located in Monterrey. The action, carried out by the National Union of Mine and Metal Workers of Mexico (STMMRM), "sends a loud message" to Grupo Mexico, the mines' owner, that "there's a lot of solidarity," said USW District 12 Sub-Director Manny Armenta.
Approximately 1,500 mine and smelter workers in Arizona and Texas have been striking over Asarco's unfair labor practices since the July Fourth weekend. Asarco is still unwilling to budge from their concessionary demands, and has yet to offer the strikers anything that would end the strike.
"We sacrificed to help them [Asarco]," stated Tony Mesa, president of Local 886 of the United Steelworkers, the union representing most of the strikers. Mesa was referring to the last contract, the first negotiated after Grupo Mexico bought Asarco. The union agreed not to take a raise in the first year of that contract unless copper went over $1 a pound. It did not. The second and third year raises did not keep up with the cost of living.
Now that copper prices are reaching record highs, and demand for the product is unrelenting, "We're asking for a slice of the pie," said Mesa, but Grupo Mexico wants to keep it all for themselves.
Since Asarco was bought by transnational conglomerate Grupo Mexico in 1999, working conditions have deteriorated. Workers have been disciplined for being out sick, even under a doctor's care. They are also being forced to work a second consecutive shift, sometimes even being pulled out of the showers to do so.
Tino Flores, president of USW Local 915 in Kearny, showed off the food boxes filling his union hall. These particular food donations came in from California, and will be distributed to strikers and their families before the next batch of food boxes arrives in a few days.
"No one will go hungry," stated Tony Mesa.
In spite of the hardships strikers face, there is a lot of strength amongst them. "Our members realize the struggle we're in," Mesa said. "But we'll be there one day longer than they are."
Support from the local community has been strong. People drive by and honk or wave. Many stop to talk to the picketers, bringing water, soda and food with them.
The Arizona Democratic Party spearheaded grocery drives to collect donations for striking miners. Rep. Raul Grijalva (D-Ariz.) has walked the picket line with strikers. He wrote a letter signed by 44 members of the U.S. House of Representatives urging the CEO of Asarco to bargain in good faith with the union. The Tucson Coalition of Jobs with Justice walks the picket line at the Silverbell Mine every Friday, and in the Hayden/Kearny area the local teacher's union has done one hour stints on the picket lines with striking miners there.
Donations to the Copper Workers Emergency Strike and Defense Fund can be sent to USW Local 915, P.O. Box 550, Kearny, AZ 85237. All proceeds will be used for striking copper miners.
Roberta Wood contributed to this story.