Darrius Fields has been in and out of correctional facilities in Illinois since he was 12 years old. He is now 28. When he was first locked away as a teenager, he experienced a series of psychotic episodes: hearing voices in his head and undergoing strong feelings of paranoia. His condition left untreated, Fields says, ultimately led to a juvenile criminal record. Like so many other young Black men in this country, he never received adequate mental health resources and instead found himself facing the brunt of the criminal justice system.
For the last several years, Fields has been held in solitary confinement at Menard Correctional Center in southern Illinois. The practice, which international standards define as the physically isolated incarceration of individuals in a cell for 22-24 hours per day, constitutes a form of torture according to a recent report from a committee of the United Nations Human Rights Council.
Fields has had several run-ins with prison staff over the years. He says he has been targeted by the administration for "defending his humanity." At various times in the past, he has not only fought with prison guards but also staged hunger strikes and filed formal grievances against individual officers.
These actions, he said, only got him extended time in the disciplinary segregation unit, the name that the solitary confinement cells go by at Menard. Fields says he has found himself trapped in the constant darkness of his segregation cell with minimum access to food, resources, and mental health services and only a limited amount of outside interaction.
The Uptown People's Law Center says there are an estimated 8,000 Illinois prisoners being held in some form of solitary confinement. Across the U.S. as a whole, the number soars to around 100,000. To disguise its use of solitary, the Illinois Department of Corrections (IDOC), like other state prison systems, calls the practice by other names, such as Disciplinary Segregation, Administrative Detention, and Room Restriction. Such obfuscatory language makes it difficult to compile official data on just how many people are locked away in isolation.
Prisoners resist
Outcry against the inhumane conditions of prisons comes from both policy reform advocates and from movements of resistance within the prisons themselves. While prison uprisings are not a new occurrence, they are often an indicator of turbulence within systems of incarceration. In early February this year, inmates at the James T. Vaughn Correctional Center in Smyrna, Delaware, took four corrections department workers hostage inside one of the facility's buildings.
During a series of phone calls with outside negotiators, the inmates involved listed a number of motivations. They expressed their growing concern with the Trump administration, saying, "We know the institution is going to change for the worse." In their list of demands was a request for more access to educational resources. "We want education first and foremost. We want a rehabilitation program that works for everybody. We want the money to be allocated so we can know exactly what is going on in the prison, the budget."
The entire incident lasted two days and ended after police forces stormed the building where the prisoners were holed up with the hostages and regained control of the facility.
Many have criticized such extreme actions on the part of incarcerated people, but often their pleas for help from the inside go unheard. When People's World visited Darrius Fields at Menard Correctional Facility on March 21, 2017, he claimed to have gone several days without food or water after an altercation with a prison guard.
In his last standoff with prison security, Fields said that guards claimed he had spit on one of them and then repossessed all of his belongings. "I've been without any clothes or sheets for four days," he said. "I had to roll the mattress over me to stay warm."
Dumping ground for the vulnerable and mentally ill
Erica Meiners, a professor in the College of Education at Northeastern University, has spent several years researching prison justice movements as well as anti-prison organizing. She sees a need for better alternatives. In an exclusive interview with People's World, Meiners noted that when it comes to the use of solitary confinement, there is a popular misconception that it is only used for the "worst of the worst." Yet, in reality, she said, it is often inflicted on some of the most vulnerable inmates. "They have been held for a broad range of reasons, from being LGBTQ to having mental health issues."
This narrative perhaps rings true for Darrius Fields, who has now spent over a half of his life locked away without, until recently, receiving proper medical attention for the mental health issues he says he faces. "Someone once told me that if I had received the therapy that I'm getting now when I first needed it, I wouldn't be here."
The prison system is only one piece of a larger institution that has failed Fields. An underfunded education system, a lack of public housing, and the overall neglect toward the mental health and wellness of marginalized communities in the city of Chicago combine to funnel too many people like Fields into a life in the criminal justice system.
It's a story that keeps repeating today. In 2012, Mayor Rahm Emanuel shut down six of twelve public mental health clinics. Shortly thereafter, the Board of Education voted to enact the largest wave of school closings in Chicago history, affecting approximately forty thousand students, mostly in the predominantly Black and Brown communities of the city's west side.
Meiners sees the prison pipeline as being connected with the lack of psychological care. "We know our prisons have become de facto mental health services in our nation. When we defunded mental health institutions, we did not provide the support for the community that is needed."
Meiners' work points toward a small but growing movement that advocates for alternatives to prisons. The ultimate goal for some grassroots activists remains a complete and total dismantling of all prisons and systems of policing. This abolition movement demands community-based healing and restorative justice processes that invest in actual solutions to the social issues many Black and Brown populations face.
For Meiners, that means a methodical approach to recalculate and reimagine what safety and communities mean. "More borders and more police is not the road to public safety," she says. "Some people think it's radical, but it's actually common sense; we know what's making our blocks stronger and we know what makes our communities thrive."
Limiting solitary confinement
In the meantime, public policy can play a role in mitigating the damage done by incarceration practices like solitary confinement. Where there is public pressure on lawmakers, policies are beginning to shift toward bringing about an end to the use of solitary.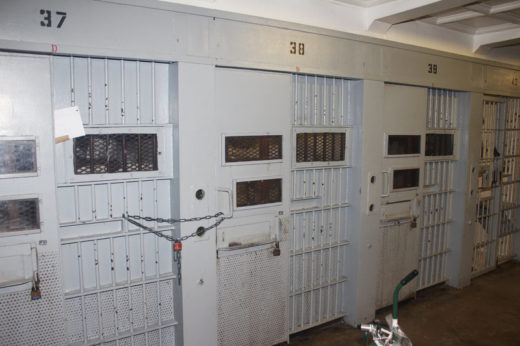 Lawmakers in Illinois are currently working on passing HB0259, a bill that would significantly limit the amount of time someone can be held in solitary. The proposal is expected to be called for a vote in the House Restorative Justice Committee sometime in the next several months.
There are a number of organizations currently working to push for the bill, including the Chicago chapter of the national LGBTQ prisoners' advocacy group Black and Pink, Uptown People's Law Center, and Stop Solitary Illinois. In addition, a number of politicians have signed on to support the bill, including Republican co-sponsor David Harris, Democratic Representative Sonya M. Harper, and chief co-sponsor Will Guzzardi, to name a few.
Last year a similar bill, HB 5417, was introduced. During the legislative session, however, it was never called to a vote, as it lacked the proper support, and was subsequently killed before any progress could be made. Grassroots organizations campaigning for the bill say they are more prepared this time around and have worked closely with one another to create a statewide push in support of the Stop Solitary coalition in Illinois.
Illinois is not the first state to make such a move. In 2013, almost 30,000 inmates in California launched the largest nationwide hunger strike in protest against solitary confinement and other prison conditions. The strike eventually resulted in a settlement which ended indeterminate-length sentences in segregation.
At the national level, the Obama administration announced in 2016 a permanent ban on the use of solitary confinement for juvenile offenders in the federal prison system. As momentum against solitary grows nationally, legislation such as Illinois' HB0259 could set a precedent for eliminating the practice among adult inmates as well.
While abolition remains a long-term goal for some activists, for now, inmates are left to square off against the injustices of practices like solitary. With only their voices left to express their discontent and fear, Fields and fellow inmates push back, even if it means more time holed up in disciplinary isolation.
Fields says he hopes there will be a time when he can focus on getting better outside the walls of Menard Correctional Facility and reconnect with the family and friends he left behind so many years ago.
"I don't want to die here," he says.