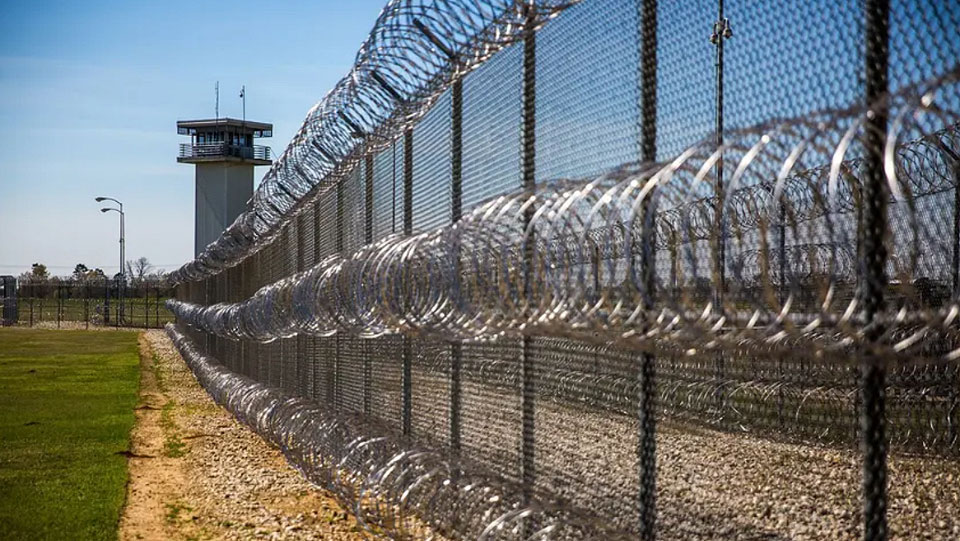 Prisoners across Texas are sending a dramatic message to prison officials and state lawmakers: We won't eat until you address the state's harsh solitary confinement practices.
For about a year, a group of prisoners has been organizing support inside and outside prison walls to push the state to limit which people are kept in solitary confinement and for how long, according to an independent activist working closely with the men.
Texas' solitary confinement practices are some of the harshest in the country, according to Michele Deitch, director of the Prison and Jail Innovation Lab at the University of Texas at Austin. Thousands of prisoners are kept isolated for extended periods of time, their only human contact the occasional brush of a hand through their food slot while receiving a dinner tray or being handcuffed for often rare trips to the shower or a caged outdoor area for solo recreation.
In November, 3,141 prisoners were held in solitary confinement, which the Texas Department of Criminal Justice calls restricted housing or security detention, according to the agency. More than 500 of them had been there for at least a decade.
Primarily, the imprisoned men argue they should not be kept in isolation for years or even decades solely because officials identified them as prison gang members, even if they haven't had any behavioral issues in lockup.
After waiting months for prison officials or state legislators to respond to their list of proposed changes without success, the men planned a wide-scale hunger strike beginning Tuesday—the first day of Texas' legislative session.
It's unclear how many prisoners are participating in the hunger strike, but activist Brittany Robertson estimated Friday that more than 300 men held in solitary confinement in more than a dozen prisons across Texas had signed on to the protest.
TDCJ spokesperson Amanda Hernandez said the agency was aware of the planned hunger strike, and prison officials were closely monitoring those in solitary "to see if there is a change in their eating habits." Hernandez did not respond to questions on possible policy changes or negotiations with prisoners.
The prisoners' proposals are similar to a settlement agreement reached in federal court following a two-month hunger strike in 2013 against California's solitary confinement practices. In 2015, after years of prisoner-led litigation and legislative hearings prompted by the widespread protest, California agreed to no longer place people in solitary based only on their gang status, nor would it keep people in isolation indefinitely.
Both practices are still in place in Texas.
"This kind of indefinite placement in these settings is truly a form of torture," Deitch said, citing international human rights standards that define more than 15 days of solitary as torture.
Psychiatry experts have agreed that solitary confinement harms any prisoner, especially those with existing mental illnesses. A 2015 study by Texas civil rights organizations argued the state's overuse of solitary confinement was unnecessarily expensive to taxpayers, increased crime and prison violence, and caused thousands of mentally ill people to further deteriorate.
Still, the number of Texas prisoners kept in isolation used to be much higher. Fifteen years ago, more than 9,000 prisoners were housed in solitary at once, according to TDCJ. The number has been shrinking steadily, as the effects of solitary confinement on prisoners, the large majority of whom will one day re-enter the free world, have become better known.
"The agency is committed to continuing reducing the number of inmates in security detention by diverting them prior to entering restrictive housing and providing effective programs that offer pathways for inmates to leave segregation," Hernandez said.
The TDCJ spokesperson said prisoners are assigned to solitary only after extensive reviews and are then reviewed regularly for reassignment to the general prison population. She added that prisoners are placed in solitary only if they are escape risks, have committed violent assaults or serious offenses in prison, or are confirmed members of dangerous prison gangs.
The latter criteria are what is prompting the hunger strike effort.
"The TDCJ's claim that placing [gang] members in [restricted housing] is necessary for the safety and security … has been disproven by multiple other states and the federal bureau of prisons nationwide who manage these groups and allow them to remain in general population," the prisoners wrote in their proposal.
Deitch stressed that prison gangs, often organized by race, are extremely dangerous and cause major violence within prisons. But she still believes the changes suggested by the prisoners are reasonable.
The prisoners would change Texas policies from "status-based" to "behavioral-based," putting people in solitary for serious rules violations, not simply gang membership. Their proposal would also create firm timelines for people to get out of solitary and create new pathways for re-entry into the general prison population.
Deitch and the prisoners' proposal claim the current review hearings are a joke, with Deitch saying prisoners can be kept in solitary because they have a gang-related tattoo, even if they have shown good behavior.
Currently, there is a re-entry program for confirmed gang members, but it can take years to enter and require prisoners to incriminate themselves or name other gang members, they said.
"You could be seen as a snitch for having to give up names," Deitch said. "So, there's a lot of people who don't want to go through that process because it's dangerous and it's extremely hard to get into."
Robertson and several current and former Texas prisoners hope the hunger strike will lead them to a negotiation table with prison officials and lawmakers, similar to what happened in California.
A Wisconsin prison rights activist who communicates with dozens of men in Texas solitary, Robertson noted the growing crises within Texas prisons largely because of short-staffing and the pandemic, including poor food quality and portion sizes, a lack of showers or recreation time for those in isolation, and a high number of suicides. TDCJ reported 61 suicides in 2021 and 49 through November of last year, compared with 35 in 2019.
"These men can't afford a 10-year court battle," Robertson said, referring to California's legal fight for changes to solitary practices. "They need help now."
This story is reprinted from The Texas Tribune, a nonprofit, nonpartisan media organization that informs Texans—and engages with them—about public policy, politics, government, and statewide issues. The article originally appeared here.