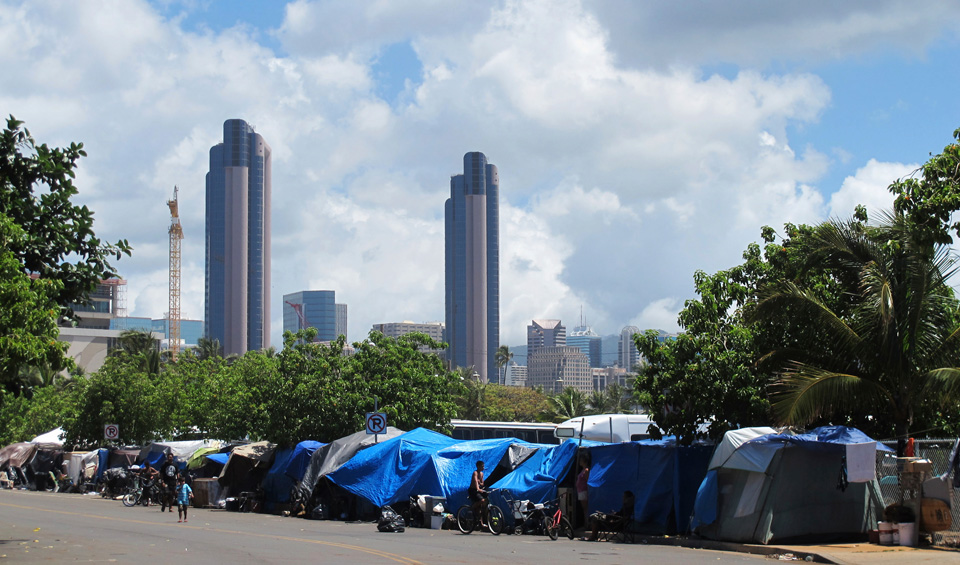 A number of recent articles in the corporate press around the country highlight the ongoing dilemma the capitalist class faces in dealing with the persistent and rising homelessness problem. It has become so pervasive in all major cities (and at least one colonized state, Hawaii) one would think it might merit the major media outlets assigning a special reporter to the homelessness beat, like those covering Russia, terrorism, or national security.
Whoever said "the poor will always be with us" was probably not only an apologist for the market system and its collateral damage, but may well have been living in one of those imperial countries of the past that so easily dumped their surplus population of unemployed, radicals, and convicts onto outlaying colonies – such as Australia, New Zealand, and of course the Americas.
In the modern era, there is no place to hide the precariat – no conquered lands to send the unemployables. The same capitalist system that today fosters a housing problem also concentrates its diminishing number of jobs in urban areas, thus keeping many people who need work as close to the cities as possible.
But where there is a promise (however tenuous) of work, there is no matching promise of work with a sustainable wage or a guarantee of housing.
A building boom – but for whom?
A February headline in the Wall Street Journal announced "Honolulu's Kakaako District Is at the Center of a Building Boom."
The article says the district is now home to $20 million "luxury condominiums and townhomes." "A 10,000-square-foot penthouse atop the 36th floor of Waiea Tower," it proclaims, "is listed for $36 million, believed to be the highest ever for a condo in Hawaii."
In a recent April broadcast of Hawaii News Now, a Honolulu-based news site, "luxury units," priced between $6 and $28 million at the Ala Moana, were ogled over by TV news reporters.
Physically, Oahu is not even the size of Orange County, California, so it should come as no surprise that in the shadow of these multi-million-dollar "luxury units" of Honolulu, there are blocks and blocks of tent cities.
It's happening everywhere though.
A friend recently sent me a listing for an apartment in San Francisco, where I lived for 15 years. $4,100/month for an apartment in Bayview. The ad read, "Bayview attracts artists and small-town entrepreneurs who continue to turn this former industrial area into an affordable haven for urban pioneers."
I've kept up with the gentrification of that city, but still, this ad knocked the wind out of me. This "formal industrial area," once known as "Bayview/Hunter's Point," actually used to house working people, mostly Black. They were much more despised than those "small-town entrepreneurs," and no one cared about their aspirations to be "artists."
I taught at a high school in that area, and I think I can safely say none of my students' households had a combined monthly income of $4,100. And none of my peers who are still teaching in San Francisco can afford to live there either.
But this gentrification process was already foreshadowed in the late 1990s, when the housing projects in the area were slated for destruction and the city elites held press conferences assuring Black residents of their future. Remember when even Black mayor, Willie Brown, pitched the new ballpark as a salvation for the hemorrhaging Black community? San Francisco got its new ballpark, but lost its Black residents.
Reality hits
Another recent article finally gets us closer to the crux of this problem. A Los Angeles Times headline announced: "LA leaders promised to spend $138 million on homelessness. Then reality hit."
What "reality"? Of course, the LA Times, like most corporate outlets will never take you too deep. The long-time newspaper of the right-wing Chandler family, which in decades past owned virtual slave-labor camps of Mexican workers in the California Central Valley and used local police and citizen posses to harass, arrest, beat up, and break up organizers from labor unions and the Communist Party, has had a pretty consistent record advocating capitalism and despising the left. The family single-handedly railroaded the gubernatorial race of a successful socialist candidate in the 1930s with a smear campaign in its newspaper. So don't expect deep thinking from the Times.
So what was the reality that hit the leaders of Los Angeles? The same one that hits the leaders of Oahu and all of the colonized Hawaiian Islands. The same reality hitting New York's Harlem, where the "SoHa" rebranding efforts of real estate agents is another shot in the class war aimed at driving out working-class families by driving up rents. It is the reality hitting many urban areas where public housing is being demolished and residents are competing for the less-funded Section 8 program.
It is the reality that hit a young progressive mayor in Cleveland, Ohio, back in the late 1970s. When Dennis Kucinich was elected, he had some innovative and radical ideas about solving his city's growing affordable housing problem. He ended up in a head-on collision with the dark forces that really run our cities and land development – the banks. The banks, which had not been voted into any office, nixed the programs of the man who was popularly elected to implement them.
That's the "reality" you're not likely to read about in the pages of the New York Times, Washington Post, LA Times, or any of their kind. It's the reality that leads Los Angeles Mayor Eric Garcetti to propose selling eight city-owned parcels of land for up to $47 million to real estate developers while counting the $47 million as part of his homelessness budget because, apparently, homeless and low-income people will live in some of the units developers build on the land.
A subsequent appraisal showed that even just five of the eight parcels could actually be valued at $72 million. What bank is going to finance (and what developer is going to build) "public housing" on that goldmine? Who's going to keep costs down on an "affordable housing" venture? With land appraised at such inflated values, which homeless people will be able to pay the property taxes on these "affordable" homes? Or which developer will absorb these costs?
Mayors and city officials will keep trying to dazzle us at press conferences with all their budgeting maneuvers, but capitalism will not solve this problem. The powers of our elected offices are confined by the market system, and the market system does not crave housing for the homeless. It craves profit. And if a mayor dares to challenge this, they will face – as Kucinich did – a short term in office, recall, and endless roadblocks to hamper their agenda.
The phenomenon takes on an even meaner angle in Hawaii where the homeless problem largely impacts Native Hawaiians. This is why sovereignty activists, who want the U.S. out and their country back, always term this a "houseless" problem. Hawaii, after all, is their home. It is in living memory for many an elder when statehood was foisted upon the territory. And it was that generation's elders who witnessed white planters stealing the lands and locking up their queen, all with the help of U.S. Marines.
Land as a public utility
Solutions are radically simple, but not easy. We have to seriously revamp our concepts of private property.
Land cannot exist for speculation; it must be made into a public utility. Public schools and our postal service are under attack, but they still exist as models for how we can approach homelessness.
It should be just as easy and accessible for me to secure housing as it is to mail a letter through the U.S. Postal Service at a low 49 cents (compared to $10 with FedEx). Getting housing should be just as logical to our civilized thinking as enrolling your child in the local public school. Call it the public option for housing.
Of course for Hawaii, Puerto Rico, Guam, and American Samoa, these issues are exacerbated by U.S. colonialism and the establishment's refusal to catch up with developments of the mid-20th century, when many colonies achieved their independence and implemented land reforms.
Like capitalism itself, the problem of homelessness doesn't have to exist. Re-thinking the nature of how land is owned and used is the first step toward solving it.