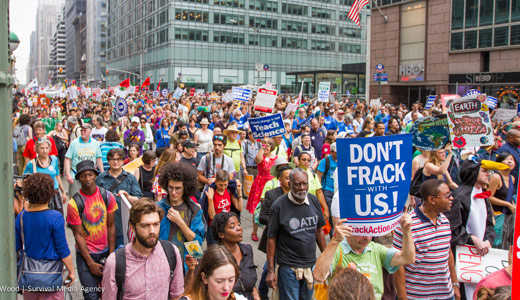 NEW YORK — From all over the U.S. and around the world, people flocked to the People's Climate March here on Sept. 21. They came to stand up for the environment, oppose those who would continue to jeopardize the planet, and show New Yorkers that the grass is always greener…when you fight to make it that way.
Some 400,000 people showed up for the event, in a bold campaign to wake the world up to the dangers of climate change, especially ahead of world leaders meeting on Sept. 23 to debate environmental action at the UN Climate Summit.
This was no small demonstration with event organizers calling it the largest climate march in world history, much larger than the Forward on Climate rally held in Washington, D.C. last year (an impressive event in and of itself). Among the hundreds of thousands filling the streets of Mid-town Manhattan there were celebrities, of course, including 350.org's Bill McKibben, actor Leonardo DiCaprio, and Sen. Bernie Sanders, I-Vt. Generating some of the most excitement, however, were activists from other nations who stood in solidarity with their peers.
They came from both richer and poorer nations alike, with the visitors from the poorer countries, however, underlining how it is their countries that often suffer first and foremost from the drastic effects of climate change.
From Jaitapur, Maharashtra State, India was Dr. Vaishali Patil, head of the anti-nuclear group Forum Against Disastrous Projects in Konkan and president of the Forum for Demanding the Rights of Indigenous People. She is currently leading the charge in the fight to stop Jaitapur Nuclear Power Plant, which would become the largest nuclear power plant in the world, from being built in her country. "Nuclear energy can never be clean energy," she said. "It can never be safe energy. And pursuit of these types of dirty energy are examples of violence against nature and against the planet. Many people are angry about my country's development of nuclear power, but no one else from India is participating here today – so I am here to stand with everyone in the fight to save the environment. I am here with a message of peace – for animals, nature, and human beings."
Hailing from Vanuatu, Pacific Islands, Isso Nihmel, a coordinator with 350.org, said he was also here to stand in solidarity with everyone, and to call to attention the environmental havoc that occurs in his own homeland. "When we talk about climate change in the Pacific Islands, we are very serious. For us, it is the biggest issue. We're facing pollution of our sea water, pollution of our drinking water, and other climate disasters due to our reliance on dirty coal and Big Oil. Nothing is being done, and this is a serious matter for our young people. This is our future, and it's being taken away from us. So I became part of a 350 group called Pacific Climate Warriors, and we came here today to let people know that we plan to do something about the fossil fuels that threaten us."
Just what they intend to do will occur this October, when the Pacific Climate Warriors, all from the Pacific Islands, will sail to Australia's Port of Newcastle, the world's largest coal port, which is responsible for most of the coal pollution that drifts over into their homeland. They will cross the Pacific on traditional handmade canoes in what could become the most creative mass demonstration of all time, in order to draw attention to their plight.
Union members were among the hundreds of thousands of Americans at the march. Saying they see climate change as a labor issue, they pointed to the fact that climate disasters like Hurricane Sandy here in New York often hurt their members – workers, the poor, youth, women, immigrants and people of color – the most and that that green jobs could be good-wage jobs that can't be shipped overseas.
Among the marchers were members of the Communications Workers of America, the Teamsters, the American Federation of State, County and Municipal Employees, the Service Employees International Union, the United Auto Workers and many others.
Shane Red Hawk, a member of the Sicangu Lakota tribe from Ring Thunder, South Dakota, was here to talk about a danger more close to home – one which could further exacerbate environmental degradation and burden his people: the Keystone XL pipeline. "We need all the help we can get," he said. "Once they start building this pipeline, that's it. This is going to hit us and hurt us on many levels. They're tearing up an important and precious land. And my Lakota people, we call water our first medicine, and it's very important – vital – to us, like oxygen. It's something that's so important it's sacred, so if a pipeline leak were to contaminate it, it's a lot more than the pollution part of it; you're affecting everything that relies on that water, from vegetation to human beings. We consider it to be a terrible desecration."
The level of diversity of the people attending the march was incredible, but also ironic, because while oceans separate their nations, the problems of climate change and environmental chaos seemed to have drawn them closer together than ever before.
"Our traditional resources are slowly being depleted," said 350's Nihmel. "Some of our colonies are being forced to relocate. What is happening to us is wrong." However, he concluded, echoing his group's slogan, "We are not drowning. We are fighting."
Photo: People's Climate March NYC, September 21, Shadia Fayne Wood, http://peoplesclimate.org/media/