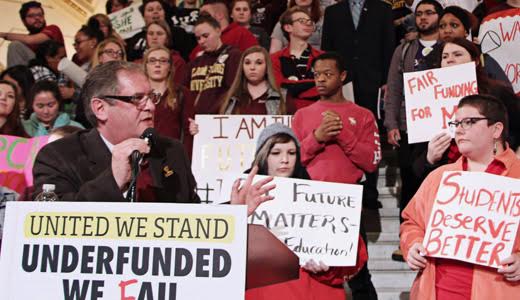 Some 5,500 faculty members at 14 Pennsylvania state system universities-not including the state's flagship university, Penn State-will vote Sept. 7-9 on whether to authorize their union to take them out on strike. College coaches, who are also union members, will vote five days later. Both votes will occur after classes began on August 29.
The votes come after fruitless talks since late 2014 with the colleges' management, who have demanded, among other things, that adjunct professors at the schools take wage cuts.
Kathryn Morton, speaking for the union – the Association of Pennsylvania State College and University Faculties – said management's latest proposal, during a two-day bargaining session in Harrisburg, would cut part-time adjuncts' pay by 20 percent, compared to inflation.
Formally, she added, management offered the adjuncts zero percent raises in 2015-16 and 2016-17, 1 percent in 2017-18 and 2018-19 and a step increase the following January.
The talks affect faculty at 14 state system universities: Bloomsburg, California, Cheyney, Clarion, East Stroudsburg, Edinboro, Indiana, Kutztown, Lock Haven, Mansfield, Millersville, Shippensburg, Slippery Rock, and West Chester. The schools have 107,000 students combined, and are relatively inexpensive.
The lack of raises for adjuncts is important, not just in Pennsylvania. Non-tenured professors, including adjuncts, make up more than half of all college faculty nationwide.
And adjuncts, who are the lowest-paid and often work part-time, must commute from college to college and hold more than one job simultaneously in order to make ends meet.
Full-time faculty at the 14 Pennsylvania colleges would get hit with a health care cost hike of thousands of dollars in deductibles and out-of-pocket expenses, Morton explained. The university administrators proposed paying for that with a one-time $600-per-professor bonus.
"It certainly seems the State System wants to provoke a job action," said union President Dr. Kenneth Mash said. "Why else would they make such an incendiary salary proposal? Our members can see the leadership of the State System accepted thousands of dollars in salary increases last year. We cannot maintain great universities without continuing to attract and retain quality faculty."
Administrators also want to push more students into distance education, let uncredentialed grad students teach and increase the number of adjunct professors, the union said.
"Our members will not compromise on quality," said union Vice President Jamie Martin, chair of the bargaining team. "State System officials cannot make up for their inability to secure state funding by raising tuition and fees and trying to exploit their faculty."
"Our faculty and coaches clearly feel that the State System has not negotiated fairly. They are more interested in playing games than negotiating seriously," Mash added. "It is completely unfair to our students for the State System to continue to drag this process out. Eventually, there will be a contract. We don't know what the State System gains by continually creating distractions."
"We will, if the System gives us no other option, stand up for our students, our universities, and ourselves."
Photo: APSCUF Facebook page