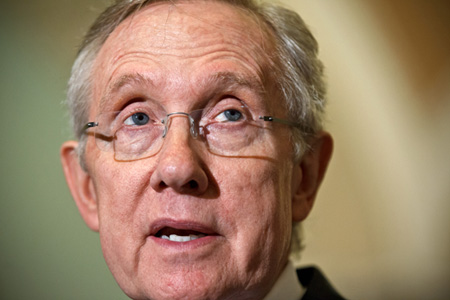 WASHINGTON (PAI) — Three narrow votes in a key Senate committee and some crafty maneuvering by Majority Leader Harry Reid, D-Nev., derailed anti-labor schemes that right-wing Republican senators hatched and floated in mid-June.
Most of the action came just before June 15, as lawmakers slogged their way through the Senate's draft version of the multi-billion-dollar money bill that actually would provide funds for the Labor Department, the National Labor Relations Board (NLRB), other labor-oriented agencies, and two other big federal departments.
The ultimate fate of the legislation is unclear, with lawmakers expecting to roll the always controversial Labor-Health and Human Services-Education money bill into one massive omnibus piece of legislation, late this year, by combining it with money bills for other agencies, in order to keep the government going after the new fiscal year starts.
Senators gave some DOL programs, like the Occupational Safety and Health Administration (OSHA), small increases. They cut others, such as the Women's Bureau, which dropped from $11.6 million to $9.1 million.
During the NLRB money discussion, Sen. James DeMint, R-S.C., the tea party's leader in Congress, tried three times to hamstring the agency, which oversees labor-management relations in U.S. industries except for airlines and railroads.
"At markup, Republicans offered amendment after amendment attacking the NLRB, the National Labor Relations Act and the right to bargain collectively," Sen. Tom Harkin, D-Iowa, the bill's sponsor, told the American Constitution Society two days later.
"The good news is we beat them all. The bad news is that we beat them by one or two votes each. That's how close these things are," Harkin warned. The margins would change, he said, if the GOP controls the Senate after the November election.
First, DeMint tried to bar the NLRB from using money to enforce a recent ruling that the South Carolinian claims would allow establishment of "micro-unions" through use of "unit clarification" rules. DeMint lost on a 15-15 tie vote.
Then he wanted to ban the NLRB from using funds to implement its new union recognition election rules, which a federal judge in D.C., at the behest of the Chamber of Commerce, has halted. The new rules would have reduced some of the delays businesses use to thwart elections. DeMint lost, 17-15. He then lost, 16-14, when he tried to outlaw voluntary recognition, also known as card check.
Reid stopped a scheme by another tea party darling, Sen. Marco Rubio, R-Fla., to bust union contracts. Rubio sought to add his plan to, of all things, the farm bill.
Rubio unveiled his anti-union amendment on June 6. It's the text of a bill he introduced earlier this year, letting employers gut contracts by unilaterally giving raises to their favorites above and beyond the contractual wage scales.
Sixty-four right-wing House Republicans have also introduced Rubio's contract-breaking bill, but it's gone nowhere there. Reid made sure it died in the Senate too, by using rules to limit amendments to the farm bill – and shutting Rubio's brainstorm out.
When senators weren't beating back DeMint's anti-worker ideas, they worked on the text of the Labor-HHS money bill. Other notable provisions in it include:
Pleading the need for cuts, senators deleted a $5 million Obama administration request for grants to states to help them set up paid family leave programs. But they took the $2.5 million from the Women's Bureau and sent it to DOL's Wage and Hour Division "to deal with Family and Medical Leave Act issues," their report explained.
Wage and Hour got an overall $10 million increase over this year's money, to $237 million in the year starting Oct. 1. Besides the funds it got from the Women's Bureau, the rest of the raise went to increase enforcement against employers who misclassify workers as "independent contractors," robbing workers of employer Social Security, Medicare and workers comp payments – and of labor law protection,
OSHA would get $565.5 million, some $700,000 more than this year, and states with their own OSHAs would get another $104.2 million, the same as this year. MSHA would get $376 million, 1% more than this year. And senators chided Obama's White House for sitting on OSHA's planned rule to protect workers from silicon hazards.
"As many as 1.7 million workers are exposed to dangerous levels of silica in the workplace each year. Researchers estimate 3,600-7,300 of them develop silicosis and approximately 200 workers die each year. Despite the mandate" that an OMB office finish reviewing such rules within, at most, 120 days, "the silica rule has languished for more than 15 months. Therefore, the committee directs the (Labor) Department to issue a notice of proposed rulemaking on silica not later than" November 1.
Photo: Senate Majority Leader Harry Reid speaks to reporters on Capitol Hill in Washington, June 12. J. Scott Applewhite/AP