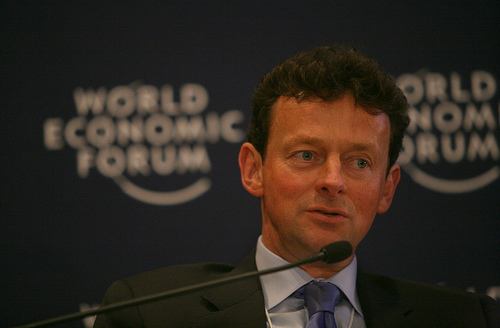 After a barrage of phone calls from worried Gulf Coast Republicans House GOP leaders threatened to strip Texas Rep. Joe Barton of his seniority on the Energy and Commerce Committee unless he retracted the apology he made yesterday to BP, which he described as the victim of a shakedown by the Obama administration. "Shakedown" was how Barton characterized the president's pressure on the company to set aside at least $20 billion to compensate victims of the oil spill in the Gulf of Mexico.
Barton is far from alone among Republicans, however in his criticism of Obama's approach to BP.
Many Republicans appear to be having considerable difficulty in mustering any criticism of Big Oil. "It was notable that in their statement distancing themselves from Barton," wrote Karen Tumulty in the Washington Post, "House Republican leaders John A. Boehner (Ohio), Eric Cantor (Va.) and Mike Pence (Ind.) referred to the spill – caused by the explosion of an oil rig – as a "natural' disaster."
EconoSpeak, in an editorial, completely debunked the right-wing claim that the $20 billion escrow fund is a "shakedown.": "If we take the decline in BP equity value since the oil spill began as the market's best guess of how much BP will ultimately pay, then the market's price tag is closer to $100 billion.
"Let's say that you and I have a disagreement as to how much I owe you with you claiming the amount is $100 and me claiming the amount is $40. If I choose to hand you a $20 bill today with the agreement that we'd settle the rest tomorrow, could I then scream to the police that you shook me down?"
White House environmental adviser Carol Browner said today that BP will likely pay out much more than $20 billion.
The president's BP escrow fund overseer, Kenneth Feinberg, is traveling to the Gulf today. "I'm not wasting any time," he said. "These people need help."
Some of the president's critics on the left, including those who want him to push harder on financial reform and other issues, are among those expressing approval of his approach to BP. "Obama, at least, used his presidential power to hold BP accountable," wrote Alternet's Laura Flanders.
A New York Times analysis said of the president's approach to handling corporations, after he set up the BP $20 billion escrow fund: "President Obama has cast himself as a last line of defense against market excesses that take many different forms."
The firestorm over Barton's defense of BP drew attention away from the dismal performance by BP's CEO Tony Hayward at the Congressional hearing yesterday.
Hayward was unable to tell Congress whether there were oil plumes under the water.
When he was asked about reports that oil-spill cleanup workers weren't being given proper safety equipment, he said BP "is endeavoring to provide safety equipment."
The only time Hayward was able to say anything specific about what went wrong was when he cited the failure of the blowout preventer, which was, as BP critics note, not manufactured by the oil giant itself.
Late yesterday evening, on national TV, the Congressional subcommittee's chair, Rep. Bart Stupak, was asked to comment on the Haywrd testimony. "There comes a point in time when you almost become absurd and ridiculous," Stupak said. "Unfortunately, I think that's how Tony Hayward looked to the American people."
Photo: BP's Tony Hayward at the 2008 World Economic Forum. (WEF/CC)