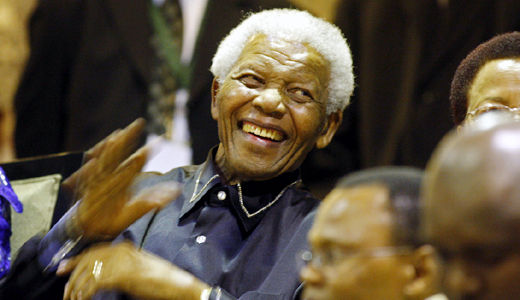 Thousands of South Africans and political leaders paid tribute to freedom-fighter and world peace crusader Nelson Mandela last week in commemorating the 20th anniversary of his release from prison.
In an emotional re-enactment thousands of prominent members of the African National Congress and supporters marched out of the gates of Victor Verster Thursday, near Cape Town, the last prison where Mandela was held.
Mandela, 91, known as Madiba, his clan name, made a special appearance during the country's opening parliament of the National Assembly in Cape Town later that same day where he was honored.
"President Mandela united this country behind the goal of a nonsexist, nonracial democratic and prosperous South Africa," said President Jacob Zuma Thursday.
"We should reflect on how far we have traveled as a country," he said.
Mandela's life work should inspire us not to rest until we achieve the ideals of a society free of poverty and deprivation, said Zuma.
In the two decades since the Mandela's release "our country has changed fundamentally," he said.
Mandela was set free on Feb. 10, 1990 by then-President F.W. de Klerk after spending 27 years in prison. Mandela went on to lead South Africa in the last remaining years of the nations peaceful revolution from apartheid to democracy.
He became a living symbol of the struggle against the racist system, which was enacted when he was 30 years old. Apartheid was a brutal system of enforced segregation where 4 million whites oppressed 25 million blacks, Asians and non-whites.
Born in 1918 in the Eastern Cape village of Transkei, Mandela was expected to become a traditional advisor to the chief of the 2.6 million-strong Thembu nation.
He was sent to English schools and given the name "Nelson."
Becoming an activist with the African National Congress Mandela led a general strike in 1950. He was later charged with treason in the longest trial in South African history.
After police killed 60 black protestors in the Sharpeville massacre, the ANC radicalized and Mandela formed the military wing becoming its first commander in 1961. Soon after the ANC was banned along with other organizations.
By 1962, Mandela was imprisoned for inciting a strike and sentenced in 1964 to life in prison.
Mandela credits imprisonment with strengthening his character giving him focus, and personal reconciliation with his white captors, which became a theme in his life
Before he was jailed Mandela is remembered as saying, "I have fought against white domination, and I have fought against black domination. I have cherished the ideal of a democratic and free society in which all persons will live together in harmony, and with equal opportunities. It is an ideal, which I hope to live for, and to see realized. But if need be, it is an ideal for which I am prepared to die."
Nearly three decades later Mandela was finally set free at the age of 76. Four years later South Africa held its first democratic elections in 1994 ending white racist rule. Mandela became the country's first black president by a landslide.
Mandela was instrumental in helping lead the country's peaceful racial reconciliation process after the apartheid regime.
his promotion of South Africa's rugby team during the 1995 World Cup endeared him to many whites and symbolized his role in building bridges and to move beyond the country's dark past, as documented in the recently released film "Invictus."
Mandela also helped in bringing soccer's World Cup to South Africa, which is scheduled later this year.
He served one term and retired from political life in 1999, establishing the Nelson Mandela Foundation to fight poverty, AIDS and illiteracy in Africa.
Since 1994 Mandela's presidency and the ANC party has reduced the number of South Africans living in poverty, built houses and schools and continues to deliver basic resources to blacks who suffered under apartheid.
Despite 17 years of economic growth South Africa has endured major setbacks due to the global economic downturn that erupted last year. Critics note unemployment remains above 20 percent and millions of blacks continue to live in shanty towns with little access to running water, electricity or health care.
The nation's HIV-AIDS infection rate continues to be among the highest in the world.
Given the country's current economic and social challenges and 20 years after Mandela's release many South Africans agree the former apartheid nation has come a long way.
Photo: AP Schalk van Zuydam, Former South African president Nelson Mandela waves inside Parliament at Cape Town, South Africa, Feb. 11.