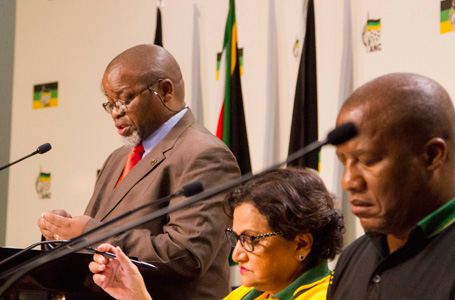 South African politicians split down party lines in their reaction to Public Protector Thuli Madonsela's report on public expenditure on President Jacob Zuma's private residence at Nkandla.
Opposition Democratic Alliance (DA) parliamentary leader Lindiwe Mazibuko said Ms. Madonsela's findings were damning.
She demanded that Speaker Max Sisulu recall the national assembly and that Mr. Zuma be impeached "for this flagrant abuse of public money."
African National Congress (ANC) secretary-general Gwede Mantashe took issue with the timing of the report's release, noting that it had "provided some ammunition to many of these parties that have nothing to offer to the electorate."
He condemned "mischievous and downright false assertions by some political pundits and opposition politicians that the ANC intends to either ignore the Public Protector's report or undermine the validity of her findings."
Mr. Mantashe said that the report confirmed the essential findings of a government report released in December.
These were that no state money had been spent on the president's private dwellings, that Mr. Zuma had told the truth when he told parliament that he had built his own home with a private mortgage, that there had been no political interference in the building project and that the personal security of presidents and deputy presidents is the responsibility of the state.
"Therefore the call by some for an impeachment of the president is a premeditated position that has nothing to do with the report presented by the Public Protector," he said.
South African Communist Party spokesman Alex Mashilo also drew attention to the timing of the report so close to the general election.
He said that Ms. Madonsela's public pronouncements since August 2012, when she addressed a DA Women's Day rally, had increasingly chimed with that party's positions.
The Public Protector's report concluded that the security work carried out by the state at Nkandla had benefited the president's private property and that he should repay 246 million rand (£13.6m).
ANC Youth League national convener Mzwandile Masina went further than Mr. Mashilo, accusing Ms. Madonsela of having "compromised herself to the bone."
She ought to "finalise the outstanding urgent tasks and do an honourable act of resigning."
Reposted from Morning Star
Photo: ANC press conference on the public protector's final report onto security upgrades in the president's Nkandla residence. ANC Flickr.