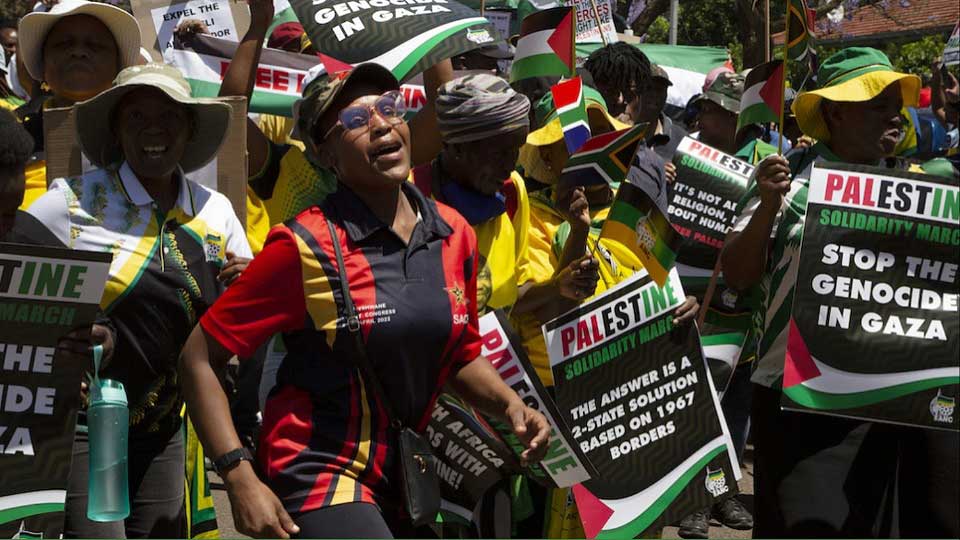 South Africa has referred Israel to the International Criminal Court (ICC) for an investigation into alleged war crimes committed in Gaza, President Cyril Ramaphosa said Thursday.
This comes as the illegal Israeli assault on the largest hospital in Gaza failed so far to reveal the Hamas command center that Israeli authorities had said was on the premises.
South African lawmakers were set to agree to a motion tabled by the Economic Freedom Fighters opposition party and supported by the ruling African National Congress on Thursday calling for the closure of the Israeli embassy in South Africa and the cutting of all diplomatic ties with the country until it agrees to a ceasefire in Gaza.
President Ramaphosa said: "We have put through a referral because we believe that war crimes are being committed there.
"And, of course, we do not condone the actions that were taken by Hamas earlier, but similarly we condemn the actions that are currently underway and believe that they warrant an investigation by the ICC."
South Africa's move came a day after the storming of the al-Shifa hospital in Gaza by Israeli troops in a search for traces of Hamas inside and beneath the facility, where newborns and hundreds of other patients have suffered for days without electricity and other basic necessities.
Israeli troops detained technicians responsible for running its equipment, the Health Ministry in Gaza said in a statement. Israel has failed to come up with any evidence that Hamas used the patients, staff, and civilians sheltering there to provide cover for its fighters.
Over 1.5 million people have been internally displaced in Gaza, with most having fled to the south, where food, water, and electricity are increasingly scarce.
The war, now in its sixth week, was triggered by a surprise attack by Hamas on Oct. 7 during which more than 1,200 people were killed and some 240 taken as prisoners of war.
About 12,000 Palestinians have been killed, two-thirds of them women and minors, according to Palestinian health authorities. Another 2,700 have been reported missing, with most believed to be buried under the rubble.
On Wednesday, the United Nations Security Council adopted a resolution calling for urgent humanitarian pauses and corridors in Gaza. The vote in the 15-member council was 12-0, with the United States, Britain, and Russia abstaining. Moscow would not back the measure because it failed to include a demand for a ceasefire.
Israel's U.N. ambassador Gilad Erdan issued a terse statement, saying the resolution "is disconnected from reality and is meaningless." He declared that "Israel will continue to act until Hamas is destroyed and the hostages are returned."
Morning Star