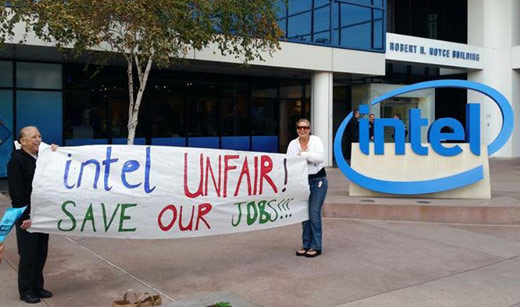 SAN JOSE, Calif. – Despite some election setbacks, the mood at the meeting of the South Bay Labor Council AFL-CIO here was positive. "We need to advance our own agenda," regardless of who is in the mayor's seat, declared Executive Officer Ben Field.
Labor in San Jose has faced major challenges from an unfriendly majority on the City Council led by outgoing Mayor Chuck Reed. Two years ago, the council broke off negotiations with city unions over pensions, opting instead to put a pension-slashing measure, known as Measure B, before city voters. Faced by the threat of massive cuts to city services if the measure failed, San Jose voters approved it by a 70 percent majority. Some of its provisions were tossed out in court, while others remain in litigation.
The Labor Council went all out to elect a labor-friendly City Council this year. At the head of its slate was former City Councilmember and current Santa Clara County Supervisor Dave Cortese, who has a long history of progressive activism.
He pledged to stop litigating on Measure B and seek a settlement with city unions. His opponent, Sam Liccardo, who had strongly supported Measure B and was heavily supported by the Chamber of Commerce and high-tech moguls, promised to keep fighting in court to implement as much of Measure B as possible. The Council also supported candidates for four city council seats up for election this year.
"Election results are not everything we had hoped," admitted Field. "We did everything we could to win the mayor's race, and fell about 3,000 votes short [out of about 180,000 votes cast]. He pointed out that "we were swimming against a very stiff tide, the conservative electorate voting in this race." Voter turnout in California was only 32 percent, well below even the meager 36 percent turnout nationwide. And low turnout meant that older, more fiscally conservative voters weighed in more heavily than others who would likely have voted on labor's side.
Despite the setback with the mayor's race, Field said, there were quite a few bright spots. The incoming mayor, unlike his predecessor, does not have a governing majority with him and may not be able to cobble one together; two of the four council candidates endorsed by the Labor Council won. In other races, pro-labor progressives were elected to several city councils and other public offices in the area. In one of the most significant victories, a union-supported candidate for the Santa Clara County Board of Education won against an incumbent associated with charter schools whose campaign was heavily bankrolled by corporate interests. This was in line with the statewide victory of the incumbent State Superintendent of Public Instruction, Tom Torlakson, a solid friend of teachers and their unions who faced a massively funded challenge from charter school proponent and former Wall Street executive Marshall Tuck.
Field pointed out, and the delegates to the Council, judging from the ensuring discussion, clearly agreed, that labor had decide on what it wants from Liccardo and the new city council in no more than a month and a half, before the new mayor takes office and moves to set his own agenda. He pledged that the Council would meet, probably in December, to analyze the election results and develop a course of action going forward.
Labor Council Political Director Dennis Raj praised the volunteer commitment of union members in the election. Labor volunteers contacted 70,000 voters by phone or door knocking. "We were able to get to a draw," he commented, "with an opponent who had hundreds of thousands of dollars from the Chamber of Commerce, hundreds of thousands from high-tech executives, and hundreds of thousands from his own fundraising. We don't have that kind of money, but we have the people power."
In other business, the Council voted unanimously to send a letter to the President urging him to stop deportations and take other executive action in the interest of undocumented workers. It also approved a strike sanction for the IUE Local 1201, which represents engineers at the Doubletree Hotel in San Jose, who are seeking parity with other IUE-represented hotels, conditional upon the agreement of UNITEHERE, which represents the other workers at the hotel. With that, and with announcements of labor actions at local Walmarts on Black Friday, the Council clearly showed that labor here is ready for action in the post-election period.
Photo: The South Bay Labor Council is fighting to save the jobs of Intel workers whom a contractor for the company plans to lay off just before Thanksgiving, in the area.