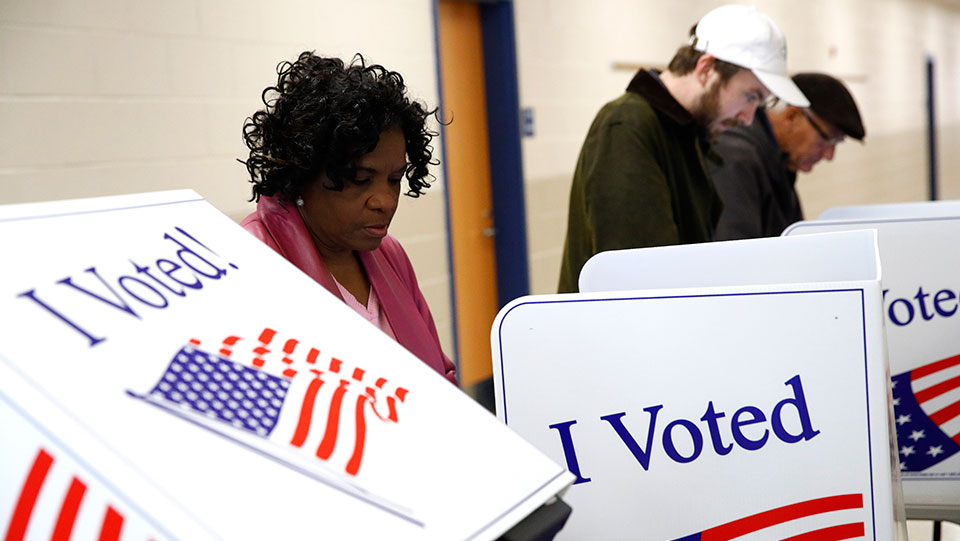 Joe Biden scored an expected victory Saturday in South Carolina's Democratic primary thanks to the support of Black voters. It's a campaign-changing win and one which may see the race for the Democratic Party's choice for whom to run against Donald Trump come down to two: Biden or Sanders.
The former vice president's campaign needed a win after dismal performances in Iowa, New Hampshire, and Nevada. This rebound creates a new dynamic in the race for the White House as it shifts to the 14-state Super Tuesday vote.
This primary was the first major test of the candidates' favorability and appeal with a key voting bloc of the Democratic Party—Black voters. This year saw a large increase in overall South Carolina voter turnout, with an estimated 538,233 people participating. This was a significant growth from the 370,904 people who voted in the 2016 state primary, a 40% increase. Of those that participated this year, 56% of those voters were Black. Biden won 63% of their votes. A crucial development late in the race was the endorsement by Rep. James Clyburn, D-S.C.). Exit polls showed 57% of voters said the endorsement was an important factor in their decision.
Biden also did well with older voters, women, moderates, and conservatives, and wealthier voters.
Bernie Sanders won a distant second place with 19.9% of the overall general vote. He received 14% of Black voters. Sanders won among young voters 18-29 years old overall, but he and Biden split young African Americans almost evenly.
"That will not be the only defeat. A lot of states in this country. Nobody wins them all," Sanders told a cheering crowd of supporters in Virginia on the weekend. "Now, we enter Super Tuesday."
Billionaire candidate Tom Steyer dropped out of the race Saturday night, following his third-place finish—spending over $24 million in advertising in South Carolina; whilst another billionaire, Mike Bloomberg, defiantly dug his feet into the race, spending over $500 million on advertising for the upcoming Super Tuesday votes.
Pete Buttigieg also ended his campaign Sunday night. The timing of his decision was meant to benefit Biden leading up to Super Tuesday, signaling a consolidation of moderate Democratic candidates.
Minnesota Sen. Amy Klobuchar also announced on Super Tuesday eve that she will end her 2020 presidential campaign and endorse Biden. The pressure is now increasing for lower-performing candidates Massachusetts Sen. Elizabeth Warren and Hawaii's 2nd District Rep. Tulsi Gabbard to justify their campaigns staying in the race.
Bloomberg was not on the ballot in South Carolina. His campaign strategy has been focused exclusively on Tuesday's contests and the votes that follow.
Despite the higher voter turnout, an issue surrounding voter suppression caused some controversy. Greenville County, the state's largest county, closed down 52 precincts. Although the change was reported as already in the works, the closing was not widely publicized; it only appeared on the South Carolina Election Commission website. Consolidated polling places can result in voter confusion and longer lines. These are two aspects that can deter voters from participating. This only adds to the voter suppression problem felt by a number of states across the country—South Carolina included.
The remaining candidates now march into Super Tuesday vying for 1,357 delegates that will make or break their bids to be the next president of the United States.
Breaking down the polls:
Biden won 48.4 percent (256,111 votes) followed by Bernie Sanders who won 19.9 percent (105,226 votes).
Third place Steyer (11.3%)
Fourth place Buttigieg (8.2%).
Fifth place Warren (7.1%), followed by Klobuchar (3.2%), and last Gabbard (1.3%).
Biden won 63% of the votes cast by African Americans. He also did well with older voters, women, moderates, and conservatives.
Sanders earned the support of 14% of African-American voters, while billionaire businessman Tom Steyer won 15%.
AP's Vote Cast showed 51% of African-American voters who said they wanted a Democratic nominee who would be similar to the Obama White House.
Age was a considerable factor in South Carolina, with voters aged18-44 supporting Sanders over Biden by a margin of 34% to 30%. Voters 45 and above supported Biden over Sanders, 56% to 14%.