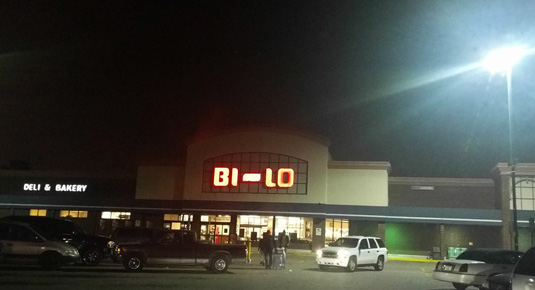 CHARLESTON, S.C., Feb. 27 – In South Carolina, voters and non-voters alike see themselves and their neighbors facing hard times. But many of those we talked with feel that they are on their own; few looked to Saturday's primary election for a solution to their most pressing problems. A large number of voters who spoke to People's World, especially the young, say they haven't quite connected with the voting process.
Starting in the parking lot of a grocery store, we interviewed some people of voting age in this historic city on the Democratic primary election day, during the Saturday morning shopping rush. Either soda was on sale at the Bi Lo or Charlestonians had big party plans for the weekend, but for whatever reason shoppers in the parking lot of the former Piggly Wiggly seemed to all be loading up their trunks with cases of Coke and Sprite. We asked them about their voting plans in that day's Democratic primary.
Hayden, a white man in his thirties wearing a baseball cap, said he has never voted and doesn't intend to now. "I don't know about it so I shouldn't vote," he said. His wiry build reflects the business he says he is trying to build as a landscaper and welder. "I've got a lot going on." Hayden thinks getting a good job is the main concern for people like him. "I guess voting would impact jobs, " he concedes, then adds out of nowhere, "I think Trump is an asshole."
Juanita, who said she works for a housekeeping service, unbuckled the seatbelt of her seven-year-old son. She wants change in general, she said, in everything. She's concerned about education in general, although she's happy with Jason's school. Her big issue is immigration: Juanita thinks people who are here should be allowed to stay. She said she is not familiar with the "Fight for 15" campaign, but thinks the minimum wage should be raised. "How can you get everything you need if you're not getting paid enough when everything is so expensive?" She volunteers that she's leaning toward Bernie Sanders. She says she intends to vote, but doesn't appear to have made plans for it. She said she doesn't know her polling location or hours; when pressed, she said she might look it up on Google.
Luther Johnson methodically packed six bags of groceries in and around his moped. The African American disabled Vietnam veteran said he had already voted because, "I've got the right to." But Johnson expressed little confidence: "These people are going to do what they're going to do."
Bill, a middle aged white man, said his main concern is taxes. Pressed for more as he struggled to pop open the trunk of his small Hyundai, Bill said "payroll taxes. Need a cut for the poor." Asked whether he thought the taxes for the rich should be raised, Bill glanced to his right and left as he responded: "I don't have an opinion about that."
Brendan isn't a shopper, but a vendor, selling and supplying beer to the store. He described his main concern as "Medicaid" but he clarified that he was really referring to his costs under the Affordable Care Act's individual mandate, which he said are currently $250/week. In fact, this number equals the total of deductions and withholding from his pay, but he is focused on what the Obamacare individual mandate requires. "It should be your decision on health care," the African American contractor said. Brendan said he knew where to vote, but didn't know when the polls close and was working Saturday.
"Yes, I voted in the Republican primary last week," says Ann, a petite white woman. "I'd like to see some unity," she says. "I'd like to see us working together as a nation. Both sides need to swallow their pride and think about the country as a whole. " What challenges are facing the state? Education and the economy. She thinks things are ok in Charleston, but that a lot of small towns across the state "don't have the advantages we have here."
We spoke to an African American couple wearing small blue "I voted" stickers. The wife said there are two changes she hopes to see out of the election: one, for Hillary Clinton to win, and two, "middle-class family issues. The rich are getting richer, and the middle class is having money taken from it from both sides." A social worker, she added that "really poor people can't get help. We have to help the poor." If Hillary Clinton becomes president, one change she hopes to see is in the state's policy toward health care. "South Carolina didn't want to accept what Obama offered." But she said she's not sure what Clinton could do that Obama didn't to get the state on board with Obamacare.
Jessica, a thirty-ish African American woman, said she works in shipping in Hollywood, SC. "Education sucks currently," she said. She said she wants a president who "focuses on early childhood development, women's rights, stricter laws for sexual abuse and police brutality."
Tim, a middle-aged construction worker with riveting blue eyes, said he would be working Saturday and named taxes as his biggest issue. Pressed to elaborate on which taxes he sees as a problem, he said he would do away with property taxes. He had been leaning toward Trump, because he likes "the way he operates. He's a billionaire, so he must be smart and business-wise." However, Tim said he had recently begun reconsidering because Trump was "off the chain talking bad stuff about people." Anyway, he wouldn't be voting today: "I have no time to vote," he said.
At a strip mall featuring a Starbucks, a young white man named Cameron said he works as a legal assistant. He admits he didn't vote last time. But this year he's decided that it's important for people's voices to be heard. Public education needs better funding, he said, and adds South Carolina had a surplus last year that could help that. Cameron mentions the state's racial tensions as another issue, but said he is uncomfortable discussing it. "You know, the church shooting we had, but I don't like to talk about that." Cameron says he's supporting Bernie.
We talked with a few more people of voting age at a McDonald's at a highway rest stop. Although it was voting day, two middle-aged white construction workers didn't seem to be in a hurry to finish their lunch break. "We've already worked over 60 hours this week, and we're working tomorrow too," one said. "We don't have time to vote."
Jeff has worked at this location for 2 years. Older than the rest of the crew, his light brown hair is just beginning to turn gray and he answers from behind thick-framed glasses. He said he has heard of the "Fight for 15" campaign, but doesn't support it. He said he would like a raise in pay, but thinks that much might cost jobs if higher prices make people stop patronizing the fast food giant. He doesn't see a connection between his pay and the election. It doesn't manner anyway, Jeff added, because he isn't planning on voting since he'll be working all day.
At the Best Buy, we speak with Russell, who appears regretful that he won't be voting today. Somehow when he registered to vote at the DMV, it didn't take. But he thinks he may vote in November. "I've been thinking about Bernie [Sanders]," he said. "He has good ideas, but no power." He says South Carolina's problem used to be the lack of jobs, but now that Boeing has opened a new facility in North Charleston, he thinks people have other concerns.
Politicians like to say that elections have consequences; but here in South Carolina, the people we talked to say the voting process has little to do with the daily grind of working to survive. Their comments reveal just how much more work the candidates will need to do to connect their political agendas with the real, pressing needs of the electorate.
Photo: Customers at the Bi Lo in Charleston, S.C. were asked about their voting plans in the Democratic primary. | Brandon H./Yelp