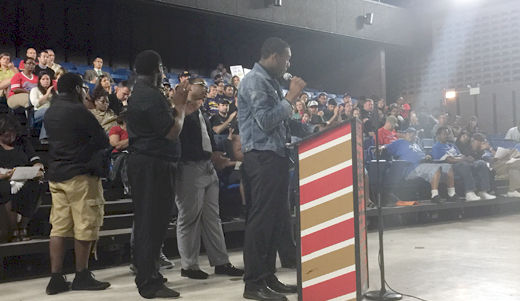 CHICAGO — On June 25, approximately 80 community members rallied outside of Urban Prep on Chicago's south side, an all-male public charter school, to protest the firing of 17 teachers coinciding with a 61 percent vote in favor of unionization with Chicago Alliance of Charter Teachers and Staff.
Teachers — both fired and unfired from Urban Prep — as well as parents and students were on hand to speak their minds during the public comment period of the Urban Prep board meeting. Present in solidarity were contingents from Chicago Jobs with Justice, SEIU Local 1, Chicago Teachers Union and Action Now. They maintain that the 17 were let go unjustly and demanded their reinstatement.
Samuel Adams, an eight year veteran educator at Urban Prep is a vocal supporter for the reinstatement of the terminated teachers and the recognition of the union. He addressed the crowd from what sounded like an open letter to Timothy King, CEO of Urban Prep.
"Mr. Tim King, at graduation you spoke about how Urban Prep has been instrumental in changing the narrative of the black male in America. Well I am now here to invite you to negotiate in good faith with the educators of Urban Prep who have been on the front lines in changing that narrative. In conclusion, if black students matter to you Mr. King, you will immediately reinstate the 17 teachers and begin negotiating a better future for Urban Prep staff because black students matter to us every single day that we enter the classroom."
President of Chicago Alliance of Charter Teachers and Staff Local 4343 briefly addressed the crowd before moving into the auditorium where a public meeting of the Urban Prep board was to take place.
"The Urban Prep creed says to 'live honestly'. Telling teachers that they might lose their health insurance if they unionize is not living honestly. Telling teachers that Chicago ACTS has been 'hostile' to their school is not living honestly… we're gonna tell Urban Prep to live honestly."
He then went on to point to reference "pages and pages" of a PowerPoint that were shown to teachers during anti-union captive audience meetings that showed Urban Prep's intention to "bargain in good faith" if the union were voted in.
"Immediately firing members of the organizing committee is not bargaining in good faith," he continued.
People's World obtained copies of the captive audience PowerPoints Harris referred to. In them, Urban Prep management represents the union's stance in support of public education as anti-Urban Prep. Chicago ACTS has supported the slowing of charter school expansions as they effectively create a second-tier of educator.
In all, the slides represent a paint-by-numbers anti-union campaign. Among the uninspired warnings are "union promises are not guarantees," "nothing is automatic in collective bargaining," "collective bargaining does not always mean more," and "strikes are often difficult for striking employees." Over and over again, the slides refer to the union as something outside of the employees, as another layer of bureaucracy. This, of course, is false as the union is the teachers and the teachers are the union.
Without irony, the PowerPoints list all of "what may be at risk" should the teachers vote in the union. According to Urban Prep, everything is on the bargaining table: insurance, wages, paid time off, bereavement leave, bonuses, staff retreats, and professional development. The teachers, through their elected bodies, would negotiate on behalf of themselves; does Urban Prep not understand that their list amounts to a veiled threat?
The crowd of 80 flooded into the auditorium as the board called their meeting to order. As many board members as were present were called in via teleconference. The crowd chanted, "Stop the union busting" and "bring them back."
To the chagrin of those attending, a thirty-minute limit on the public comment period was imposed. They also limited speakers to two minutes. About thirty speakers signed up to lend their voice; only about 10 were able to do so (one of them spoke on matters unrelated and one spoke in favor of the decision to fire the teachers).
Shoneice Reynolds, parent of a young man at Urban Prep with a 4.1 GPA, attributed her son's success to two of the fired teachers she referred to as Mr. Gibson and Mr. Brown.
"These teachers have helped my family. They have helped the students of Urban Prep with their social and emotional learning, with adapting to a different culture from what they're used to, and I'm very heartbroken that these teachers were let go, that all these teachers were let go. Urban Prep prides itself on accountability and in the creed it states that we have a future for which we are accountable. I challenge you all to be accountable for our child's future".
She went on to detail her child's reaction to the firings saying that he lost his enthusiasm about returning to school.
"I believe that we need a voice and a more democratic process. It shouldn't just be market forces but what students, teachers, community and parents say."
Behind the speaking podium sat a member of administration with a timer running on her phone, and diagonally from her stood a large man in plain clothes but wearing handcuffs on his belt. As soon as Ms. Reynolds time reached its end, the woman stood up and attempted to take the microphone out of her hand. She reeled in disbelief at the invasion of her space. Just then, the man with the handcuffs approached Ms. Reynolds from the opposite side.
As soon as she was sandwiched between these two hostile forces, the crowd began to chant "let her speak, let her speak!" The board granted her the ability to finish her statement, but they would not be so forgiving to future speakers.
After hearing round after round of impassioned testimony, the board called for a final speaker, a student. There were four students remaining on the speakers list, but they were made to choose a representative to speak for them. That student spoke about how his teacher, Ms. Robinson, forged an unbreakable bond with him.
"I remember when I first stepped into Ms. Robinson's class. She let all her students know that she was not there to make friends; she is here to get her students to learn. From that point on I knew surely that she was always for the students."
After the public comment period, nobody on the board made a statement. They simply thanked the speakers and carried on stone-faced to the next item on the agenda.
The crowd filed out, upset that their time to speak was cut short but determined.
Samuel Adams addressed the community once again, thanking them for standing with Urban Prep teachers. He encouraged continued involvement with this struggle, from visiting the Urban Prep offices at 420 N. Wabash, to friending Mr. King on Facebook.
"These types of actions cannot continue. It does not build a school, it does not build a foundation of trust between teachers, students and [administration]. We need to change the narrative in our own building… Make sure you're ready for a fight because it's going to be a fight."
People's World will continue to follow this story as it develops.
Photo: Parents and students speaking out. Patrick J. Foote/PW