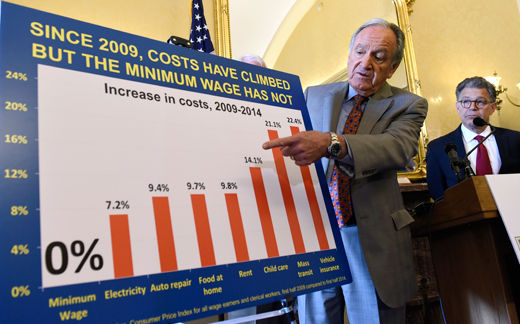 PIERRE, S.D. (AP) — South Dakota's minimum wage would decrease if the cost of living drops under a proposal that a state House panel approved Friday, February 6, against the protest of Democrats.
The House Commerce and Energy Committee voted to approve a measure that opponents argued went against the intent of voters who approved a minimum wage hike that was tied to cost of living adjustments.
South Dakota residents voted 55 percent to 45 percent in November for a proposal that raises the state's minimum hourly wage from $7.25 to $8.50 an hour, increases the $2.13 hourly tip wage to half the minimum wage and tied future increases to the cost of living.
Republican Rep. Jim Bolin's proposal erases a provision from the voter-approved language that bars the minimum wage from being decreased.
Bolin successfully argued to the committee that the built-in cost of living adjustments in the minimum wage plan should have the flexibility to react to positive or negative economic news.
"If we're going to have an (Consumer Price Index) component to this measure, we should have one that's a two-way street," Bolin said.
But House Minority Leader Spencer Hawley said the plan circumvents the voters who supported the wage hike and the inflationary increases that came with it.
If voters wanted to avoid legislative tinkering, they could have put the minimum wage increase in the state Constitution, Bolin said.
Republican Rep. John Wiik agreed with Democrats on the committee even though he doesn't support the wage hike voters chose. He said the provisions barring a decrease were clearly explained to the public before the proposal was passed in November.
"I fought against the minimum wage increase," Wiik said. "We lost that one."
Photo Sen. Tom Harkin, D-Iowa, joined by Sen. Al Franken, D-Minn., right, points to a graphic during a news conference on Capitol Hill in Washington, July 24, 2014, showing the zero percent increase in the minimum wage as compared to the increased cost of living, and to call for an increase in the minimum wage. (AP Photo)