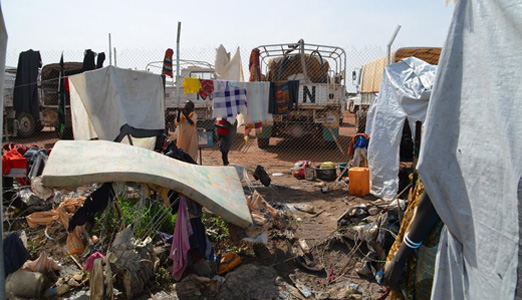 Over 3.7 million people in this new African nation of 11 million are at severe risk of starvation. Conditions in South Sudan now parallel those of Ethiopia in the 1980s when hundreds of thousands died from famine. Toby Lanzer, the UN official coordinating humanitarian aid in South Sudan says "we're in a race against time."
Aside from the urgent immediate need, the civil war currently raging in South Sudan, which was the initial cause of the problems, the planting season is at risk and a lack of crops will further add to the already dire situation. With possibly over 4 million displaced people what is needed is food, water, shelter and protection.
Doctors Without Borders recently criticized the UN for not responding adequately to squalid conditions at the "Juba base, Tomping, where the displaced live in a low-lying area separated by a barbed-wire fence from empty dry space within the compound."
Some 21,000 people live at the camp alone.
President Obama has issued an executive order threatening sanctions against those responsible for the ongoing violence.
South Africa's former president Thabo Mbeki pointing to an inner party crisis in the country's leadership urges political parties close to the South Sudan ruling Sudan People's Liberation Movement (SPLM) to work toward resolving the conflict, claiming government's are unable to address the internal issues. A conflict between the country's president and vice-president sparked the current violence in December.
It is a very rough start for one of the world's youngest nations where a very large number of the displaced are children including thousands are orphans .Most of the refugees who have fled South Sudan are in Ethiopia.
Aid organizations that are helping South Sudan refugees:
Photo: Squalid living conditions in camp for displaced South Sudanese. Médecins Sans Frontières.