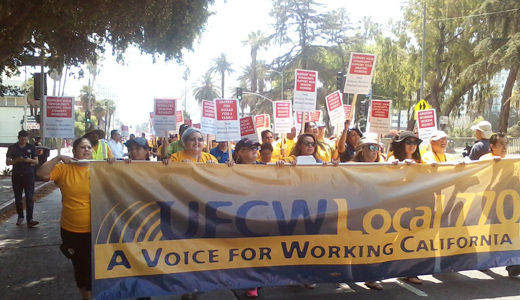 LOS ANGELES – Ed Reyes Sr. worked as a meat cutter at Vons supermarket for over 20 years. He was also a long-time member of the United Food and Commercial Workers union (UFCW). Over the years, he saw many changes take place in the grocery industry, such as corporate mergers and far too many attacks on wages and benefits by owners and management.
He also saw, however, the way in which his union fostered a strong membership that was able to come together and fight against any contract concessions. Mr. Reyes was eventually able to retire with a good pension – something that his union had fought hard for.
Ed Reyes was my father-in-law and a proud union member.
He passed away several years ago, but even in retirement and into his last days Mr. Reyes remained a strong union supporter. Today, his son, Ed Reyes Jr., is also a member of the UFCW. He and 47,000 other grocery workers are now on the verge of a strike as they struggle to defend the gains that his father and others fought to win. These union members are employed across a variety of stores operating in Southern California under the Ralphs, Albertsons, Vons, Pavilions, and Safeway brands.
The last strike by these UFCW workers, which lasted for 141 days, was in 2003-04. It was a long and difficult strike. Many lives were impacted and the entire grocery industry in Southern California was negatively affected. Some consumers abandoned the traditional grocery stores and began to support the independent markets. Many, such as the retired Ed Reyes Sr., refused to cross the picket lines. They worked with the union and adopted neighborhood markets to set up pickets.
The union learned many lessons during that last strike, but the contract negotiations now taking place are based upon some of the same type of concessions the employers pushed for previously. The grocery chains are aggressively attempting to cut benefits, continue a two-tiered employment system that divides older and newer workers, and reduce the companies' contributions to health care and retirement plans.
It seems the only choice the workers have left is to strike. It's their livelihood at stake.
Rob O'Connell, an employee of Vons for more than two decades, has been working part-time and is trying to make a living on the low wages the company pays. Rob told People's World, "These wages are not enough to sustain a decent living in Los Angeles. I have worked part time for 24 years and have never been offered a full time position. Scheduling is just one of many concerns. I can tell you this, I'm not alone. All the people I work with are ready to strike."
Rob is right. On the streets of Los Angeles, hundreds of grocery workers and members of the community came out recently to support those now facing a strike. At a rally on West Third Street, where both a Vons and a Ralphs market are located, UFCW members carried a sign summing up their position: "Grocery jobs should feed a family."
Marchers stuck to their position that management at the grocery corporations is stalling on negotiations – holding out until the members give in. But one union member could be heard yelling, "If we don't get it, shut it down. No contract, No peace! Corporate greed has got to go!"
The union has set August 8 as the deadline for a strike. Rigo Valdez, Organizing Director for UFCW Local 770, said "Today we take over the streets. Today we welcome all our supporters but today are speakers will only be the workers."
Several workers took the stage on a flat-bed truck parked in the middle of the street. All agreed that it is employers who are pushing them to strike. They were also all agreed, however, that they are ready to fight.
Valdez listed all the union support that the grocery workers can count on from the AFL-CIO, the Los Angeles County Federation of Labor, and several other unions. He said, "As we take to the streets today, community supporters are presenting management a letter demanding that they negotiate a contact so that workers can make ends meet." These pledges of solidarity were well-received.
The crowd chanted back, "Strike! Strike! Strike!"
Photo: Demonstration by UFCW Local 770 workers in Southern California, August 2, 2016. David Trujillo | PW