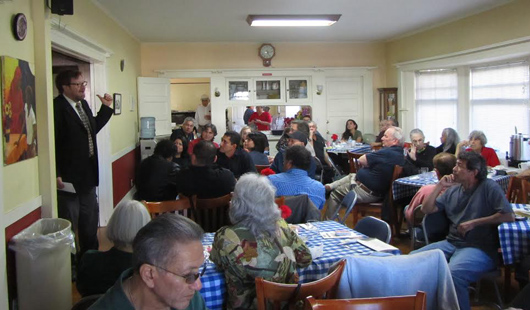 LOS ANGELES – Almost 60 friends of the People's World gathered here on Sunday, Feb. 8 at the Los Angeles Workers Center to celebrate the online People's World and its California contributors. It was the first fundraiser in Los Angeles for the "paper" since it went digital.
Rossana Cambron emceed for the afternoon, which featured a Mexican-style lunch of homemade rice, beans and chicken mole, salad, drinks, and dessert. A silent auction of artwork and ceramics raised more funds for the paper and sent purchasers happily home.
Labor editor of the People's World John Wojcik came out from Chicago as the keynote speaker. He saluted all the great work done here by the writers and videographers, and focused his remarks on why the PW is such a needed element in the U.S. political equation today:
"As progressive journalists we have our work cut out for us," Wojcik said, "because we have to almost completely turn around the way the right-wing has framed a lot of issues. Only one of countless examples is how they routinely describe pensions as a benefit when in fact we know that a pension is nothing more than delayed payment owed to the worker for work he or she has already performed."
"The simple clarity of that kind of analysis is why we need the PW," said Eric Gordon, who presented the awards as the only L.A.-based staff writer/editor for the paper. Awards went to writers Ed Rampell, who specializes in cultural reporting (film and theater for the most part, as well as the occasional interview); Dale Greenfield, who writes about film with special attention to the psychology of characters under pressure; Rossana Cambron, who writes labor stories and reflections based on her personal life and observation, as well as punchy videos for the PW website and Facebook page; and to Eric Gordon, whose topics range from labor to art to film to opera to personal thought-pieces.
Two more awards will be awarded at a later occasion: To Cathy Deppe, who has jumped into the breach to cover stories that no one else at the moment was able to do, such as AFL-CIO President Richard Trumka's major Los Angeles address on racism; and to Chris Elliott, who has frequently covered themes in popular culture, such as the photographer Phil Stern and the actor Robin Williams.
Finally, awards to Northern California-based writers will be presented as well, to Juan Lopez, Michelle Kern, Marilyn Bechtel, Chauncey Robinson, and Henry Millstein.
Susan Gosman was the extraordinarily efficient and organized event chair.
Photo: John Wojcik speaks at People's World luncheon in L.A. | PW