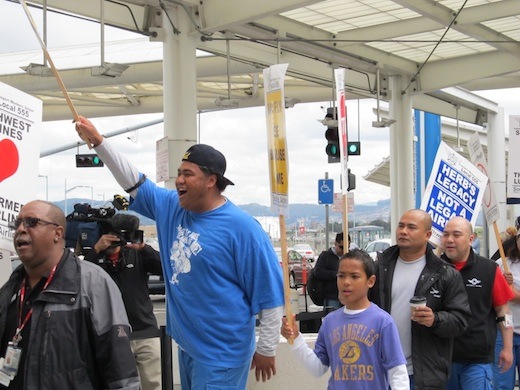 OAKLAND, Calif. – Southwest Airlines ground workers took to the picket lines in 16 cities March 28, to protest contract proposals they say would compromise the airline's tradition of outstanding customer service.
On the lines for the informational picket were ramp, operations, provisioning and freight workers who have been negotiating for a new contract since July 2011.
Their local, Transport Workers Union Local 555, represents over 9,400 ground workers at Southwest Airlines terminals throughout the nation.
In Oakland, it was a family event, with kids carried in arms, riding in strollers and joining their parents to hoist a sign. And it was a solidarity action, with TWU 555's sister local, TWU Local 556 representing flight attendants, participating along with the Alameda Labor Council and members of a number of other unions.
On the line was negotiating committee member John Kaczmarek, a ground worker now working full time for the union.
Asked about the biggest issue in the talks, Kaczmarek pointed to Southwest's drive to contract out some 20 percent of ground jobs. "They want to get their foot in the door for contract labor," he said. "And then they want to dramatically increase part-time workers, dropping full-time positions to part-time where they don't pay benefits to families."
Also among issues in the negotiations, Kaczmarek said, are proposals for serious cuts in health care and compensation for workers hurt on the job.
"A lot of people don't realize that Southwest Airlines is the most successful airline flying," Kaczmarek said. "They posted $241 million in profits last year. They don't need to contract out our labor or take away our benefits. We're the ones who make it a pleasure to fly; we're the ones who make sure your bags get from A to B."
While many functions of ground crews are obvious, some workers perform vital functions not obvious to the average passenger. Kaczmarek pointed out that operations workers have responsibility for providing weight-and-balance information about what's on board a plane so pilots can set controls correctly to ensure safe takeoffs, flights and landings.
TWU 556 member Matthew Hettich said the flight attendants' union, which is preparing for its own contract talks, feels a "strong interest in Local 555 members getting the contract they deserve, that recognizes their role in Southwest's success. Upper management doesn't know how to do our jobs, and needs to recognize that the airline is profitable because of the hard work of its employees."
TWU 555's president, Charles Cerf, said in a statement, "We simply can't understand why management would compromise our tradition of excellence by making demands at the bargaining table to outsource our work, cut into our sick days, and make it harder for our members to be on the job. If we're not there, who is going to provide our passengers with the quality of service they have come to expect at Southwest?"
Picket lines were also up at airports in Buffalo, N.Y.; Baltimore, Md.; Chicago; Dallas; Ft. Lauderdale and Tampa, Fla.; Houston; Kansas City; Las Vegas, Nev.; Los Angeles; Nashville, Tenn.; Phoenix, Ariz. and Seattle-Tacoma, Wash.