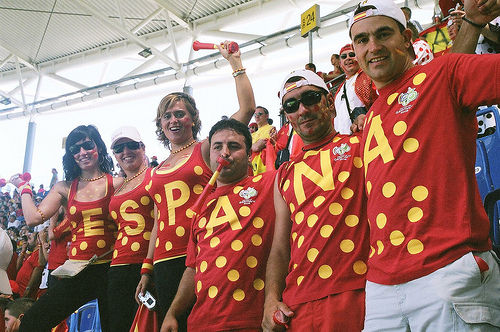 SOWETO, South Africa — Germany fought a tough battle bogged down by a smooth, tactical and consistent Spain tonight, July 7. Spain established possession superiority on the outset, but could not convert their possession to goals for a long time, so the hope was there for Germany supporters that Germany will strike scoring surprises. This was never to be.
Germany's hopes faded as the minutes ticked away, with minimum possession of the ball. The vuvuzelas sounded all the while. You see, the vuvuzelas have a way of conveying the messages. They can "support", "disapprove" or "boo" depending on the mood and activity in the stadium.
Many thousands of South African fans had supported Germany because of Jérôme Boateng, a physically strong and composed defender, with a reputation as a tough-tackling and versatile player. Boateng's father is an African from Ghana, so the fans here were inclined to support Germany.
But Germany's fortunes changed. The turning point for Germany was when they removed Boateng in the second half and brought in a substitute. Boateng had held the Spain side at bay, but now the Spanish team kept up the pressure and Carlos Puyol of Spain headed in a beautiful goal from a corner kick to give Spain their first World Cup finals appearance on Sunday, July 11 at Soccer City, Johannesburg, South Africa. As the final whistle sounded it was 1-0 to Spain.
German fans were disappointed in the end to see their team lose. The German team did not perform as expected. It was like cold water had been poured on a hot team.
Spain won the game 1-0 and with this result history was made:
It is the first time for Spain to be in the finals.
Spain plays Netherlands in the finals on Sunday; one of them will be first time champions.
First time World Cup in Africa.
So it was good reason once again to celebrate for the thousands of African fans and their visiting fans together. At the last whistle the vuvuzelas sounded even louder. The remaining two games are already fully booked. The losers game on Saturday July 10, 2010 and the finals game on Sunday July 11, 2010. This has surely been a historical event for Africa and the world and it is destined to be a resounding success story come Sunday. When asked who they wanted to win on Sunday a group of young South African fans shouted "we shall celebrate with whoever wins this 2010 World Cup! We are all winners!"
And so Sunday promises to be a grand finale.
Photo: Spain fans show their love for their team at a previous match. (CC)