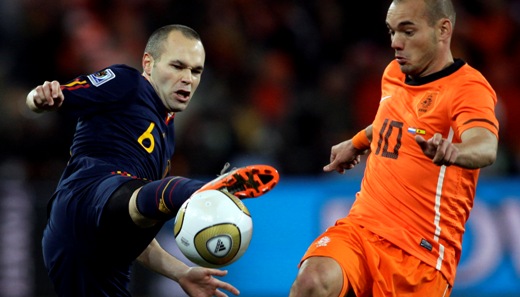 History has been made as Spain won its first World Cup in "Soccer City" Johannesburg defeating Netherlands 1-0.
Being the underdogs, Spain still found a way to get the job done. They faced many struggles throughout the tournament, but overcame them and now are the World Cup champs.
The Netherlands just couldn't obtain perfection. Throughout the tournament the Netherlands seemed to be unstoppable. The Netherlands had a perfect record and didn't receive one loss, but that changed as Spain handed the Dutch their third lost in finals history.
The game wasn't quite exciting as expected. It had a record final of 14 yellow cards due to the frustration of the Dutch. They made some controversial fouls and some feel that the referees were lenient towards the Dutch.
Spain developed a new motto thanks to the final, "Defense doesn't win championships, possession does." The Spaniards had possession of the ball 63 percent of the game. Both teams played very good defense and had many chances to score but just couldn't convert.
Just when the game seemed to be dull, out of nowhere comes Andres Iniesta with the game-winning goal in the last four minutes of overtime.
The win of the World Cup has really helped the country of Spain. It gives Spaniards a break from the problems they have from economic crisis and nationalist regions trying to separate from Spain.
"It's very important, it helps us forget a lot of things, like the economic crisis, for example, or people's domestic issues," said Javier Sanchez, a 42-year-old photographer from Madrid, reported CNN.
Love it or hate it Spain is the new World Cup Champions for the next four years. Congratulations to Spain and its team.
Photo: Spain's Andres Iniesta, left, and Netherlands' Wesley Sneijder vie for the ball during the World Cup final soccer match between the Netherlands and Spain at Soccer City in Johannesburg, South Africa, July 11. (Ivan Sekretarev/AP)