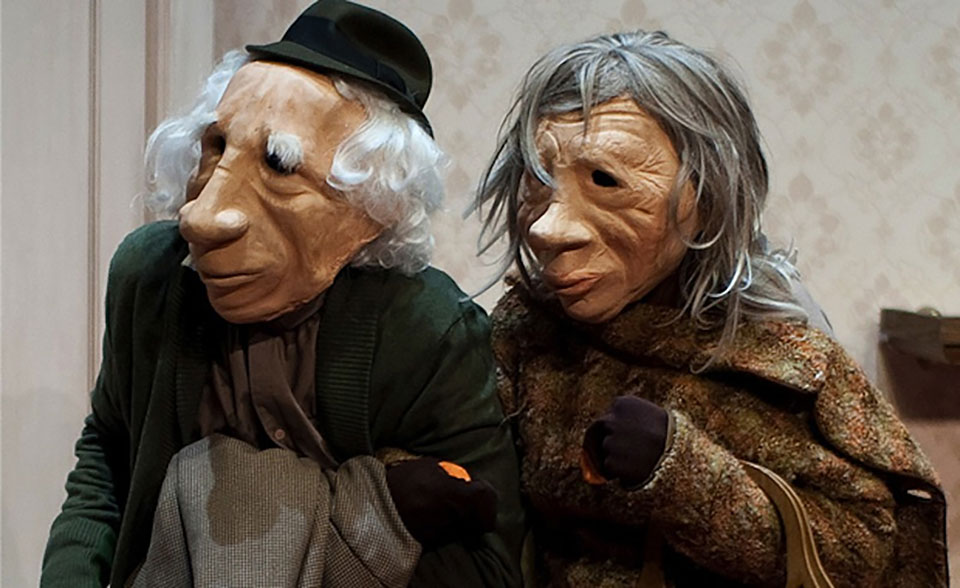 LOS ANGELES  — I missed it when Spain's celebrated Kulunka Teatro visited L.A. before, but it's back now and should not be missed! Last time, it garnered a Los Angeles Drama Critics Circle award with its production of André & Dorine. Latino Theater Company presents a limited two-week return engagement (seen opening night, June 8) through June 19, at downtown's Los Angeles Theatre Center (yes, they spell theater/re two different ways).
Here's a curious factoid that may be unique in theater history: Five playwrights are credited with the script—José Dault, Garbiñe Insausti, Edu Cárcamo, Iñaki Rikarte, and Rolando San Martín—yet not a single word is spoken for the entire 80-minute duration of the play. It could be compared, perhaps, to a full-length drama filmed in the silent movie era, but not even with title cards. In fact, I wonder if the company has thought of making a filmed version of this production.
A poignant depiction of love and aging disrupted by Alzheimer's, André & Dorine tells the story of an elderly couple—André with his typewriter, Dorine with her cello—and how they relive and reinvent their love together as the disease becomes a permanent and frustrating factor of their relationship. Three actors (the first three named above as contributing playwrights) portray more than 15 different characters using only masks, gesture and movement, and props. Almost anyone in the world would be able to relate to this universal story.
The evening begins with a soundtrack of Edith Piaf songs. I'm not sure why, but they do evoke a bygone era, one of cabarets and love affairs, what can be regretted, and what not, of a hard-earned wisdom about life.
The ironic thing is that André is a lifelong professional writer, a prolific novelist one presumes. His default position is always at his typewriter. As he moves through life, he clearly takes inspiration from the depth and complexity of a committed marriage, from its rapturous times through the petty annoyances and vanities of togetherness, as well as to its challenging years, especially toward the end. After his own death, their son discovers one final manuscript.
It's not depressing, though. It's just the eternal cycle of life. As one generation dies off, another is born.
In more than one scene, a character is reading the pages of a new book and their facial expressions and body actions tell us as much, maybe more, than the writer's actual words. Very humbling for anyone who devotes their life to either the written or the spoken word!
Though the actors do not speak, there is still plenty of sound, the tapping of the ever-present typewriter as well as the strokes of the bow across Dorine's cello, doorbells, and other sound effects. Almost all of it, a deaf person could easily comprehend. (A blind person would have a great deal of trouble with it, however.) Bit by bit, we watch the couple age in place, from the randy sexual creatures they were when they first met all the way through denial to senility. The contemplation of treasured photographs gives way to flashbacks recalling the couple's early life together. The original music is by Yayo Cáceres. The masks are credited to Garbiñe Insausti. Costumes are by Ikerne Giménez, with lighting by Carlos Samaniego "Sama."  Iñaki Rikarte directs. Listed as the General Manager is Mikel Insausti, who I assume is related to the actress and masketeer Garbiñe.
With only at most three actors on stage at any given time, it's simply stunning and delightful to watch one of the subsidiary characters—a doctor, a homecare aide, a priest, a delivery man, another patient in the waiting room, etc.—exit the stage, circle around the back of the set and ingeniously return as another character, perhaps one of the lead couple. It's a mime act, except tripled and stretched out to a whole lifetime. Not exactly a plot spoiler here, but close to the end watch for a moment when André is tending to Dorine stage right…and André walks on from stage left—a befuddling bit of a shell game. A viewer can only smile and nod at the expert, split-second theatrical trompe-l'oeil that has totally beguiled us from the outset, and at some of the mysteries both small and large that make life interesting.
One also must wonder how old age will play out, for ourselves, or those we love, and indeed for anyone. One of the great anxieties for us in the U.S. is worry about our decline in our senior years, and if the systems, personnel, family, and resources will be in place for us. In those countries where socialism exists, and even in the social democratic countries, yes, people get old there too, but are not weighted down by the uncertainties, the insecurities, the angst of never knowing if they will be cared for, attended to, made as comfortable as possible. Unless they're financially quite comfortable and can afford it. Personal dignity, at any age, comes at a high price in America.
Some of the writers' and actors' names may strike a reader as unusual, sort of Spanish but not quite. That is because Kulunka Teatro was established in 2010 in the Basque region of Spain. In addition to enjoying success throughout Spain, the company has toured extensively throughout Europe, South America, Asia, and the U.S., piling up awards along the way, including one in 2011 from the La Habana International Theatre Festival.
André & Dorine plays through June 19, with performances on Wed., Thurs., Fri., and Sat. at 8 p.m. and Sun. at 4 p.m. The Los Angeles Theatre Center is located at 514 S. Spring St., Los Angeles 90013. Parking is available for $5 with box office validation at Joe's Parking structure, 530 S. Spring St. (immediately south of the theater). To purchase tickets and for more information, including up-to-date Covid-19 safety protocols on the date of each performance, call (213) 489-0994 or go to www.latinotheaterco.org. Students, seniors, and veterans receive reduced ticket pricing. Click here to view the promo trailer.