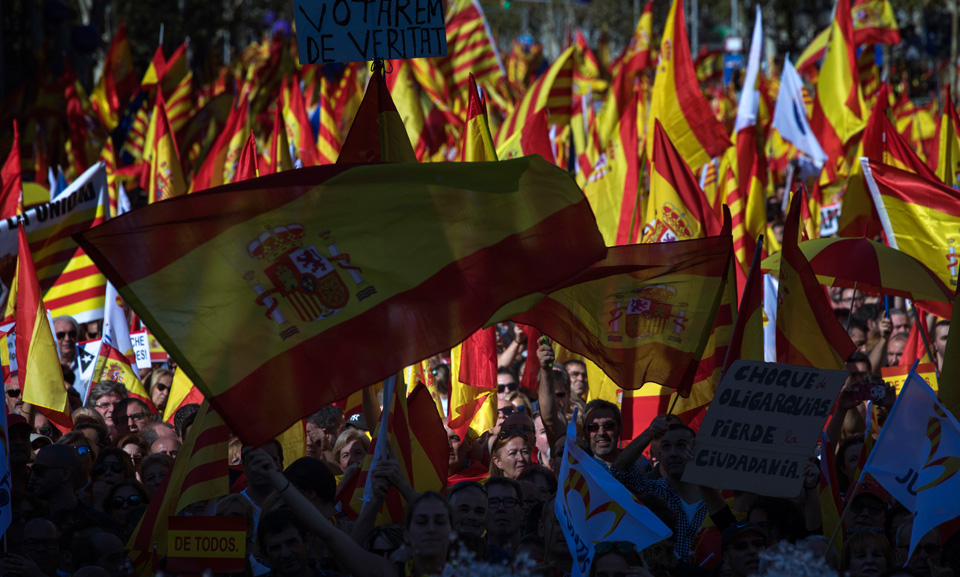 Spain's Senate authorized the suspension of Catalonia's government Friday after the region's parliament voted to declare independence. A government spokesman said Prime Minister Mariano Rajoy would enact direct rule powers immediately.
Attorney General José Manuel Maza's office said he would seek sedition charges for Catalan leaders, including regional president Carles Puigdemont and vice-president Oriol Junqueras. He may also go after regional MPs and parliamentary officials.
Under Spanish law, treason carries a sentence of up to 25 years, although terms are shorter for non-violent rebellion.
The Senate vote in Madrid came just an hour after the 135-seat Catalan parliament in Barcelona voted by 70 to 10 to declare independence, with two blank ballots.
Several thousand pro-independence demonstrators, including hundreds of municipal mayors, celebrated outside. The pro-independence Together for the Yes party and the smaller left-wing CUP claimed a mandate from 90 percent of voters in the October 1 independence referendum.
Spain's Constitutional Court had ruled the vote illegal, and turnout was just 43 per cent, with national police sent to prevent the referendum from taking place.
MPs from the Citizens Party and Socialists' Party of Catalonia (PSC)—the regional wing of Spain's main opposition party—boycotted the parliamentary vote in protest.
PSC spokeswoman Eva Granados accused regional leaders of trying to found an "intolerant and sectarian" new state that excludes those who oppose independence. The European Union and United States, which opposed the referendum vote, said that nothing had changed.
The Citizens Party is in a governing coalition with Rajoy's conservative People's Party, while the Socialists are aligned with the government in opposing the secession attempt.
The Communist Party of Spain, while deploring the heavy-handed police crackdown on the referendum that left more than 1,000 people injured, has maintained its opposition to independence in favor of a return to the republic overthrown by fascist dictator Francisco Franco in 1939.
On Sunday, meanwhile, hundreds of thousands of people took to the streets to demand that Catalonia remain a part of Spain, rejecting Friday's independence declaration.
Organizers with the group Catalan Civil Society said more than a million thronged the streets of Barcelona. Police put the figure at 300,000.
The same group called a similar rally three weeks ago that it claimed approached a million participants.
Civil Society president Alex Ramos called Friday's unilateral declaration by the now-suspended regional parliament—after anti-secessionist MPs had walked out—"an unprecedented attack in the history of democracy."
"We have organized ourselves late, but we are here to show that there is a majority of Catalans that are no longer silent and that no longer want to be silenced," he said.
The march came on the heels of Rajoy's move on Saturday to dismiss the regional government and call for a snap election to replace it on December 21. Sacked Catalan president Puigdemont responded with a call for "democratic opposition" to administration of regional institutions from Madrid.
Speaking for the government, Education Minister Íñigo Méndez de Vigo told the Reuters news agency: "I'm quite sure that if Puigdemont takes part in these elections, he can exercise this democratic opposition," he said.
On Saturday, Spanish United Left (IU) federal co-ordinator Alberto Garzón called for a "constitutional process to formulate a federal constitution." Characterizing the current impasse over Catalonia's future "a battle of flags," he said that other grave social problems are being pushed from the agenda.
Garzón was moving a resolution to delegates at the communist-led alliance's socio-political assembly in Madrid, which he said had the backing of "our sister force in Catalonia," the United Left and Alternative (EUiA).
He said, "In the IU, we don't defend independence, but a republican and federal model of the state."
Garzón said snap regional elections would not solve the "basic problem," adding: "It will only be resolved when there is dialogue, negotiation, and proposals that articulate a social and territorial response to what is unfolding."
The crisis appears to have created a split between the new-left Podemos party and its Catalan regional wing, Podem.
Podem general secretary Albano Dante said participation in the December 21 election would be an "enormous contradiction." But Podemos organizational secretary Pablo Echenique said that was just a "personal opinion."
On Friday, party general secretary Pablo Iglesias ordered Dante to boycott the independence vote or be "politically outside Podemos."
This article features content from Morning Star and other sources.