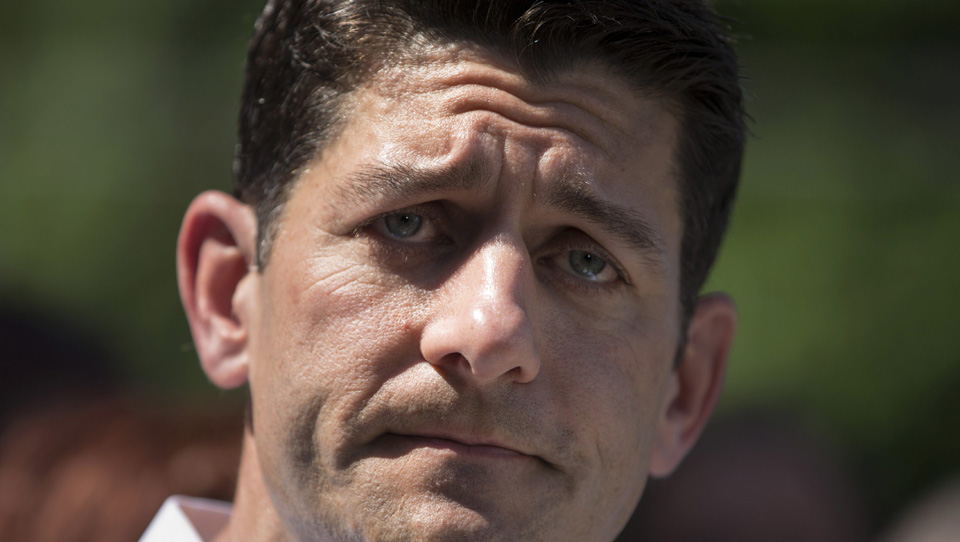 WASHINGTON—After years of trying, Barbara Lee had finally realized success in her plan to get the U.S. House of Representatives to debate the U.S.' seemingly endless wars. And then Paul Ryan cut her off at the knees.
Needless to say, Lee, the progressive Democratic congresswoman from Oakland, is pissed. A little background:
Lee, a member of the House Appropriations Committee, which actually helps decide where federal money goes, was the sole representative to oppose the September 2001 Authorization to Use Military Force (AUMF). She called it open-ended and predicted presidents would utilize it for all sorts of military force.
The AUMF is the war-making resolution then-GOP President George W. Bush pushed through Congress after the Sept. 11, 2001 al-Qaeda attacks on New York and Washington to justify retaliation. Proving Lee right, Bush and his successors have used it to justify subsequent wars and interventions.
Several times, especially since 2010, Lee has brought up the issue on the floor, demanding that lawmakers hold a full-scale debate on the wars the 2001 AUMF led to, first in Afghanistan and Iraq, and now against the Islamic State in Syria and, in "support" of the Saudis, against pro-al-Qaeda forces in Yemen.
Each time, Lee's floor amendment got around 10 minutes of House debate, then got shot down.
But this year, Lee convinced her colleagues on the Appropriations panel to actually include the anti-AUMF language in the Defense Department's money bill for the fiscal year starting Oct. 1.
To her surprise, it passed by a voice vote joined by every lawmaker from both parties, except for Rep.  Kay Granger. That Texas Republican claimed Lee's repeal would cripple the fight against terrorists.
"This is a blank check that has been on the books for 16 years. The Constitution requires us to exercise our responsibility in matters of war and peace, and we've been missing in action," Lee told her colleagues.
She was so amazed that she won in the committee that she tweeted "Whoa!" afterwards.Whoa. My amdt to sunset 2001 AUMF was adopted in DOD Approps markup! GOP & Dems agree: a floor debate & vote on endless war is long overdue.pic.twitter.com/FS8LfYWo5JWhoa. My amdt to sunset 2001 AUMF was adopted in DOD Approps markup! GOP & Dems agree: a floor debate & vote on endless war is long overdue.pic.twitter.com/FS8LfYWo5J
"My amdt to sunset 2001 AUMF was adopted in DOD Approps markup! GOP & Dems agree: a floor debate & vote on endless war is long overdue," that tweet added. It included a twitter picture of her amendment's text. And her success at the panel would lead to a full-fledged war debate, she predicted.
But Lee's win got the attention of Ryan, the GOP House Speaker from Wisconsin. He didn't like it at all. Ryan and Lee engaged in an "animated conversation" on the House floor on the issue last week.
Lee stood fast, arguing her move would finally force solons to face the war issue. Ryan retorted that she should bring the anti-AUMF measure up by itself – an effort by Lee and other lawmakers that Ryan and other Republicans have pigeonholed before.
Last night, July 18, with no notice, Ryan did it again. He told the Appropriations panel to yank Lee's language from the money bill. Lee's repeal called for the 2011 AUMF to die 240 days after the defense money bill is passed and signed.
Ryan told reporters that in its place will be a weaker to-be-written measure by fellow Appropriations Rep. Tom Cole, R-Ok. Cole's proposed measure would ask the Defense Department what it wants in a new AUMF, without committing Congress to either approve or disapprove the wars.
Needless to say, Lee's not happy.
"Ryan stripped my 01 AUMF repeal amdt from DOD Approps in the dead of night. This is underhanded & undemocratic. The people deserve a debate!" she tweeted near midnight, after Ryan's move.  Her spokesman called Ryan's decision "outrageous."  Lee did not say what she'll do next.
"Speaker Ryan should explain why he is undermining the democratic process and acting in such an autocratic manner," Lee said the next day. "What is he afraid of?"
The GOP Trump administration, as might be expected, says it's perfectly happy using the open-ended blank check 2001 AUMF for everything from bombing Syria to supporting the Saudis' Yemeni campaign.
There is one final irony in the story: Even Cole, a GOP leadership backer, supported Lee in the Appropriations Committee debate. So do almost all House Democrats, and a growing number of Republicans, news reports say.
"It's time for leadership to wake up, and the administration to wake up, and send over a recommended AUMF, mark it up and take it to the floor," Cole told reporters. Of Lee's AUMF repeal, he added, "I don't know any other way to get their attention because we've been talking about it for years."