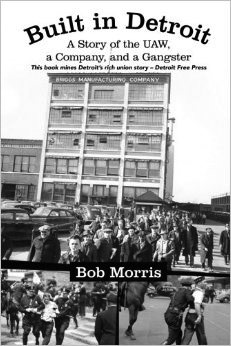 WASHINGTON (PAI) – Labor must launch a massive education campaign about the value of unions to the U.S. throughout its history, to counter right wing propaganda and to forestall deepening nationwide cynicism that could lead people to turn to demagogues, speakers at an Economic Policy Institute event said.
Author Bob Morris, former Michigan Governor Jim Blanchard, and EPI economist Ross Eisenbrey, made those points at a late-October rollout of Morris' book "Built in Detroit," a comprehensive history of the UAW, its battles against management goons and mobsters and its role in creating the middle class and funding and energizing civil rights and other movements.
Son of Ken Morris, UAW co-founder and confidant of the legendary Reuther brothers, Bob Morris spent much of his talk recounting the tales of UAW. He featured its battles against the car companies, ouster of its first president – pre-Reuther – for being too cozy with automakers, and its fight with a notorious Detroit mobster who busted unions, and unionists' heads.
But late in the talk, Morris tied those labor history events to today's circumstances, where unions represent 6.7 percent of private-sector workers, down from more than one-third in the 1950s. And Blanchard and Eisenbrey joined in.
"It's important to say" to people "what happens if we don't have a union," Morris said. With an enormous share of total U.S. income going to the top 0.5 percent of the population, "At one point, there's going to be an explosion of people who can't make it – unless there's a union option" for them, Morris predicted.
Without unions, Morris warned, the nation's social fabric would further fray "and I worry what would happen if a demagogue came along." Added Blanchard: "We have a crying need for civic learning. There has to be a whole new initiative about who we are and how we got here." He was known as a strongly pro-worker governor and congressman.
Eisenbrey said "a minimal requirement" is to strengthen U.S. labor law to restore "tools" that weak laws and anti-worker court rulings have removed from workers: The sit-down strike, the secondary boycott, and campaigns against "hot cargo," to name three. But, given the make-up of Congress, now and in the future, audience members pointed out that's unlikely.
That led Eisenbrey to respond the right wing's advocacy of so-called "right to work" state laws – notably passing those laws in UAW's home state, Michigan-glosses over the fact that a worker covered by a contract does not have to join the union, but can pay "agency fees," instead and still get full benefits. He suggested that provision ought to be changed.
"I agree," Blanchard said. "If they aren't members, they shouldn't get benefits."
"Built in Detroit: A story of the UAW, a Company and a Gangster" is available in hardcover, paperback and Kindle editions. Bob Morris has spent four decades developing public policy in Lansing, Michigan's state capitol.