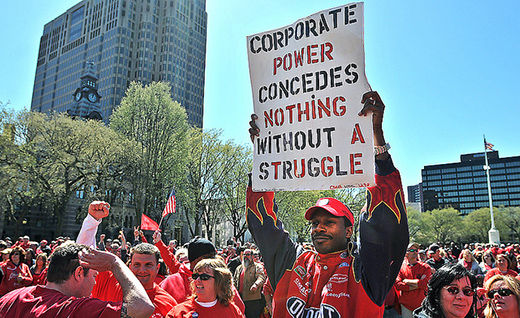 ATLANTA – A group of the nation's top union leaders, looking dead serious about something, filed silently in and up to the front of the press room at the Westin Hotel here Tuesday. They had taken time out from a meeting of the executive council of the AFL-CIO that they are attending here this week.
They had a message for corporate America and Larry Cohen, the president of the Communications Workers of America, who was in the group, came forward to deliver it: "It's great that you are making your billions in profits but we represent five million workers whose contracts are expiring this year, workers who havn't had raises in 30 years, and now it is our turn."
The press assembled in the room, who are supposed to remain "neutral" had trouble restraining themselves from applauding. The AFL-CIO unions are negotiating new contracts for a record five million workers this year in what the federation's president, Richard Trumka, described the day before as the biggest bargaining year for unions in a very long time. The unions say that success in these negotiations will go a long way to helping close what they say is an unconscionable wage gap in America.
One set of negotiations, between the Postal Workers and the Postal Service, began Feb. 19. The two sides in those talks are putting forward two competing versions of the future of the United States Postal Service, said union President Mark Dimondstein.
The prior postmaster general, he said, acceded to "the slash-and-burn strategy of Wall Street" in cutting jobs, closing postal centers, trying to cut hours and shifting to poorly paid non-union part-timers – or Staples store workers – from well-paid middle-class union workers.
Meanwhile, the APWU and its allies are campaigning for expanding service and increasing the profits at USPS by putting it into new lines of business, notably banking in underserved and unserved areas. "There are 67 million Americans who are unbanked and could benefit from an expansion into banking. We want to debunk the idea that the post office is no longer relevant" Dimondstein added.
Cohen's Communications Workers face tough talks with AT&T and Verizon (more than 200,000 workers combined), United Airlines flight attendants (20,000), American Airlines passenger agents (15,000) and at General Electric. There, CWA's 10,000 workers lead a multi-union coalition.
His New Jersey state government workers' local must also bargain with GOP Gov. Chris Christie, whom CWA defeated in a state court ruling on Feb. 23. The justices ordered Christie to live up to his previous contract with CWA and pay the full $1.2 billion the state owes its workers' pension fund.
"We're going to fight back and say that 'It's great that dividends went up and that your CEO is averaging $20 million in compensation apiece," he said sarcastically of the private enterprises. "But 80 percent of U.S. workers haven't had a raise in 30 years.
That's especially true of the airline workers, he adds. "They're making less than they did 12 years ago, even in nominal terms" before inflation, Cohen notes. "Meanwhile, airline profits are soaring."
AFSCME faces tough bargaining with GOP-dominated states, said union President Lee Saunders. His union will hold talks covering 320,000 workers in Hawaii, Iowa, Maine, Minnesota, Oregon, and Pennsylvania. And especially in Illinois.
There "we have a governor" – new GOP Gov. Bruce Rauner, a former equity firm CEO – "who does not believe in the value of workers and who has been busy breaking laws" covering them.
And while Saunders said he expects less trouble, in general, from city governments, there are some exceptions. One, which involves the Amalgamated Transit Union rather than AFSCME, is right here in Atlanta.
Curtis Howard, president of ATU Local 587, told a rally that his local faces a battle with the city transit authority, MARTA, over plans to privatize its paratransit services for the disabled, and to outsource its bus cleaning jobs.
The French-owned firm that would get the paratransit service, Veola, is owned by the French Social Security system. "They own other bus systems" in the U.S. "and they have a rule here: No worker can have a pension," Howard said.
The union leaders also made the point that there would be unprecedented solidarity in the coming battles, in addition to huge community outreach.
"It's not just us. It's about issues that support our communities," Saunders said.
Photo: CWA