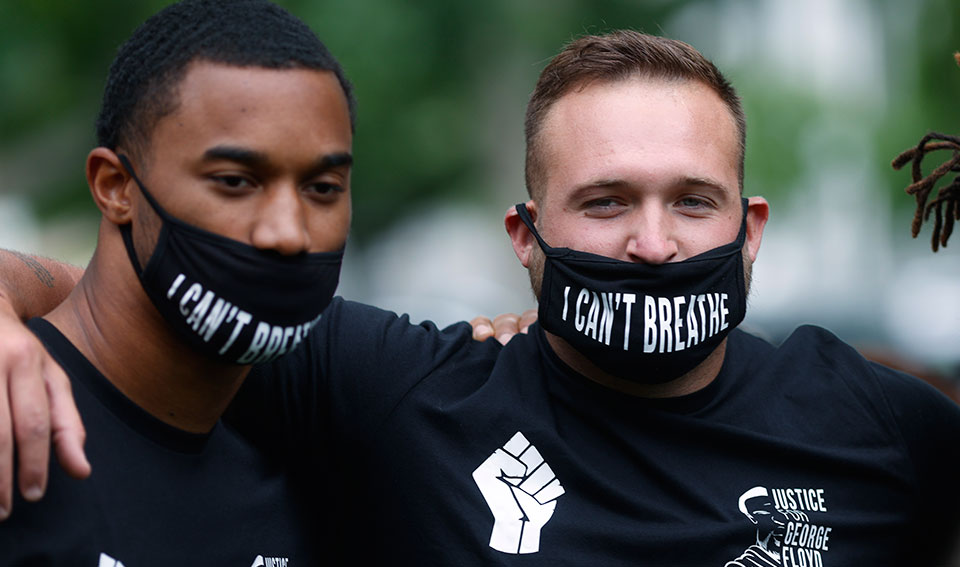 The organic, non-violent uprisings nationwide following the murder of George Floyd by a former Minneapolis police officer—coupled with Trump's divisive, inherently racist response to the atrocity and his use of military force against American citizens—have forced the nation to look inwards and firmly draw a line in the sand of what is and isn't acceptable within our democracy and the institution of law enforcement.
This "Which side are you on?" moment has moved beyond the political arena and into professional sports—which should come as no surprise. Former San Francisco 49ers quarterback Colin Kaepernick took a knee protesting this exact kind of police brutality in 2016, four years before another knee was used as a weapon against an unarmed, innocent Black man.
Back in 2016 NFL Commissioner Roger Goodell, along with all team owners, cried out against Kaepernick's kneeling during the national anthem, knowing the whole time that systemic racism was a blight on the game and in American society. Nothing substantial was done; it was swept under the rug. The only change was a failed attempt to curb on-field activism with a "national anthem policy."
On June 5th, Goodell had his mea culpa moment (but only after players called on the NFL to admit its wrongs) and released a video statement saying: "We, the NFL condemn racism and the systematic oppression of Black people. We, the NFL, admit we were wrong for not listening to NFL players earlier, and encourage all to speak out and peacefully protest. We, the NFL, believe Black Lives Matter."
It's a little too late. The Commissioner did right by finally listening to his players, but it does not absolve him from those past mistakes. Only time will tell if the NFL is truly sincere about its realization…well, time, and action.
If and when a 2020 season takes place, you can count on players taking a knee before every game.
When asked by reporters if players would continue to demonstrate on the field, 2012 NFL MVP Adrian Peterson said, "Without a doubt."
"We've got to put the effort in as a group collectively," he continued. "Are they going to try to punish us all? If not, playing football is going to help us save lives and change things, then that's what it needs to be."
******
Over on the soccer pitch, the U.S. women's team, still embroiled in its legal battle to end gender discrimination and gain pay equity, is calling on the U.S. Soccer Federation to repeal its anthem policy put in place after Megan Rapinoe began kneeling as the "Star-Spangled Banner" was played.
The team demands that the federation publicly state the policy and their decision to implement it was wrong and to issue an apology to the team's Black players and fans.
"Further, we believe the Federation should lay out its plans on how it will now support the message and movement that it tried to silence four years ago," the U.S. women's team said in a statement Monday via the players' union's Twitter page.
Rapinoe took a knee during the anthem in 2016, saying she wanted to express solidarity with Kaepernick. In response, the federation approved the anthem policy in February 2017 which said all players "shall stand respectfully" during national anthems.
The policy remains in place, though the unions for the men's and women's teams believe it doesn't apply to their players because of their rights and protections under the separate collective bargaining agreements.
*****
On the ice, seven current and former professional hockey players founded the Hockey Diversity Alliance on Monday, creating another vital avenue in the fight against racism and racial intolerance within the NHL and the wider hockey community.
"Our mission is to eradicate racism and intolerance in hockey," the group said in a letter. "We will strive to be a force for positive change not only within our game of hockey but also within society."
The Hockey Diversity Alliance will be independent of the NHL but hopes to work directly with the league to promote diversity and inclusion.
On Monday, NHL Commissioner Gary Bettman, NHL Players Association chief Don Feher, and several players released a video message, saying: "You don't have to look like George Floyd to understand that what happened to him was wrong."
Akim Aliu, whose story of racism within the NHL and Calgary Flames in 2019 brought the topic back to light, and San Jose Sharks forward Evander Kane will lead the new alliance, with the executive committee made up of Minnesota defenseman Matt Dumba, Detroit defenseman Trevor Daley, Buffalo forward Wayne Simmonds, Philadelphia forward Chris Stewart, and recently retired forward Joel Ward.
"In creating our alliance, we are confident we can inspire a new generation of hockey players and fans," the group said. "We are hopeful that anyone who puts on skates or sits in the stands will do so without worrying about race, gender, or socioeconomic background and will be able to express their culture, identity, values, and personality without fear of retribution."