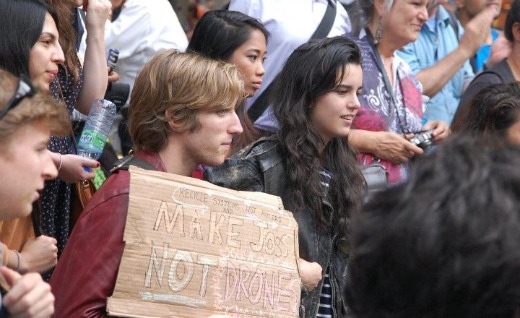 As thousands of union members prepared for a late afternoon march in New York today, in support of the Occupy Wall Street movement, Richard Trumka, president of the AFL-CIO, announced labor's full support for the protests and called for a huge turnout at the labor movement's upcoming America Wants to Work actions that will be taking place across the nation.
Trumka said the spreading Wall Street protests show growing anger over an economy with 25 million people jobless or underemployed, "with a brutal impact on the communities of color." He said they show growing "outrage" over millions of families losing their homes and health care.
"But the bonuses on Wall Street keep flowing," Trumka said. "And Wall Street wants to hold on to the tax cuts that help the top one percent and undo the financial reform that was passed last year. Like the protesters on Wall Street are saying, we have an economy and a political process that isn't serving the 99 percent of our country."
Starting Oct. 10, the AFL-CIO's America Wants to Work mobilization will involve hundreds of "week of action" events, demanding that Congress create jobs. Those actions, along with the growing Occupy Wall Street movement, could result in hundreds of thousands being out on the streets at protests all over the country next week.
"Hundreds of thousands of people are standing up together by joining in this week of action and they will continue to call for passage of President Obama's Jobs Act and a just economy, and they're not going away," Trumka declared at the press conference.
"They'll be back and back and back until lawmakers finally listen. Every elected leader will be held accountable for creating the jobs we need and putting America back to work."
The time and location of local America Wants to Work activities can be found by clicking here.
Among the America Wants to Work actions planned is a national teach-in titled, "Students Rising for Jobs and Economic Justice," on Oct. 12. It will be live-streamed, from 7-8:30 p.m., EDT, out of the University of California's Washington center into college campuses around the country. Robert Reich, a U of C professor and former U.S. Secretary of Labor, will participate. Hundreds of college campuses will then follow up with their own teach-ins.
At the press conference today in support of Occupy Wall Street and the coming week of action for jobs, Trumka was joined by a jobless 22-year veteran electrician and Electrical Workers member, Tom Rutherford. Rutherford has a college degree and is taking a course now to further upgrade his skills.
"I'm doing my part to get back to work but Congress is doing nothing," he said, to create jobs.
"They would rather play political games than find sensible solutions to the jobs crisis, like rebuilding the infrastructure. They need to stop playing these games with the lives of millions of American families like mine."
Kim Watkins, mother of a 16 year-old daughter and a member of Working America in Minnesota, also joined Trumka at the conference. Working America is the AFL-CIO's affiliate for non-union members.
Watkins has worked since she was 15. "I'm really struggling lately working part time and going back to school. I've had to use emergency food banks and other help," she said.
"We are under attack, I feel. I see people having their wages cut, I see people being fired. I don't understand why we don't use common sense. Rebuild roads and bridges. Let the government invest in jobs so we can all work. We all want to work so we can live like human beings."
Photo: Thomas Good/NLN