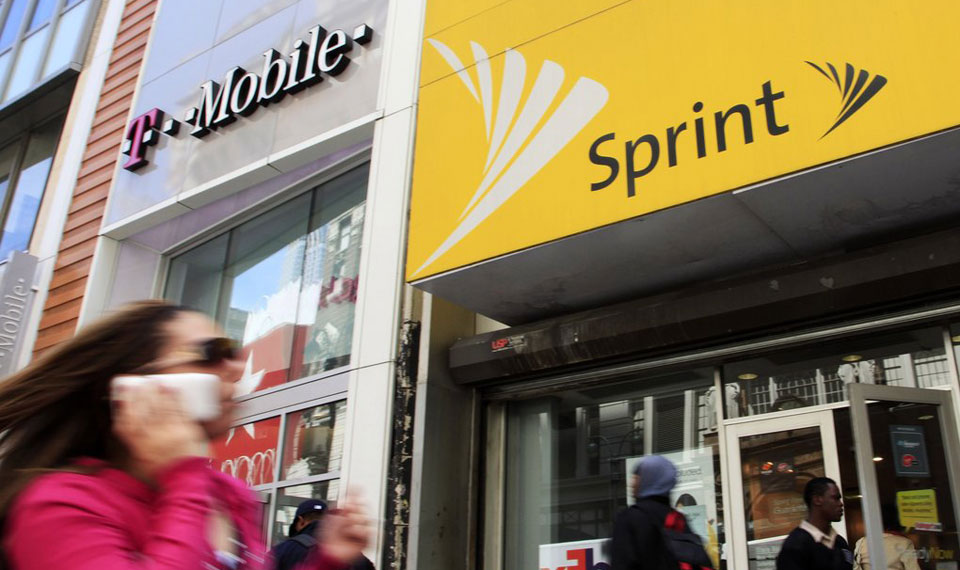 WASHINGTON—Imagine you're a teenager in Chicago's South Shore neighborhood, doing your high school homework on your mobile phone…and then you can't because your mobile phone carrier's pulled out of South Shore.
Or you're the teen's mother, using your smartphone to order groceries from the nearby Jewel…and then you can't afford to, for the same reason.
Or you're the old and ill man in D.C.'s poor Ward 8, barely getting along on Social Security disability payments, with your phone loaded with doctors' numbers for appointments and the CVS pharmacy for your prescriptions…and now it's too expensive to use it, because your carrier's jacked up your rates by 15 percent, or more.
Welcome to the wonderful world of the proposed Sprint-T-Mobile wireless carrier merger, and how it could slam the wireless telecommunications door on people of color and the poor.
That, in essence, is what Hooman Hedyati of the Communications Workers – which has waged a long campaign to unionize the two wireless carriers – and representatives from Free Press, Common Cause and the Center for Media Justice told congressional staffers and one lawmaker at a Jan. 29 briefing.
The panelists urged the staffers to get their bosses to weigh in against the mega-merger. Rep. Bonnie Watson Coleman, D-N.J., already has.
"This is another assault on justice," Watson Coleman, herself African-American, said. "Mergers and money tend to decrease our choices, increase our costs and make things less available to those who need it" – wireless service – "to check on your kids, buy your groceries and do your homework."
The Federal Communications Commission and the Justice Department are considering the $26 billion merger, really an outright T-Mobile purchase of Sprint. The two firms tried once before, in 2012, with Sprint as the buyer, but the Obama-era FCC sidetracked it on lack-of-competition grounds.
Now, amid GOP President Donald Trump's deregulatory crusade, with an FCC headed by Ajit Pai, former associate general counsel for big wireless provider and competitor Verizon, they're trying again.
But the merger must pass muster with the two federal agencies and state public utility commissions, notably in California and New York, where foes have already raised questions. Lots of questions.
The principal problem, panelists said at the jammed session in a U.S. House meeting room, is that Sprint and T-Mobile serve people of color and lower-income people, who need – and often depend upon – wireless the most. And they offer easier terms for people to get wireless, including not requiring credit checks and offering very low-cost prepaid service.
But those two companies, which are pushing the deal, are making it clear they want to merge to compete with the big two wireless providers, AT&T and Verizon, for the high end of the wireless market, at the expense of their lower-income customers, and their workers.
"Race and class are linked" in this merger scheme, said Erin Shields, of the Center for Media Justice, a non-profit which campaigns for telecom other rights for the poor.
"Fifty-six percent of T-Mobile customers are people of color, as are 45 percent of Sprint customers," she pointed out.  The proportions are even higher for the customers of the two carriers' lowest-cost prepaid plan subsidiaries, Boost and MetroPCS.
It's the same story in employment, the panel said. Sprint and T-Mobile say they'll expand employment. But one of their CEOs, testifying to Congress before the prior merger was shot down, admitted it would cut call center jobs instead.
The telecoms touted their statistics, but CWA didn't believe them. It did its own investigation and found the merger would cost 30,000 jobs, with 25,500 of them in retail stores. Sprint and T-Mobile stores are often within blocks of each other, especially in lower-income communities. Sometimes, they're even in the same shopping plaza.
And both call center jobs and T-Mobile and Sprint retail store jobs are important in communities of color and poor communities, Hedyati pointed out. Those are the jobs the combined company would cut. That's what happened when one of the two companies gobbled up a small wireless firm in Iowa. The retail jobs, and call center jobs, many held by people of color, disappeared.
And they'd disappear this time, too, Hedyati noted, because a Sprint-T-Mobile merger would – before the firms try to get rid of poorer customers – control 60 percent of the prepaid service market, which is run through intermediary companies. A merger, panelists agreed, would let the remaining company jack up prices, cut jobs and close call centers and retail stores, due to lack of competition.
Both firms have lousy records on workers' rights and adamantly oppose unionization, unlike the big two, both unionized with CWA. AT&T and Verizon have company neutrality clauses in their contracts.
By contrast, the National Labor Relations Board has cited T-Mobile for labor law-breaking – formally called unfair labor practices – 40 times since 2015. That includes ordering the company to dump unlawful rules that banned workers from speaking to each other about job conditions, Hedyati noted.
It also set up an "internal organization," which could be termed an illegal company union, called "T-Voice." And it barred a victim of sexual harassment on the job to sign a confidentiality agreement. That's illegal, too.
Sprint is just as bad. It committed 50 ULPs in a San Francisco call center alone, and even ran afoul of the controversial North American Free Trade Agreement there, Hedyati noted. That call center had Spanish-speaking workers who served Spanish-speaking customers. Sprint closed the center, but not before shorting the workers of $15 million in wages. Details of the two firms' misdeeds, and CWA's campaign, are on a CWA-maintained website, www.tmobilesprintfacts.org.