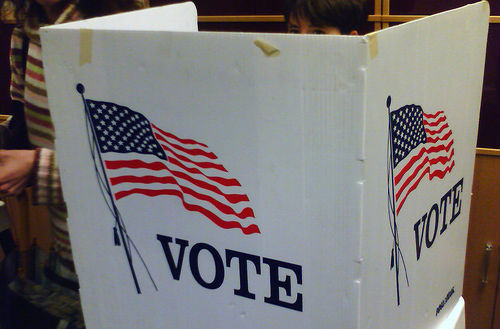 ST. LOUIS – On Tuesday, Mar. 3, voters in twelve wards went to the polls for this highly anticipated Democratic primary. In this heavily blue city, this election is viewed as the de facto general election (to be held Apr. 7). As some residents put it, it's "the only election that matters."
As polls closed around 10:00 pm, most incumbents easily defeated their opponents, with only one surprise upset coming out of the 20th Ward.
Aldermanic President Lewis Reed won re-election against opponent Jimmy Matthews in the only city-wide race on the ballot. Reed, who is expected to challenge Francis Slay in the 2017 mayoral elections, joined with supporters of Ward 15 Alderman Megan Green at Mangia Italiano in St. Louis' South City. Green, who was first elected in October 2014, soundly defeated her opponent Beth Braznell, who has come under community heat after launching a vicious negative ad campaign against Green in a last-minute effort to gain votes.
In response to her opponent's questionable tactics, Green stated, "Clearly, my opponent was ill-informed and did not realize that a majority of the voters in the 15th Ward were some of the Ferguson activists she labelled as 'outside agitators' in her campaign literature."
Ward 20 Alderman Craig Schmid, who has been on the Board of Aldermen since 1995, was defeated by Cara Spencer, who campaigned on bringing a younger, fresher face to the board. "I was not expecting this," was Spencer's shocked reply to her supporters gathered at Yaqui's pizzeria on Cherokee Street.
"I am so humbled by all of you who came out to help this campaign," she continued. "When I was out knocking on doors, so many people I met just thanked me for running. People are just so excited to see real change and I can't wait to get that change started."
Elsewhere, the other 10 contested incumbent aldermen had easy victories. Neither Republican or Green parties had city primaries, and currently no Republican serves on the Board of Aldermen.
Below are the election results:
President of the Board of Aldermen
*LEWIS REED, 12,836, 82.5 percent
Jimmie Matthews, 2,727, 17.5 percent
Ward 2
*DIONNE FLOWERS, 394, 44.5 percent
Joyce M. Hall, 58, 6.6 percent
Jasmine K. Turnage, 389, 43.9 percent
Winfield L. Scott, 45, 5.1 percent
Ward 4
*SAM MOORE, 505, 66.5 percent
Arneatrice Myers, 254, 33.5 percent
Ward 7
JACK COATAR, 593, 57.3 percent
Chelsea Merta, 252, 24.4 percent
Samuel Cummings, 190, 18.4 percent
Ward 8
*STEVE CONWAY, 843, 53.1 percent
Kevin McKinney, 744, 46.9 percent
Ward 12
*LARRY ARNOWITZ, 665, 72.6 percent
Rafael Hernandez, 251, 27.4 percent
Ward 15
*MEGAN GREEN, 932, 71.5 percent
Elizabeth Braznell, 372, 28.5 percent
Ward 20
*Craig Schmid, 270, 36.1 percent
CARA M. SPENCER, 360, 48.1 percent
David Gaither, 119, 15.9 percent
Ward 22
*JEFFREY BOYD, 420, 77.1 percent
Angela Newsom, 121, 22.2 percent
Ward 24
*SCOTT OGILVIE, 777, 74.5 percent
Tom Bauer, 266, 25.5 percent
Ward 26
*FRANK WILLIAMSON, 556, 54.8 percent
Rodney V. Norman, 459, 45.2 percent
Ward 28
*LYDA KREWSON, 894, 92.1 percent
Bill Haas, 77, 8.0 percent
* incumbent
Photo: AP