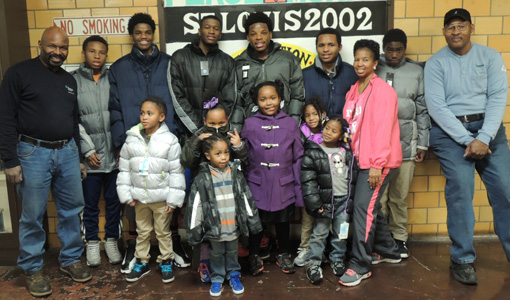 ST. LOUIS — When most Americans think of labor unions, they think of union members campaigning for causes – such as restoring the middle class – or politicians. But unions are really a lot more, and a look at their charity efforts in the St. Louis area shows it.
That's because unions really are people helping people, and never is that more evident than when unions and their members step forward to aid those in need.
Be it regular charities, frequent United Way campaigns or aid to communities that disasters hit, union members go above and beyond the call of duty to aid others. But nobody's ever tallied it all up, until the St. Louis Labor Tribune stepped forward.
The total, and it's incomplete, is astounding. It's also typical of unions nationwide.
For the unions in Missouri and Illinois, Christmas was just a brief way-stop on their year-round efforts to help charities and the less fortunate through crises and tragedies that are part of every community. For them, and for unionists elsewhere, union charity brings Christmas all year 'round.
To be precise, St. Louis unions gave at least $2,844,276.00 in cash and voluntary services to at least 440 organizations, charities and individuals last year. The contributions were in either cash or unionists' skills and talents in free services provided because there was a need and because it was the right thing to do.
And that's just from the 22 unions that responded to the newspaper's survey. When you realize there are over several hundred union locals in our area alone, and several thousand across Missouri, one begins to grasp the enormity of help our unions provide, free, never asking for anything in return.
Helping others is a heart-felt effort ingrained in union tradition. Here are just a few examples:
"Our members recently donated 20 vacation days to a guy when his wife got breast cancer. He had no way to stay home to attend to her without loss of pay. We couldn't let that happen. Those vacation days kept up his wages."
"At our union meetings, the leftover food goes to Feed My People."
"(In the winter) we help elderly groups by doing their snow removal."
"We repaired a roof for a woman whose husband was serving in Iraq."
Members in a number of unions have taken part of the wages negotiated in their contracts and re-routed that money into a union charitable fund.
Our unions never ask for anything in return; they do it because it's the right thing to do. They rarely seek out recognition or make their good deeds known, except for a story in the Labor Tribune, or their union's newsletter. Maybe it's time to change that.
The proposed right-to-work (for less) campaign underway in Missouri, if successful, will not only weaken unions and their abilities to help all working families earn better wages and working conditions, but will drastically reduce the unions' abilities to participate in charities that are such an important part of our local communities.
The Labor Tribune felt it important that people in and out of the labor movement understand the scope of the unselfish giving from unions and their union members to the communities in which they live. It's time to let the wider public understand yet another hidden value unions bring to our communities, value that few ever see except those on the receiving end of unions' good deeds.
Some Missouri Republican lawmakers are promoting, and out-of-state Big Money interests are bankrolling, the effort to adopt this anti-worker right to work (for less) law in Missouri. That law would take away unions' and unionists' ability to help everyone, whether through defending worker rights or coming to the aid of the distressed.
So when you hear someone bashing the unions, remember that union members are your friends and neighbors and that unions are good for Missouri. Their volunteer involvement shown in our paper – the Labor Tribune published a special section reprinting stories of union voluntary giving-is just a partial example of how unions care, and help.
So don't be misled. Say "no" to the phony right-to-work (for less) propaganda, and any other measures, in your states, that would deprive unions of their ability to help all of us.
Photo: Giving the gift of warmth, the Greater St. Louis Electrical Workers Minority Caucus donated coats recently to children at the Tandy Recreation Center as part of the EWMC's annual coat drive. Pictured with the happy (and warm) young recipients are EWMC Treasurer Derick Carter (left), Tandy Recreation Center Director Veronica Logan (third from right) and EWMC President Curtis Tunstall (right). Labor Tribune photo