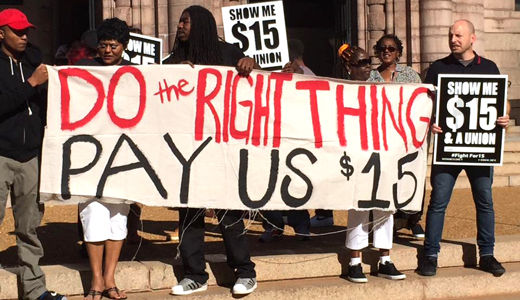 St. LOUIS – Low-wage workers here have a lot to celebrate this Labor Day weekend. On Friday, Aug. 28 the City Board of Aldermen voted to increase St. Louis' minimum wage to $11 an-hour by 2
While the minimum wage won't reach $15 an-hour by 2020, like in L.A., Seattle and New York, it does provide low-wage workers – predominantly women and people of color – with a real, substantive increase in their pay.
Additionally, as the cost-of-living is significantly lower in St. Louis compared to the cities listed above, the real buying power of an $11 an-hour minimum wage is significantly more than in L.A., Seattle and New York.
Further, the St. Louis minimum wage increase slightly surpasses the recent Kansas City, Mo. increase to $13 an-hour by 2020, as that city's minimum wage increases to $10.96 by Jan. 1, 2018.
St. Louis' minimum wage is currently $7.65 an-hour. Effective Oct. 15, the minimum wage becomes $8.25, and then jumps to $9 on January 1, 2016, $10 on January 1, 2017 and then $11 an-hour January 1, 2018.
In all, about 50,000 low-wage workers in St. Louis will see an immediate pay increase come October 15. Other workers will also see indirect pay increases, as employers will now have to offer better, higher wages to attract and retain employees.
"Fast food workers, retail workers, everybody making minimum wages – folks who were getting nickel and dime raises – can now expect a real wage increase. This is what we've been fighting for," Rasheen Aldridge, a former Jimmy John's employee, told the People's World.
"While it isn't everything we wanted, while it isn't '$15 and a union,' it is a step in the right direction," Aldridge concluded.
A coalition of labor and community leaders, working with progressive Alder-people in City Hall, met weekly – and sometimes daily – over the past few months and hammered out compromises to Board Bill 83, introduced by Alderman Shane Cohn (25th Ward), which originally increased St. Louis minimum wage to $15 an-hour by 2020.
St. Louis Jobs with Justice, the Service Employees International Union, the United Food and Commercial Workers' Union and the St. Louis Workers' Education Society, among others, led the charge, canvassed target wards, organized phone banks, spoke with Alder-people, like progressives Megan Green (15th Ward) and Cara Spencer (20th Ward), and mobilized members and leaders to testify and rally at City Hall for the wage hike.
The St. Louis City minimum wage increase is unique for a few reasons.
First, it has very few exemptions – unlike some other city initiatives. In fact, only small employers, defined as having 15 or fewer employees over the course of a year or those making less than $500,000 in revenue over the course of a year, are exempt. The minimum wage increase applies to all other businesses.
Undoubtedly, small employers exempt from the increase with have to raise wages to retain employees, as the minimum wage increase will put upward pressure on wages for all employers, not just big businesses.
Second, sheltered workshops are not exempt from paying the new minimum wage. On Aug. 28, the day of the Board vote, some Alder-people disingenuously attempted to exclude this category of disabled workers from the increase and thereby create a permanent underclass of workers making sub-minimum wage.
Thanks to disability rights advocates, especially the Coalition For Truth In Independence (CTI), the proposal to reopen discussion on the bill – and insert this exemption – failed, allowing for a final vote on the compromise bill that protects disabled workers from on-going exploitation.
Julie Salih, a leader in CTI, told the People's World, "As a person with a disability and a person who had an uncle who worked in a sheltered workshop for 30 here in St. Louis City, I know first-hand the impact so-called sheltered workshops – and sub-minimum wages – have on people with disabilities. This isn't just a disability rights issue. This is a workers' rights issue, though. This is about people who work who deserve to make a living wage."
Salih joined other workers' rights advocates, union and community leaders, on the Board floor as this issue was being debated, a visible show of support for those Alder-people who stood against the continued exploitation of workers' with disabilities.
The bill was passed as an emergency measure, which allowed Mayor Francis Slay to immediately sign it into law. On the heels of the St. Louis and Kansas City victories, the mayors of both cities pledged to work together to pressure the Missouri legislature to pass a new state-wide minimum wage increase.
Photo: Missouri Jobs with Justice Facebook.