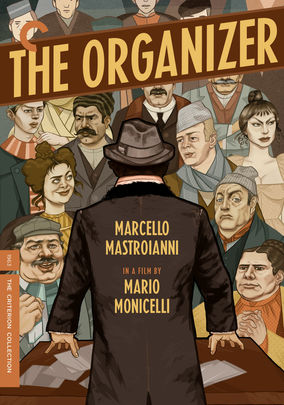 Labor struggles have occurred as long as there've been workers to exploit. Issues are constant around the world: poor and dangerous working conditions, long hours, bad pay, with no health care or significant benefits.
It's unions, the world around, that have organized workers to gain power to fight back, and there've been many historic battles that have been recorded for history. Workers didn't usually have the cameras and equipment, and certainly not the time to document their exploited lives. And even if they did, their stories were rarely shown on the big screen.
Certainly we can count the few classic labor films that have left lasting impressions, Norma Rae, Salt of the Earth, Strike, Bread and Roses, Harlan County, Modern Times, to name a few, created by skilled artists defending the working people. Martin Ritt, John Sayles, Ken Loach and Barbara Kopple come to mind.
Let me quickly recommend some lesser known labor films worth your attention: The Navigators, At The River I Stand, The Organizer, Spirit of 45, Made in Dagenham, Lula: Son of Brazil, also just to name a few. If you want to dig deeper, check out over 1,600 titles at www.laborfilms.com.
My recent review on the copper strikers in Upper Michigan focused on the film 1913 Massacre, about the tragic deaths in the Italian Hall that ultimately demoralized the strikers. PBS recently aired Red Metal, an examination of the Copper County strikes.
Here are a couple other short films worth your attention, dealing with important labor history.
An Injury To One (2002, USA, 53 min., directed by Travis Wilkerson) is an experimental documentary exploring the turn-of-century lynching of copper union organizer Frank Little in Butte, Montana. Wilkerson is a creative artist searching for new filmic methods to deliver important political ideas. His stylized treatment of the great Cuban documentarist, Santiago Alvarez, Accelerated Under-Development, is a rare and important story about one of cinema's giants. And Wilkerson recently contributed to the collective documentary Far From Afghanistan, featuring the work of five American progressive filmmakers.
The westernmost province of Canada has a rich history in union organizing. These Were the Reasons: Stories of Union Organizing in British Columbia (2011, Canada, 28 min.) is directed by Howie Smith, who has provided a valuable history lesson, spanning many decades of union activism.
Like 1913 Massacre, Smith's short film tells the history straight from the workers' mouths. Coal miners, copper, lumber and road workers, fish cannery and longshore workers are all represented in this comprehensive retelling of important chapters in labor history. Nothing is more honest and compelling than a firsthand account of the horrid working conditions that forced workers to go on strike to form a union. Many gave their lives to try to feed their families, and to try to organize for better pay and working conditions. This film is filled with wonderful archival photos and heartfelt stories that pay tribute to the workers who fought for their lives against a company who brought in scabs and militias to defend the scabs. Many workers eventually lost out and those who struck were never hired back, some even jailed. The story of Ginger Goodwin, one organizer who defied the militias at the Cumberland Mines in Vancouver, fled into the hills, and was eventually captured and killed, is told, reminding the viewer of another legendary labor hero, Joe Hill.
The heroic actions of BC workers are summarized in this overview of labor history in British Columbia, providing little known facts.
* The BC Women's Labor League in the 1930s led a hunger march demanding unemployment insurance that wasn't realized until the '40s when many women eventually joined the labor force during World War II.
* It wasn't until 1942 that a breakthrough BC Labor Act gave workers the right to bargain collectively.
* The BC loggers were the first in Canada to bargain for a 40-hour work week.
* It wasn't until the '70s that Canada established equal pay for equal work.
* In 1975 Canada enforced wage controls, seen as a direct attack on collective bargaining.
* In 2002, the BC government privatized health care services, effectively gutting union contracts. After militant protest marches and worker actions, Canada's Supreme Court rolled back the decision five years later.
* A similar scenario took place in regard to teachers' rights, as their collective bargaining rights were taken, fought for and won back in 2011.
The film concludes with stirring examples of unions working alongside the peace and justice community, often rallying hundreds of thousands of activists. People on the street are asked about the need for unions and their answers provoke discussion, something this film will surely do. The 28-minute short is perfect for stimulating discussion among workers or students, addressing the universal issues that face all workers of the world.
The DVD is lovingly created and beautifully packaged. You can purchase one and read more about it at www.bcovertime.com.