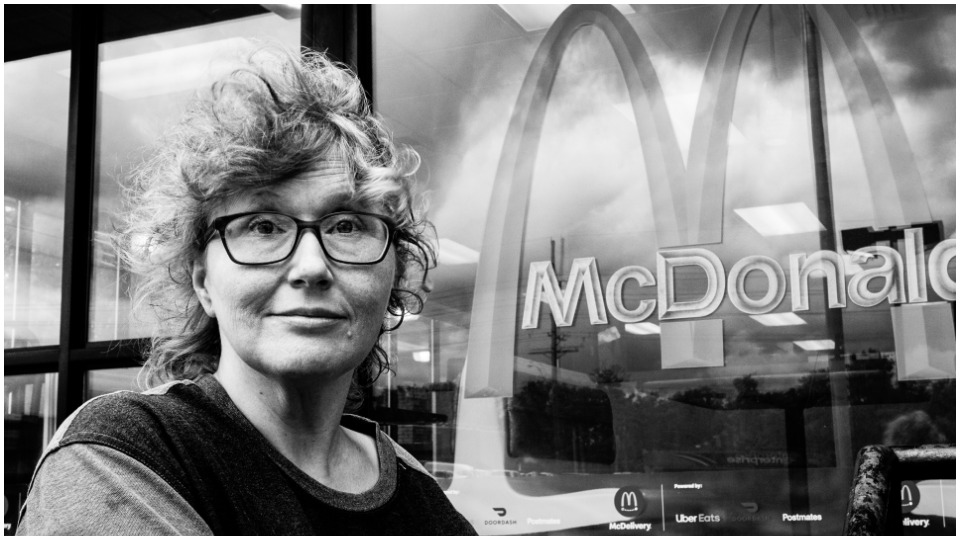 This is an installment in a series of profiles of workers involved in the Fight for $15 and a Union. Read the other profiles here.
Awkwardly situated alongside Historic Route 66, the Crestwood, Mo., McDonald's store I pulled into was replete with what we could call nostalgic charm—fitting for its location on the "Main Street of America."
With a U-shaped two-lane drive-thru service, this '70s era design fast food joint, complete with double-sloped Mansard roof, might have been the pitstop for many road-weary travelers over the years. And, for some, it still seems to be their preferred drive-in spot for breakfast, lunch, and dinner.
Under a darkened sky, right around 10:30 a.m., several pick-up trucks and beat-up SUVs, windows rolled down, arms dangling out the driver's side windows, filled the parking lot. Couples with a bit of grey on top and lines crisscrossing their faces sat and ate their greasy delights quietly while conservative talk radio filled the airwaves (we are now in St. Louis County, several shades of red darker compared to the City of St. Louis).
The faded American flag, inches above the neon yellow arches, flapped and clapped as the winds kicked up. Workers on their much-deserved 15-minute break cupped their hands, bent over, turned their backs to the wind, yet failed to light up their cigarettes, desperation taking hold of their exhausted faces. The storm was rolling in.
Those feelings of nostalgia brought on by this staple of childhood, carried in by the winds of a summer storm, were joined by thoughts of impermanence; nothing lasts forever, and throughout our lifetime we will face the daunting prospect of having to start over—whether or not we're prepared.
Cathy Sherwin, 43, is but one shining example of how starting over may be tackled with grace and positivity, and be driven by a passion to effect social change in our world, even if done in ways one never expected.
With an effervescent and contagious smile, Sherwin, a mother of four and newly minted grandmother, met me at her McDonald's here in Crestwood, Golden Arches cap in hand, ready to start another shift.
This wasn't the first time I'd met Cathy. We met back in 2014, and she was one of the early labor leaders I connected with. From that first encounter, I was awed by her fierce commitment to fighting for social justice and workers' rights.
Her professional life started within the ranks of organized labor.
"I was an organizer for a CWA Local here for a long time before I ended up at another union local," she said, "and during the Labor 2010 elections campaign, I was released to go work on that with the national AFL-CIO. Afterward, they brought me on full time as a communications coordinator for the Midwest region—I spent eight years working for the AFL-CIO, traveled across the Midwest, and did what I could to help out."
The local Fight for $15 campaign, Show Me $15, was no stranger to her either.
"I was involved in the very first strike with Show Me $15 in 2013. I ended up going to one of the conferences in Detroit and, being the Midwest comms person for the AFL-CIO, it just made sense for me to stay looped in and help organize support from our labor community," she said.
And following the killing of Michael Brown in Ferguson, Mo., in Aug. 2014, Cathy was out in the streets along with Show Me $15 organizing and demonstrating for police accountability and an end to racial injustice. "I was out there and did a lot during Ferguson October."
Cathy would have been out there every night during the fightback of 2014, but tragedy struck.
Other photo essays from Al Neal:

Surviving at the crossroads of economic and racial intersectionality: Monique

The daily life of those fighting for $15 and a union: Bettie Douglas

'Black Lives Matter' and 'Show Me $15' ring out at St. Louis strike

Pain, hope, change: Boarded-up buildings become canvases for radical art

This cab driver says he is scared
"Shortly after Ferguson October, while I was on the road for work, I ended up being rushed to emergency surgery. I was only 38 when they operated and found that I had glioblastoma brain cancer," she said. "I had to take early retirement from the AFL-CIO and take care of my health."
Glioblastoma cancer, being one of the more aggressive types of cancer, was no match when going toe-to-toe with Cathy, though the road to recovery was not easy. Over the next two years, Cathy said she devoted her time to being an officer with the local chapter of the Coalition of Labor Union Women (CLUW) and a volunteer activist. She spent part of that time also looking for work within the labor movement, but "kept hitting brick walls."
"I realized I was going to have to work somewhere and be able to go back to school if I wanted to get back to having a good job, and working fast food allows me to earn a bit of money to supplement my retirement income and be able to attend school full time."
Cathy's end goal is to attend law school and likely become an advocate for workers, "but it's a long way away," she says. "For now, I'm just a new community college freshman."
"Was it strange going from a labor/community ally of the Fight for $15 to fast food worker?" I asked her.
"Not at all," she said. "There is no difference from being a community ally to being a fast-food worker, I mean, we're all workers at the end of the day, and now I'm just doing my part as a member—it's a way for me to stay in our movement and continue to fight for change."
She pauses momentarily before breaking into laughter: "To tell you the truth, 10 minutes after getting hired, I gave someone over at Show Me $15 a call to organize the store."
She didn't want to go into too much detail about the organizing efforts, given the retaliatory nature of bosses, and it's only fair—she has her health and family to look after, and you need to know when to act versus when to bide your time quietly.
"It had been several years since I was on a timeclock—I worked at a grocery store for a bit when my kids were tiny, but if anything, now all this is just a reminder of how things never change," she continued. "Bosses are bosses wherever you go, and they always have subtle ways of trying to get as much out of you as possible in a ruthlessly efficient manner…. Also, it's taken a bit of time to adjust to the fact that I am not profoundly physically disabled, and am still trying to process what I can and can't do."
Cathy is now worried about her health and immune system with the persistent nature of (and political inaction around) the COVID-19 pandemic. And given her new title of "essential worker," Cathy's role cleaning tables, disinfecting all the store surfaces, and taking out the trash has led to an increase in her hourly shifts—a good thing when it comes to paying the bills, but a situation that places her at a higher risk of infection at the same time.
"Everyone on staff is good about wearing masks. They [McDonald's management] don't provide a lot of PPE, but we haven't had too much of a problem; we usually have enough gloves, etc… But you know, at my store we don't have a full-time store manager. Instead, we have a regional franchise person who's running it, and she's erring heavily on the side of caution."
"How do you feel being called an essential worker?" I ask.
"Well, corporate America wants an endless stream of essential workers," she said. "So, they will make 'essential workers' happen—it makes them look good." Pointing to her t-shirt, she says, "Every day I put on my uniform that shows we're 'essential worker' in bold letters…just in case we forget how 'important' we are to corporate."
Pandemic aside, Cathy has been doing what she can to help the fight for Black Lives and makes it a point to pull over and cheer along with demonstrators, wherever they may be.
"I was so mad school finals were scheduled on the day of the Strike for Black Lives…if it had not been for that, I would have been out there with everybody," she said.
Today, she is focused on helping to get out the vote for the 2020 general elections. It is a win or bust moment, a time for organized labor nationwide to take a decisive stand for the sake of democracy, in her opinion.
"I would point to Missouri as an example of what organized labor is capable of when it comes to making real change for working people—look at the fight to raise the minimum wage, the defeat of right-to-work. And we would all be falling behind if Fight for $15 wasn't growing and showing the links between all social justice movements. Now, when it's possible to make a long-lasting change, it would be almost reckless not to seize this moment, not to fight for racial and economic justice, and to not vote Trump out of office."