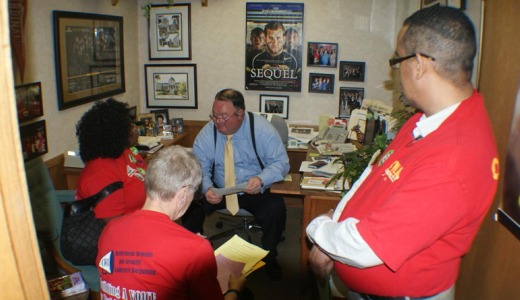 JEFFERSON CITY, Mo. – "We are here because our elected officials need to know what we are dealing with," Bradley Harmon, president of Missouri State Workers Union (CWA-MSWU) Local 6355, told over 100 state workers in the Capitol rotunda here March 31.
"It is not OK to balance the budget off of our backs," Harmon said. "There might be more unemployed if these elected officials don't get in line," he said, alluding to the November elections and the unions' plans to un-elect politicians who want to lay off state workers.
Andy Milburn, vice president of Communication Workers of America District 6, talked to union members about the state's efforts to steal their defined-benefit pensions and change them to individual 401k plans, which could spell disaster for retirees.
"The 401k plans are savings plans. They are not pensions. They are not defined plans," Milburn said. "You are state workers. You work hard. You deserve a defined pension plan."
Moreover, Milburn asked, "How are you going to save money for a 401k when you make poverty wages?"
Missouri's state workers are the worst paid state workers in the country. "State workers deserve and expect better," Milburn concluded.
Members of the Service Employees International Union and the American Federation of State, County and Municipal Employees also attended the state workers' rally and lobby day.
Before inviting Nancy Cross, vice president of SEIU Local 1, to speak, Harmon added, "They are not going to divide us. We are all state workers. And we are standing together to say no cutbacks."
Cross told the union members, "It is your collective power that will help us succeed. We are on a collective mission."
Cross said collective bargaining rights for state employees in Missouri are under attack. "In collective bargaining both sides are supposed to negotiate in good faith," she said. "Both sides are supposed to be at the table to get an agreement that benefits everybody. However, the state of Missouri doesn't want to negotiate in good faith."
"We are not going to sell each other out," Cross concluded. "United we stand, divided we fall."
State Auditor Susan Monte told the crowd of workers, "It is tough out there. These are tough times. We are in a financial crisis. But we cannot cut services for our most vulnerable. The work you do is vital to our state."
She added, "This isn't a budget problem. This is a revenue problem. We need to look at our taxes and exemptions. We need to increase taxes on corporations and the wealthy."
For example, big corporations in Missouri, such as Wal-Mart, get a 2 percent discount if they file taxes on time. "This saves Wal-Mart $92 million a year in tax exemptions for filing on time," Monte said. "Do you get a 2 percent discount for filing on time," she asked the workers.
Harmon denounced the state's claim that declining tax revenue necessitates budget cuts. "This is a bunch of bull," he said. "It's not true. They can raise the money by taxing the rich and big corporations. And it's time they do it."
After the rally members of CWA-MSWU, SEIU and AFSCME lobbied state legislators, demanding a balanced approach to the budget crisis, one that increases revenue instead of cutting services.
Photo: Missouri State Workers Union members meet with a state representative to demand a budget that taxes the rich instead of cutting services and jobs. (Courtesty Mark Esters, MSWU).