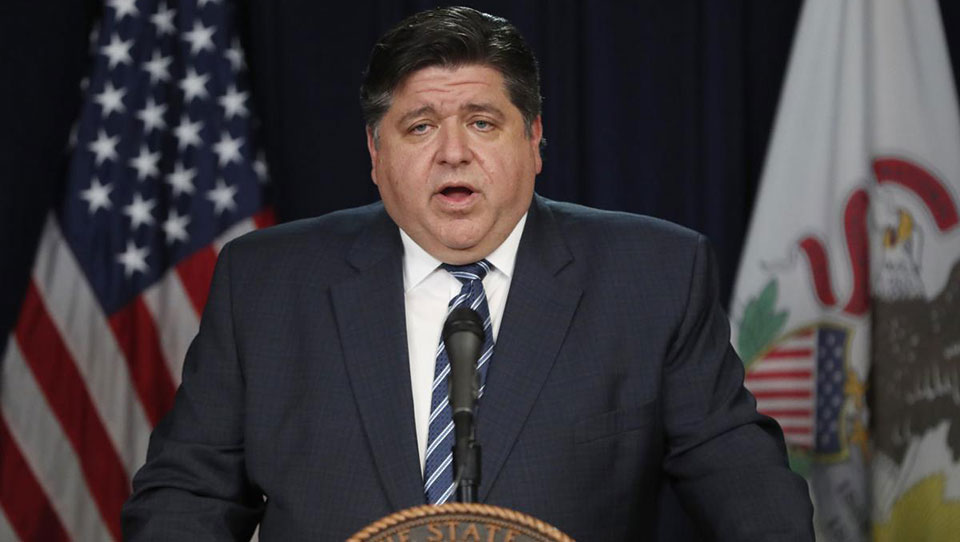 CHICAGO –Despite increasingly frantic pressure from Illinois Governor J.B. Pritzker and other governors, Trump refuses to use the Defense Production Act (PDA) to acquire tens of millions of testing kits, N95 masks, ventilators, and other vital medical supplies. Pritzker has repeatedly criticized Trump for not leading a "singular, national, robust" response to the accelerating coronavirus pandemic.
Illinois reports over 1,500 coronavirus cases and 16 deaths as of March 24. Unemployment claims jumped ten times over claims reported three days earlier.
Illinois, like other states, has acted on its own in the absence of clear guidance from the White House. Images of nurses at New York City's Elmhurst Hospital wearing plastic garbage bags to protect themselves have gone out on national television. One health care worker at that institution, which is at 125 percent capacity, is already dead from the inability to protect themselves.
In Illinois, Pritzker issued a state of emergency on March 9 and shelter-at-home order March 20 in response to the pandemic.
Governors, mayors, and public health officials are begging the Trump administration to deliver vital medical supplies to frontline medical workers. The DPA allows the government to command industry to produce essential items in a national emergency.
Despite a reported $150 billion for state and local emergency aid from the $2 trillion stimulus package, many governors say they have been left to largely fend for themselves. Gov. Cuomo in New York describes the $3 billion his state will get from the bill and the $1 billion going to New York City as a disgraceful "drop in the bucket."
In return, Trump is putting the onus on the backs of states and municipalities, setting them up to take the blame in the face of a looming catastrophe. "You're on your own," he says.
Trump responded to Pritzker's criticism by tweeting, "@JBPritzker, Governor of Illinois and a very small group of certain other Governors, together with Fake News @CNN & Comcast (MSDNC) shouldn't be blaming the federal government for their own shortcomings. We are there to back you up should you fail, and always will be!"
But Pritzker wasn't having any of it.
"You wasted precious months when you could've taken action to protect Americans & Illinoisans," he responded. "You should be leading a national response instead of throwing tantrums from the back seat. Where were the tests when we needed them? Where's the PPE (personal protective equipment)? Get off Twitter & do your job."
Pritzker was reflecting the deep frustration of many state governments on the front lines of the public health response. The crisis, they maintain, is on a scale far beyond their ability to respond and cannot be solved without the Federal government's help and vast resources. Without the use of the DPA, governors say tens of thousands of people will die unnecessarily.
Three days before declaring the state of emergency, Illinois placed an order with the US Strategic Stockpile for personal protective equipment. The state received its first and only supply a few days later. Only a fraction of its order, and with some items, nothing at all, was received.
States are reporting that large sections of the inadequate number of supplies they have received from FEMA are expired and would not normally be used in operating rooms.
Trump, the GOP, and a section of Wall Street prefer no government intervention, leaving production up to the "goodwill of industry." So far, the results are damning: severe shortages, corporate price gouging, and wasted public resources as states compete with each other and FEMA to secure orders.
Illinois, like other states, is scouring the world for PPE. At the same time, it began to organize state businesses to produce vital equipment and medicines. For example, Illinois still needs 5,000 ventilators.
Because of the state's effort, "Illinois is acquiring PPE to compensate for what we haven't received in our federal requests," said Pritzker. "But we are doing so while running up against obstacles that should not exist. I have medical professionals and first responders begging for things they need to keep them safe."
"But, so does Gov. Cuomo in New York. And, so does Gov. DeWine in Ohio. So does Gov. Inslee in Washington," said Pritzker. The DPA was necessary, so the needs of a nurse in Illinois didn't come at the expense of a doctor in California, he said.
"We're willing to pay reasonable retail prices for the things that we need. But the federal government needs to say to all the companies in the United States that produce these goods that they're going to buy them all together and distribute them across the states," said Pritzker.
Pritzker, who is personally calling companies, likened the competition for PPE to the "wild west." He found "we're competing for ventilators with FEMA and the federal government. So, Illinois is bidding for ventilators against the federal government. In another case, we were bidding against foreign countries and other states."
Despite years of deindustrialization, Illinois still has significant manufacturing, research, and development. The state set up the Essential Equipment Task Force to help coordinate the efforts of 4,000 manufactures and facilities to ramp up and coordinate the production of essential supplies and medicines. The group is working with the Illinois Manufacturing Association and I-Bio, which represents 85,000 life science, biopharma, and food employees across the state, to produce vital supplies.
In some cases, manufacturers are repurposing production facilities to make the essential supplies. Clothing manufacturers are producing masks and gowns, liquor manufacturers are producing sanitizers, and plastic injection manufacturers are producing parts for testing kits.
Trump and GOP efforts to dismantle the Affordable Care Act and block implementation at the state level on top of policies attacking government and defunding vital services have left states and municipalities in a weakened position in the face of the pandemic.
Health care professionals say Trump is under the spell of "magical thinking," when he expresses a goal to re-open the economy by Easter. However, Pritzker, other governors, and mayors are demonstrating the essential role of governments in an emergency, relying on science and public health professionals.
Illinois and other states and municipalities are marshaling every resource available in a race against time. Facilities must be prepared and stocks of personal protective equipment acquired for a battle most health experts agree could last as long as 18 months.
Illinois is mobilizing every agency of government and the National Guard, who are helping administer coronavirus tests at drive-through clinics. Retired health care workers are being urged back to work and half the state's 200 hospitals have either built or are building triage centers outside to evaluate patients.
The state estimates it will need nearly 38,000 additional hospital beds. Without the stay-at-home order, which Pritzker may extend beyond April 7, Illinois would have been short approximately 10,000 ICU beds.
Chicago mayor Lori Lightfoot announced the city would rent 2,000 hotel rooms for patients with mild coronavirus cases who can't return home. Hospitality workers who otherwise would be laid off will remain on the job. Illinois will also reopen shuttered hospitals, including one in Blue Island, a suburb of Chicago.
The Chicago Housing Initiative called upon Lightfoot to rent vacant units operated by the Chicago Housing Authority to homeless individuals and families. Many of the units have been languishing for years.
Meanwhile, fears are growing over the threat posed to incarcerated individuals throughout the state. Scores of low-risk prisoners have been released from Cook County Jail and juvenile detention. A coalition of groups had called for decarceration.
"Today there are more than 5,500 people incarcerated in Cook County Jail (CCJ). Almost all of them are still awaiting trial and thus presumed innocent under the law. Their ongoing incarceration is an unacceptable risk to every incarcerated individual as well as public health," declared the Chicago Community Bond Fund.
Immigration reform activists are calling for the complete shutdown of Chicago's Immigration Court, which has remained open despite the closure of similar courts around the country. "People are being pushed further into the shadows," with the continued deportations and fear of seeking medical help, declared immigrant rights leader Emma Lozano. "Right now, their health should be everyone's problem, because if they don't feel safe, no one will be safe and the virus will spread."
In a warning to the nation, New York Governor Andrew Cuomo said what his state is experiencing today will be the nation's future. Time will tell if the efforts of Illinois state government, alongside other states, municipalities, school and public health systems, and millions of residents, volunteering and self-organizing, are enough to meet the challenge.