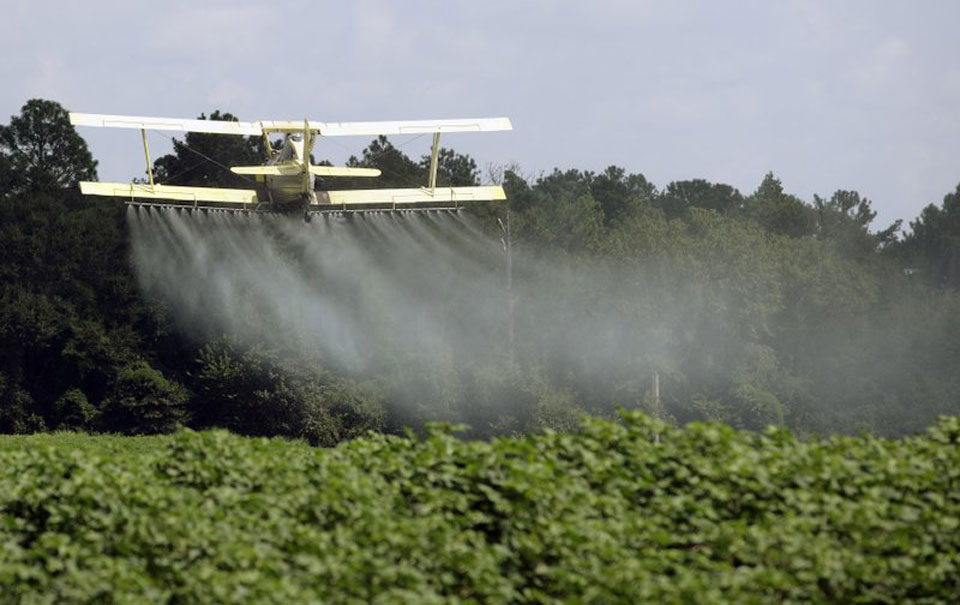 SAN FRANCISCO – Seven states, led by Massachusetts, California, and New York, are suing the Trump Environmental Protection Agency to stop its regulatory OK of letting a toxic pesticide, chlorpyrifos, stay on the market.
The states say EPA's own scientists found, both in 2015 and 2016, that no level of chlorpyrifos is harmless for children, especially infants.
And since it's commonly used to spray fruits and vegetables which then get shipped all over the country, the states can't stop exposure of their own residents to it, no matter what they do.
Chlorpyrifos is used on apples, strawberries, bananas, pears, peaches, nectarines, cherries, and other food crops. Its residues are found in baby food. Massachusetts Attorney General Maura Healey explained chlorpyrifos inhibits an enzyme key to proper development and functioning of the central nervous system and brain.
The lawsuit, filed August 7 in the 9th U.S. Circuit Court of Appeals in San Francisco, is the latest chapter in a long-running battle pitting environmental and labor groups – including Labor's Coalition for Latin American Advancement (LCLAA) and the United Farm Workers – against Trump's EPA over the pesticide. With the lawsuit, the states joined the fray.
That coalition tried to stop former Trump EPA Administrator Scott Pruitt in 2017 from issuing an order keeping chlorpyrifos on the market, even though exposure to it in the nation's fields and farms also harms adults. Pruitt rejected the coalition's complaint, EPA's pesticide rule notice says.
But since the Federal Food, Drug and Cosmetics Act, one of the basic laws EPA helps administer, bans licensing substances harmful to kids, EPA must rule if chlorpyrifos does so. Congress set an Oct. 1, 2022, deadline for that decision.
Instead, the agency illegally turned the burden of proof around, forcing the states and environmental groups to prove it is harmful, the suit says. And they didn't, EPA claims.
"EPA concluded the information presented by" the states and environmental groups "is not sufficiently valid, complete and reliable to support abandoning" the pesticide, the agency's July 24 notice states. Then it OKd the pesticide.
That turnaround in the burden of proof makes EPA's decision not legitimate under federal law, the states reply in their suit. The burden of proof is on Trump's EPA, they point out. And it flunks.
"The Trump administration is shamefully putting industry interests above the health of our children and the environment," Healey said. "We are asking the court to order EPA to do its job and ban this toxic pesticide from our food."
The lawsuit is one of many, in a coordinated strategy Healey forecast before a progressive legal group just after Trump took office. In all of the issues, she said, state attorneys general would be defending workers' rights, along with federal rules that protect workers and consumers and other rules against Trump's depredations on behalf of corporate interests.
"Studies have shown children born to mothers who were exposed to the toxic pesticide during their pregnancy exhibited cognitive and motor development delays in the first three years, and structural changes in the brain, lower working memory and IQ scores at age seven, and movement disorders (including arm tremors) at age 11," Healey's statement added.
The coalition of attorneys general has also taken on Trump on issues ranging from his Muslim ban to his scheme to skew the census results next year by inserting a "citizenship" question on the form, deliberately scaring Hispanic-named people into non-participation and non-representation.