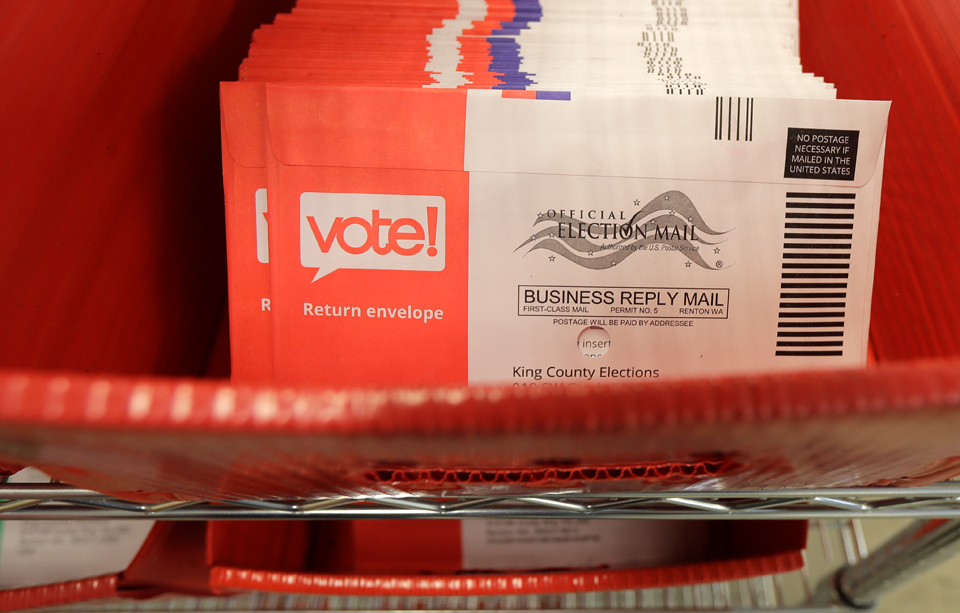 If Wisconsin's primary election on Tuesday taught us anything, it's this: The ability to thwart the democratic process and suppress the votes of Black, Latino, and other minority communities is even easier when crisis strikes.
Ignore the federal medical advice to prevent the spread of coronavirus, close hundreds of polling places, and you're sure to improve your odds of winning. Of course, the obvious question is, why would any political party do that?
We'll get to that in a minute, but let's start with some numbers: There are over 327 million people (2018) in the United States. A little over 153 million of them were registered to vote as of 2018. With the 2020 presidential election rapidly approaching, the look of the electorate is changing fast. Hispanic and Latino voters are projected to become the largest minority voting bloc this year, with non-white and foreign-born voters now making up almost 33% of the eligible total.
This growing trend is coupled with an overall long-term generational shift. For this year's vote, almost 23% of eligible voters will be 65 or older—the highest number in that age bracket since 1970. It will also mark the first time voters aged 24-39 will make up a slightly smaller number of eligible voters than in the previous presidential election. Post-millennials, Generation Z (18-24), are expected to account for one-in-ten eligible voters, and they look to be a more racially, ethnically, and politically diverse cohort.
Keeping all that in mind, let's look at today, the messy present. Our vision of the near future is muddled amid the COVID-19 pandemic. Our democratic institutions are being tested daily. Which brings us back to the question we started with—why would any party want to make it harder to vote?
For our answer, we can turn to President Donald Trump: "They (Democrats) had things, levels of voting that if you'd ever agreed to it, you'd never have a Republican elected in this country again."
COVID-19 voter suppression: Trump admits GOP can't win if many vote
The "things" Trump refers to was what the Democrats put forward in their version of the coronavirus relief bill that would have allocated $4 billion of the total $2 trillion bill to the Election Assistance Commission for "election security grants." The money spent would be to "prevent, prepare for, and respond to coronavirus, domestically or internationally, for the 2020 Federal election cycle."
That was just too much. Republicans earmarked only $140 million in their version of the bill, and the final CARES Act, H.R. 748 (116), which passed the House and Senate, landed on $400 million.
Of course, $400 million to maintain safe and fair elections nationwide is a paltry sum and won't come close to delivering the best outcome for voters ordered to shelter indoors and keep 6-12 feet apart from one another when in public.
"Given the recent health crisis, states and localities immediately need significantly more resources to make critical investments to ensure that all voters can participate in free, fair, orderly, and safe elections this year," said Karen Hobert Flynn, the president of Common Cause, in a statement. She called the decision to hold in-person elections in Wisconsin "reckless and irresponsible."
"Every American deserves to have their voice heard on election day, but voters should never be forced to risk their safety to cast a ballot," her statement continued.
Election officials across the nation, and across party lines, have called for the expansion of voting by mail as a solution while we continue to handle the coronavirus pandemic day by day.
It makes complete sense. And now, more than ever, plans are needed to update how we vote, to make the vote accessible to all, and to protect our civil rights.
The "vote by mail" concept that's getting a lot of attention right now isn't even that new. Since 1986, the Uniformed and Overseas Citizens Absentee Voting Act has protected the right of active duty military and citizens living abroad to mail in their ballots. Currently, five states run all their elections entirely by mail—Colorado, Hawaii, Oregon, Washington, and Utah—and there has been a gradual increase in early voting by mail.
Not to say that there wouldn't be any flaws, as with any political process, but the good outweighs the bad, generally.
Let's run it down:
Making voting easier and more convenient would increase participation and allow voters more time to study the issues and make informed choices.

People have plenty of time to get their ballots in and are not pressed to rush to a polling place on their lunch break or after work on one single day.

It would save states, cities, and local municipalities money which could be used to better serve the entire community at large.

Turnout: Utah saw a percentage increase of 4-9 points in the state's 21 counties which voted strictly by mail. Add that kind of jump in mail-in turnout numbers to higher participation rates seen recently among all age, racial, and ethnic groups (11 percent increase from 2014), and the nation could set new voting records.
What could possibly be the problem with such an outpouring of civic responsibility?
Well, for Republicans, Trump admitted the problem: A lot of GOP candidates would most likely lose.
"Republicans should fight very hard when it comes to statewide mail-in voting. Democrats are clamoring for it. Tremendous potential for voter fraud, and for whatever reason, doesn't work out well for Republicans," Trump tweeted a day after encouraging voters in Wisconsin to "get out and vote."
The real problem isn't voter fraud.
That's just a nice cover for what the president is actually saying: If Black voters, Latino voters, Indigenous voters, Asian voters, and others get the chance to vote easier—free of voting roll purges, last-minute polling location site changes, and other crooked tactics—we Republicans are screwed.
"I think a lot of people cheat with mail-in voting," Trump said last Friday. "I think people should vote with Voter ID. I think Voter ID is very important, and the reason they don't want Voter ID is because they tend to cheat."
Cheating, no. Fraud, no. Voter suppression, yes.
Again, Wisconsin was an eye-opening moment.
"They could have delayed the election with no problem," said Michael Claus, 66. "They decided if they can suppress the vote in Milwaukee and Madison, where you have a large minority presence, you can get people elected you want elected. And that's sad."
The nation faces many challenges as the coronavirus pandemic continues its spread, but one challenge—holding free and fair elections—has a pretty easy solution: vote by mail.
TOWN HALL May 2 – Confronting the COVID Economy: Women Fight Back