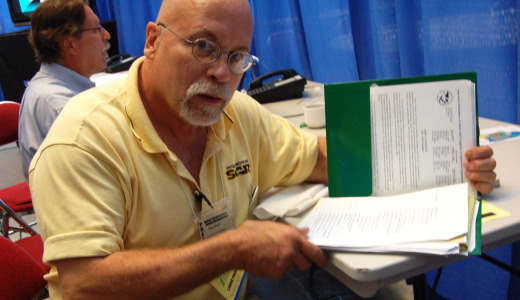 MARION, Ohio – Long-time labor activist Bruce Bostick called for building a "wide coalition to isolate the right wing" to win basic necessities for working people and move towards socialism, at a forum here May 3.
Bostick, a retired steelworker and member of the Communist Party USA National Committee, was the featured speaker at the Norman Thomas Memorial Lecture at the Ohio State University campus in Marion. A formerly thriving industrial town in North Central Ohio, Marion was the home of Thomas, leader of the Socialist Party from 1928 until his death in 1968.
Bostick was the first labor leader to speak at the annual event since it began in 1972. About 25 campus and community activists were in attendance while others watched a live broadcast of the event at another OSU branch.
"We live in a time of deep crisis and great opportunity," Bostick said. The election of President Barack Obama, he said, has raised hopes and opened the possibility for reform to address the devastation to the lives of working people caused by "three decades of right-wing rule."
Right-wing administrations, he charged, have been responsible for "the most massive redistribution of wealth in the history of humankind." The income disparity between CEOs and average workers in the U.S. has skyrocketed and is now 344 to one, he said, more than 20 times what exists in other developed countries.
Plant closings, massive unemployment, entire blocks of boarded up homes, crumbling infrastructure, public budget crises, destruction of pensions and attacks on the right of workers to organize were not "acts of God" or caused by natural disasters, Bostick said. They are the direct result of "conscious acts of extreme right-wing legislators."
A massive movement from below is needed to pass legislation to create jobs, repair the infrastructure, develop green energy industries and reform health care and the financial system, he said.
"We must defeat the Republican Party, which is wholly owned by the extreme right," Bostick said. "Electing Democrats gives people room to struggle."
Two trends have emerged on the left to deal with this challenge, he said. "One is broad and inclusive. The other is sectarian and narrow."
The Communist Party, he said, agrees with the broad point of view. "We are an organization of regular working people helping to build a coalition for change. We believe in socialism and want to work with everyone pushing for progress."
Socialism, Bostick said, is the defeat of "corporate financial control of the government and empowerment of a new coalition of the people."
He cited a recent Rasmussen poll that found that 20 percent of the American people prefer socialism to capitalism.
"We can be optimistic based on the growing struggle," he said, referring to the recent large demonstrations organized by labor against the banks.
Photo: Bruce Bostick at 2009 AFL-CIO convention in Pittsburgh. (PW/Teresa Albano)