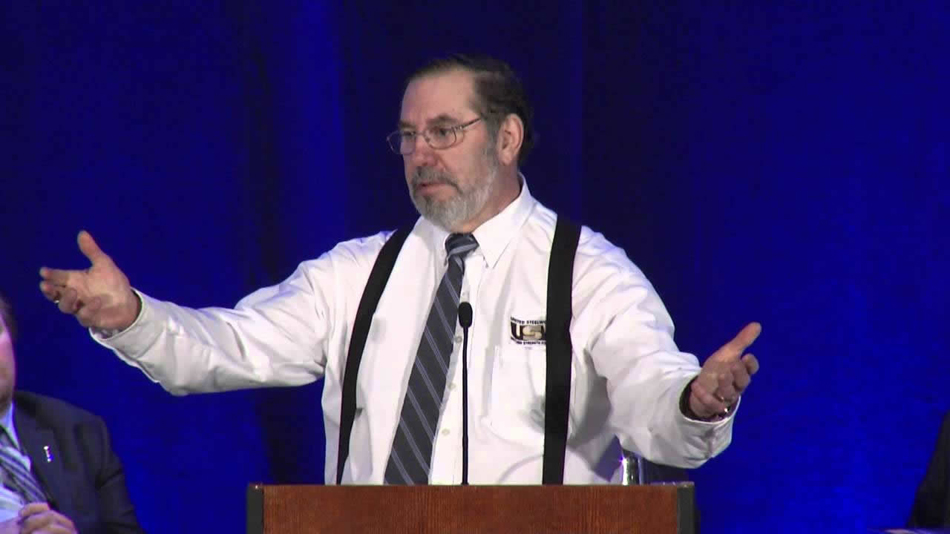 WASHINGTON—The Steelworkers and two top congressional allies welcomed GOP President Donald Trump's March 1 plan to impose 25 percent tariffs on dumped imported steel and 10 percent tariffs on dumped imported aluminum, starting next week.
The president made the announcement at a meeting with steel industry CEOs. The union, the industry and Trump's own Commerce Department all said the dumped imports would harm national security by cutting U.S. steel and aluminum capacity so low the nation would have to rely on imported steel to build tanks, pipes, planes and fill other military needs.
Because of national security, the other nations can't overturn the tariffs. Trump also predicted the tariffs would create more U.S. jobs in those two sectors. Asked by reporters when the tariffs would end, he said they're "unlimited."
"Steel and aluminum will see a lot of good things happen.  We're going to have new jobs popping up.  We're going to have much more vibrant companies.  And then the rest is going to be up to management to make them truly great," he said. He earlier blamed prior U.S. governments for inaction, saying "workers have not been properly represented."
"The steel and aluminum sectors have been under attack by predatory trade practices," said Steelworkers President Leo Gerard. "For too long, our political leaders have talked about the problem, but have largely left enforcement of our trade laws up to the private sector. This is not what hard-working Americans want from their government. They expect national security, the foundation of which is built with steel and aluminum, to be protected."
The Commerce Department reports on the imports, which Trump demanded, told him "what we already knew," said Gerard, whose union represents workers in both industries.  Since Trump's request last year, "workers across the country have raised their voices in calling for the need of action to ensure that our aluminum and steel sectors can survive."
Gerard also previously noted that foreign steel producers scrambled to increase exports to the U.S. before Trump imposed the duties.
"The question for some time has been what action to take," Gerard continued.  The union's objective in calling for the tariffs has been both to protect national security and "to restore market-based economics that ensure that our domestic producers can achieve a fair return as they invest in facilities, equipment and people, and contribute to the strength of our nation.
"The objective should also be to reduce the negative impact of steel and aluminum imports that have decimated production in the United States.  The tariff levels the President announced will help to achieve that objective."
Sen. Sherrod Brown and Rep. Marcy Kaptur, both D-Ohio — a top steel state — praised Trump's tariffs.
"This welcome action is long overdue for shuttered steel plants across Ohio and steelworkers who live in fear that their jobs will be the next victims of Chinese cheating," Brown said. "President Trump must follow through on his commitment today to save American steel jobs and stop Chinese steel overcapacity from continuing to infect global markets. If we fail to stand up for steel jobs today, China will come after other jobs up and down the supply chain tomorrow."
"Steelmaking communities are being whipsawed by unfair global trade and illegal dumping of steel by foreign nations such as China and Russia," said Kaptur. "Though we have yet to see specific details, we are hopeful today's announcement will put an end to a long series of delays to much-needed action against a rigged global steel market. Our steelmaking businesses and workers need relief so they can compete on a fair playing ground."
Gerard leavened his praise of Trump's move with one caveat: Omit Canada. Trump's tariffs are worldwide, not just on top overproducers such as China, Korea and Vietnam. So they also apply to our neighbor to the north, where USW represents thousands of steel and aluminum workers.
"Canada is not the problem. The United States and Canada have integrated manufacturing markets and our union represents trade-impacted workers in both nations. In addition, the defense and intelligence relationship between the countries is unique and integral to our security. Any solution must exempt Canadian production. At the same time, Canada must commit to robust enforcement and enhance its cooperation to address global overcapacity in steel and aluminum," Gerard said.