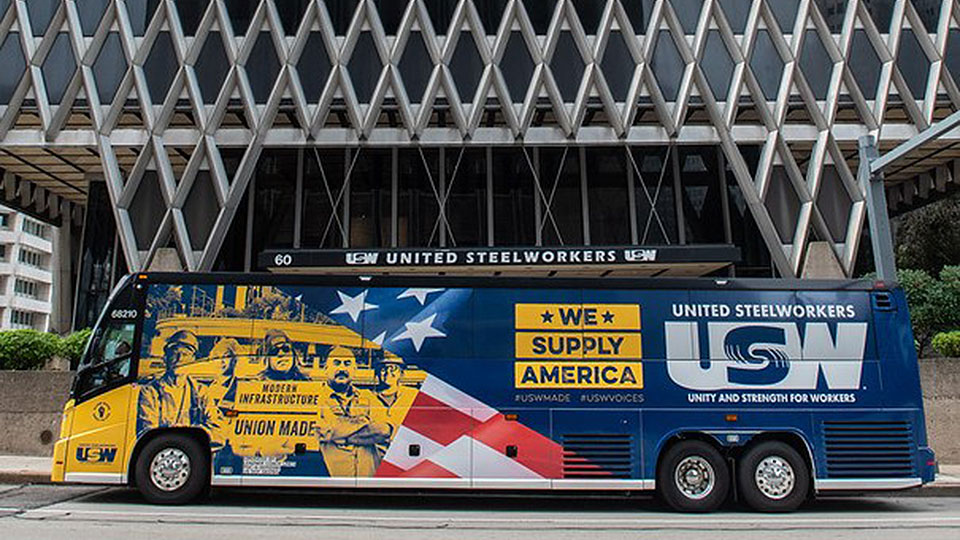 PITTSBURGH (PAI)—Rolling through the country from Northwestern Indiana to Tidewater Virginia and Wilmington, N.C., the Steelworkers' "We Supply America" bus tour brought home the need to revitalize U.S. infrastructure—including its supply chain of materials like steel and cement—using U.S. union labor.
The objective: To get workers and their allies, plus community residents to call, e-mail, or otherwise urge their lawmakers, of both parties, to remember that and vote for the $978 billion 5-year infrastructure bill now pending on Capitol Hill.
"This is not a sure thing," Steelworkers Vice President Fred Redmond warned at one stop. "We need you to press your legislators to move this bill. This is not a Rep or Dem issue, this is an American issue. We have an opportunity to make this happen, all we have to do is roll up our sleeves & get to work!"
Joined by USW local leaders, union President Tom Conway, Labor Secretary Marty Walsh—a member of Laborers Local 223—and several U.S. House members, the bus riders and their allies hammered home the message the nation's crumbling roads, creaky bridges, elderly subways, aging airports, and century-plus railroads and tunnels need to be rebuilt now. The "hard" infrastructure bill also would wire the nation for broadband and make it affordable.
And that union workers will do so, both providing the materials and the labor.
"Our infrastructure has been neglected for too long. We need major national investment to rebuild the infrastructure here in northwest Indiana and across the country. And we need to call on our elected leaders in Congress to make that happen," Steelworkers Local 6787 President Pete Trinidad said at the bus's first stop, near the steel plants of Chesterton, Ind.
"I just joined the @steelworkers on the first stop of their We Supply America bus tour," Walsh tweeted. "Through @POTUS's once-in-a-generation infrastructure bill, we will invest in American manufacturing and build 21st-century infrastructure through good-paying union jobs."
"We have an opportunity in this country to buy American and build American right now. We want to win the future for the U.S.," added Walsh, who then took a side trip to a brand-new union-built high school—with union-provided materials—and met Teachers leaders there.
But it's not just the "hard" infrastructure bill that's pending in Congress and it's not just that legislation USW pushed.
Biden and the House Democratic leaders, along with organized labor, are also pushing a $3.5 trillion bill that includes expanding child care, raising the pay of those workers, making paid family and sick leave permanent, increasing taxes on the rich, and vastly increasing fines for labor law-breaking, among other goals.
"We don't only need roads & bridges," said Roxanne Brown, USW's Vice President At Large and Legislative Director. "We need the infrastructure of the people of this country. It's not just the building of things, it's the parts that go into building things. You, your families, our communities are infrastructure."
Not just building but making American
Conway in particular stressed the importance not just of building American and buying American but of making American, especially in the supply chain. That's also a big Biden and labor theme. The coronavirus pandemic exposed U.S. dependence on supplies from abroad—supplies that could easily be interrupted or politically manipulated by foreign governments.
"We need a national infrastructure that keeps us safe, that is modern, that keeps our supply chains stocked with the materials we need, and that keeps the country moving in the right direction," said Conway, whose home local was 6787 in Chesterton. "As a union, we have the skilled workforce to accomplish all these goals.
"This is about so much more than fixing roads and bridges. We need an ambitious overhaul of our entire critical infrastructure from modern schools and health care facilities to state-of-the-art communications networks. Everything that USW members make and everything that we do contributes in some way to this vital project."
The tour took the We Build America bus from Local 6787 in Chesterton to Local 525 in Newark, Ohio, where members of Locals 9118 and 1237 spoke. It then proceeded to Weirton, W. Va., home of Weirton Steel and Locals 2911 and 419M. From Weirton, the bus traveled to Danville, Va. Members of Local 831L at the Goodyear tire plant there spoke. It then traversed Virginia, to Newport News and the unionized—by Local 8888—U.S. Navy shipyard.
The bus's southernmost stop was at a Corning plant, manned by members of Local 1025, in Wilmington, N.C., before the vehicle headed back to USW headquarters in Pittsburgh on August 20, there to host members of at least four locals, plus USW officers. The union posted videos of all the stops on YouTube.
Besides the bus, the union launched an electronic petition campaign and urged members to mass-mail postcards to lawmakers demanding they approve the two pieces of legislation. The petition is here.
Among the speeches and the exhortations, there was at least one light moment, when USW recruited—so to speak—a young member. Make that a very young member.
After Rep. Frank Mrvan, D-Ind., spoke in Chesterton, a short, blond girl with glasses, wearing blue shorts, tennis shoes and a dark blue USW shirt joined him on the podium. USW's report, via tweet:
"Stormy, daughter of a steelworker, told @RepMrvan, "I am in 4th grade & when I grow up I want to be a @steelworker." Wow, that just melted our hearts! #WeSupplyAmerica"