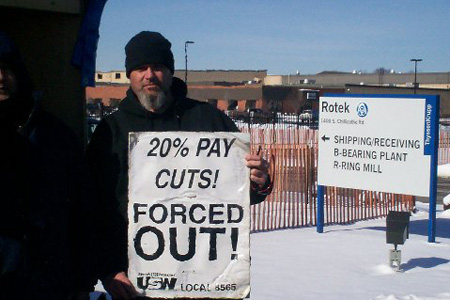 AURORA, Ohio – 120 members of United Steelworkers Local 8565 are picketing Rotek, Inc. around the clock protesting the roller bearing company's unilateral implementation of a contract slashing wages 20-30 percent as well as deep cuts in vacations, overtime pay and health insurance.
The company calls it a strike, but the union calls it a "force out," pointing to the action of a strikebreaking security firm that blocked entrance to the plant for the midnight shift Jan. 18 and the arbitrary imposition of across the board, unprecedented cuts.
Rotek said the action of the AFIMAC security guards was due to "miscommunication."
"In my 27 years of bargaining I have never seen anything like this," said USW Staff Representative Dennis Brubaker. "Even when LTV was in bankruptcy in 1986 they only wanted a $3.50 cut in combined wages and benefits. Rotek imposed $6 an hour cuts just in wages. That comes to about $10,000 a year for every worker."
"The mediator wanted to know why such cuts were needed," said union Vice Pres. Marcus Graves, a numerical control machine operator on the picket line, "but the company won't open their books."
As trucks and cars honked support along busy Chillicothe Road near the entrance to the Ohio Turnpike, the pickets gathered in front of a shanty in the snow, warming themselves from a smoking barrel full of burning logs, waving back to the traffic and talking about their predicament.
"It's not fair. It's not right," said Bill, a machinist. "It's classic corporate greed taking it out on the backs of workers."
He recalled the ugly past of Thyssen-Krupp, the giant steel and manufacturing conglomerate and Rotek's parent company, which funded and armed Nazi Germany. Alfred Krupp and co-defendants were convicted of crimes against humanity (plunder and slave labor) in the Nuremburg Trials. Fritz Thyssen, never convicted, was able to launder assets funding Hitler in Dutch and U.S. banks managed by Prescott Bush, father of Pres. George H. W. Bush, according to John Loftus, former U.S. Dept. of Justice Nazi War Crimes Prosecutor.
The pickets blamed Rotek's actions on Timothy Gudszend, the company's new president, a recent graduate in mechanical engineering from Stuttgart, Germany.
"This all started when Dr. Tim came in," Bill said.
"They wouldn't even negotiate until just before the contract expired Nov. 1," said Brubaker. "Then they terminated the contract extension in December and implemented the wage cuts Jan. 14."
"We should know next week if we'll get unemployment benefits," Brubaker said. "The mediator has set a new bargaining session for Feb. 19. We want to have some meaningful talks."
Rotek has tried with little success to recruit scabs. All of the 60 union members laid off last year have refused Rotek's attempts to have them cross the picket line and only a handful of strikebreakers, presumably recruited by AFIMAC, are shipping past orders and doing maintenance.
"There's no production going on here," Bill said, adding that some orders may have been transferred to the company's smaller nonunion plant in Florence, Kentucky.
Rotek makes slewing bearings, rings, which manufacturers attach to equipment that swivels, including wind turbines, telescopes, tunnel cutters and armored vehicle gun turrets. Wind energy has been Rotek's main customer in recent years but the company has suffered from intermittent demand due to the stopping and starting of federal production tax credits (PTCs) the emerging industry needs to compete with fossil fuels.
Pres. Barack Obama has pushed for the program and PTCs were reissued for 2013 as part of December's Fiscal Cliff agreement in Congress, meaning that any wind farm begun this year is eligible.
Photo: Union Vice Pres. Marcus Graves with picketers in front of the Rotek plant. Rick Vacha.