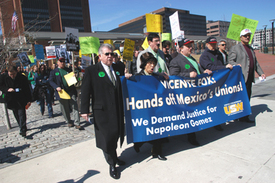 Steelworkers are rallying in front of Mexican consulates across the U.S. and Canada to demand that Mexico's President Vicente Fox reinstate the head of that country's miners union.
The pro-corporate Fox government has removed Napoleon Gomez Urrutia as president of Los Mineros, the 250,000-member national miners and metallurgical union, and frozen the union's assets. According to a USW fact sheet, the government's action came on the heels of a strike by Los Mineros. The miners were protesting a decision to seal a mine owned by Grupo Mexico and end rescue efforts just six days after an underground explosion trapped 65 miners on Feb. 19. Gomez accused Grupo Mexico of criminal homicide and the government of negligence.
In Philadelphia, an outraged USW delegation led a march of several hundred union members and supporters from the Liberty Bell to the Mexican Consulate, March 17. Speakers at the rally compared the abuse of workers' rights in Mexico to the plight of U.S. Department of Homeland Security workers who are fighting the Bush administration's attempts to take away their right to collective bargaining.
A delegation led by AFL-CIO Executive Vice President Linda Chavez-Thompson entered the consulate and presented a letter to Fox demanding Gomez's reinstatement. "When you tangle with our Mexican sisters and brothers, you tangle with us," Chavez said.
Similar actions were planned for Detroit, Portland, Ore., Indianapolis, Minneapolis and Chicago.
Gomez was a special guest at the Steelworkers convention last April where he and USW President Leo Gerard signed a "strategic alliance" committing the two unions to cross-border collaboration to take on "the power of global capital and multinational corporations."
Last year, when USW copper miners in Arizona were engaged in a tough strike at Asarco, a Grupo Mexico subsidiary, Mexican miners staged job actions at Grupo mines in support. "They helped us out. They put hundreds of people in the street," USW spokesman Gerald Dickey told the World. "Not too long after that we got the deal."
Dickey said the union is very concerned with the safety of Gomez and his family, whose assets have also been impounded. As word reached the USW that Gomez's driver had been arrested, the Steelworkers sent a delegation of miners and the head of the USW's international affairs department, Jerry Fernandez, to Mexico City to offer support to the family and the Mexican union.
Meanwhile a letter from Gerard to Fox condemned the Mexican government's actions as "a blatant attempt to stifle the voice of workers and all progressive unions in Mexico," coming a short time before the Mexican elections. Many Mexican union leaders say Fox is trying to deflect criticism of his failure to protect workers' lives at the mine by shifting blame onto the union. Gomez is one of a growing number of Mexican leaders condemning the negative impact of Nafta on Mexican workers.
USW Rapid Response District 7 Coordinator Brett Voorhies, who worked five years on the ball-bearing assembly line at Rexnord Linkbelt Assembly in Indianapolis, told the World he's been hanging out at his old union hall, USW Local 1999, with fliers about the upcoming Mexican Consulate action. Steelworkers get it that "forming these strategic alliances is something that needs to be done," Voorhies said. "So far we've got several hundred calls to the Mexican Embassy," he added with pride.