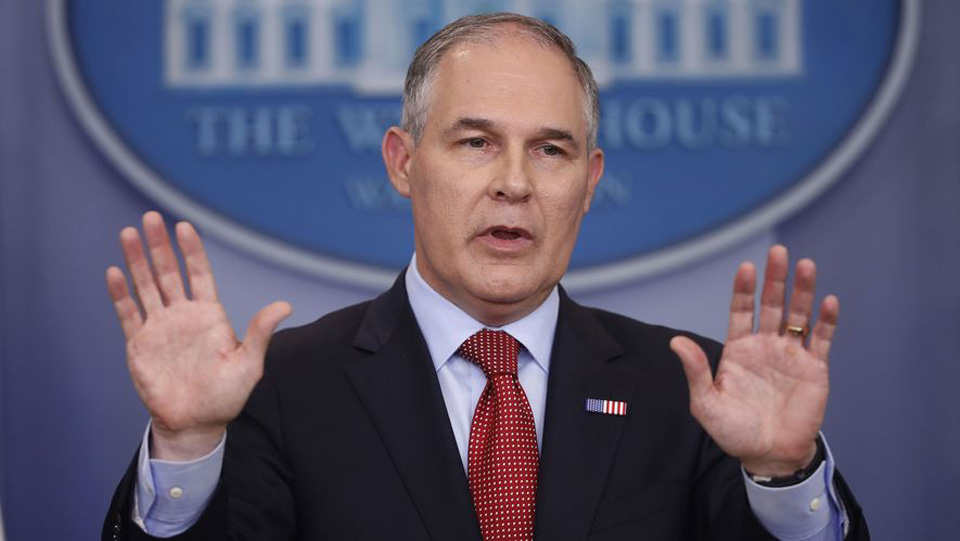 Scott Pruitt doesn't want you to know what hazardous chemicals are being manufactured or used in the plant next door.
And his decision, yanking a federal rule revealing the existence of such chemicals to workers, communities and first responders, has the Steelworkers and a top job safety and health specialist mad.
Pruitt, GOP President Donald Trump's Environmental Protection Agency administrator, gained notoriety as Oklahoma's Republican Attorney General for suing the agency he now runs on any environmental issue he could challenge, up to and including curbing the emissions that cause climate change.
But now that Pruitt's in charge of EPA, he's not suing it any more. Instead, he's yanking its rules that would protect people. In doing so, he's also parroting chemical company claims.
Pruitt's plan would, in essence, let the chemical firms return to the bad old days when they didn't have to tell communities, workers and first responders what chemicals are in their plants — and how dangerous they are.
He accomplished that by deciding in early July to again delay implementing updated Risk Management Protection for communities around the chemical plants for 20 more months, until Feb. 19, 2019, reports Jordan Barab, former deputy director of the Occupational Safety and Health Administration during the Obama administration, in his blog, Confined Spaces.
Pruitt said EPA wants "to conduct a reconsideration proceeding and to consider other issues that may benefit from additional comment." That's on top of a current 4-month delay. "We are seeking additional time to review the program, so that we can fully evaluate the public comments raised by multiple petitioners and consider other issues that may benefit from additional public input," the EPA notice adds.
"Or to simplify: What the chemical industry wants, the chemical industry gets," added Barab, a former union job safety and health director.
The Steelworkers, who represent workers in U.S. chemical factories, are upset.
"The EPA's delay is another tactic for the chemical industry to return to the days when companies didn't tell their workers or the surrounding communities about the
hazardous chemicals being used and the possibilities for a dangerous chemical reaction," Lynne Hancock, spokeswoman for the USW's sector that represents chemical workers, said in n email to this writer.
"It only makes sense for companies to inform workers about the nature of the chemicals they are working with and to give chemical information to emergency responders so they know what they are dealing with if there is an explosion and fire," Hancock added.
The 25-year-old risk management program was updated in 2013, following Obama's executive order for better chemical plant safety and security. Obama issued that order, which USW lobbied for, after the West, Texas, chemical plant exploded, killing 15 people, including 12 first responders. But Pruitt used that fire as a reason to yank the rule.
"It is disturbing the EPA is justifying its delay of the updated Risk Management Protection rule with unsubstantiated arson allegations about the cause of the West, Texas, fertilizer plant fire," Hancock said.
"It is the lack of company adherence to process safety management and failure to use inherently safer materials and processes that cause more workers, emergency responders and community members to be killed." Process safety management requires inspectors to probe an entire plant's manufacturing processes and products, not just individual machines.
Once such an inspection reveals hazardous chemicals, "the updated RMP rule helps avoid unnecessary deaths and injuries. Delaying it puts the lives of workers, emergency responders and community members at unnecessary risk," Hancock concluded.
Nevertheless, Pruitt used that Texas fire as a reason to yank the chemical revelation rule. Citing yet another federal agency, the Bureau of Alcohol, Tobacco and Firearms, Pruitt says arson caused the West plant fire. He claims that changed everything.
Barab said EPA's rule "significantly improved communication between facilities and emergency responders, clarified information emergency responders need to safely respond to incidents, required root-cause analyses of chemical plant incidents and near-misses, and required chemical facilities to consider 'inherently safer' chemicals and production processes.
"The most infuriating thing about this delay is not just that it caved into petitions from the chemical industry to weaken or repeal the rule, but that Pruitt's justification for reconsidering the rule was primarily based on the completely unsubstantiated 2016 allegation by ATF that the fire at West Fertilizer was caused by arson," he said.
"ATF inappropriately based that conclusion on the fact that it couldn't figure out how the fire had started, and concluded that it therefore must be arson." The chemical industry picked up that "and ran with it." Arson, the industry said, could have changed the whole background for Obama's order and EPA's rule. So it demanded EPA do so. Pruitt readily acceded.
"This statement" by the chemical industry "is demonstrably false," Barab noted. Nevertheless, in a response to the industry's petition, Pruitt noted the Clean Air Act lets EPA "reconsider a rule if there were issues that 'arose after the comment period or were impracticable to raise during the comment period,' and Pruitt wrote that he had, in fact, identified just such an issue," the alleged arson.
The U.S. Chemical Safety Board – which Trump wants to eliminate – found that "improper nitrate storage procedures" led to the West plant blast.
"If you look at the history of chemical facility catastrophes affecting workers and citizens in this country, you'll find that faulty plant management is much more effective than terrorism in killing Americans in chemical incidents," and not just at the West plant, Barab said.
"Modernization of safety oversight of U.S. chemical facilities is needed and President Obama's Executive Order and the RMP regulation moved the federal government further down the road to making these facilities safe for the workers who operate the plants, and the people who live near them," he concluded.