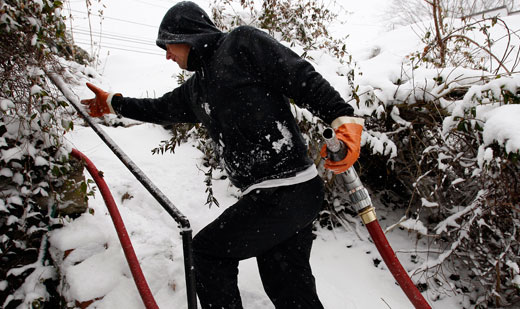 PHILADELPHIA – The Steelworkers are warning that major oil companies' closure of three big refineries in the Philadelphia area – and a plan to demolish one plant if its owner can't find a buyer – could lead to oil product shortages in the Northeast.
In a briefing to lawmakers in early January, and in reaction to the announcement of the demolition plan, leaders of three USW locals that represent the refinery workers are urging officials to step in.
The Sunoco plant in Marcus Hook, Pa., has already been idled, USW local union leaders told lawmakers on Jan. 5. That Sunoco plant and another in Philadelphia would close for good in July unless serious buyers were found.
The third plant, ConocoPhillips' Trainer, Pa., refinery, will be demolished at the end of March unless a buyer is found, plant manager Dave Erfert told USW Local 10-324 President Denis Stephano on Jan. 10, Stephano reported. ConocoPhillips closed Trainer at the end of September, idling 600 workers, including 234 union members.
Together, the three refineries process more than 700,000 barrels of crude oil a day. They're about 46 percent of regional refining capacity for a northeastern area of almost 6 million families. Pipelines are inadequate to replace them and, thanks to Hurricanes Katrina and Rita in 2005, the Gulf Coast lacks refining capacity to do so, too, USW said.
The union wants congressional hearings and federal action on the impact of the refinery closures and layoffs. The local union leaders said 2,500 refinery workers would lose their jobs, thousands of other workers who indirectly benefit from the refineries would lose theirs, and the region could face shortages of fuel oil for jets, cars, and heat.
"Why are our CEOs making permanent decisions when the refining economics affecting our three refineries are cyclical in nature?" asked USW Local 10-1 President Jim Savage, whose local is one of two representing the Sunoco workers. "Yes, Sunoco has lost money in eight out of the last 10 quarters but the company doesn't tell you the billions in profits that they made before that time."
"These refinery shutdowns will force small businesses to close, cost local governments millions of dollars in tax revenue and force schools to operate with millions of dollars less in funding," said Dave Miller, President of USW Local 10-901, the other Sunoco worker local. "We have a well-trained and experienced workforce at these refineries and we're ready to help a new owner or owners make a lot of profit."
Stephano was even more upset because ConocoPhillips sprang the demolition order on his members after previously saying it would try to sell the plant, not wreck it. "This is the first time the company gave us this information," Stephano said. "Erfert also informed us that, for the past 18 months, he had been on a committee to determine the fate of the refinery and many options had been explored, including idling, closure, and demolition.
"ConocoPhillips sends Erfert to attend the stakeholder meetings with union, community, and elected officials. Why didn't he notify the stakeholders months ago that demolition was one of the options the company was considering?" Stephano asked.
While all three local presidents called for congressional hearings on the impact of the refinery closure and shutdowns, Stephano called the office of Pennsylvania Gov. Tom Corbett to inform him of the company's action and ask him to intervene. There was no immediate response from Corbett, a Republican.
Photo: Deliveryman pulls himself up a snowy hill as he makes a heating oil delivery, in Newtown, Pa. Mel Evans/AP