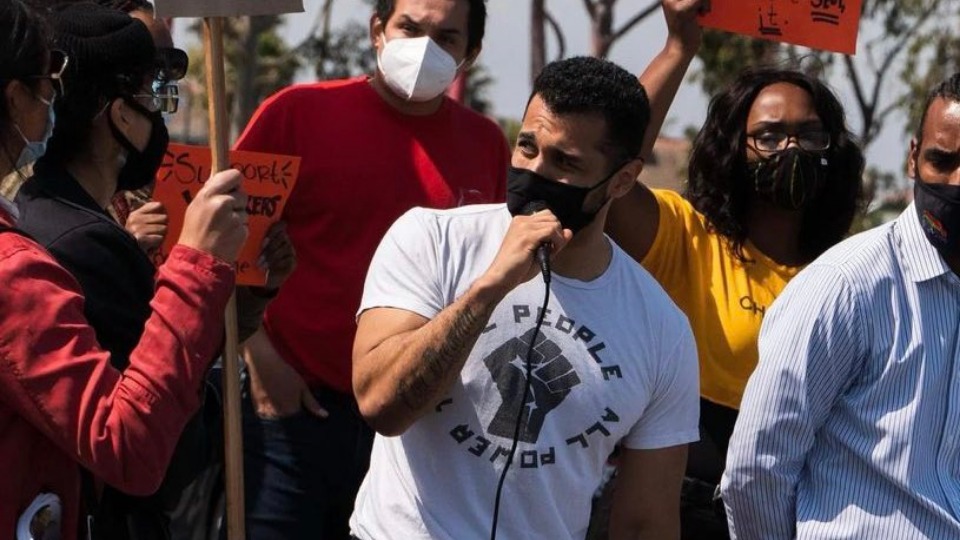 LONG BEACH, Calif.—Steven Estrada, a community organizer, U.S. Army veteran, and proud member of Long Beach's working class, is running for the City Council seat in District 1. If elected, he would serve for a four-year term alongside eight others representing different council districts.
All but one of the present City Council members are Democrats, and the mayor, Robert Garcia since 2014, is as well, though the election itself is non-partisan. The primary for this seat will be held in June 2022, and the top two candidates will go on to the general election in November.
What makes Estrada's campaign unique is that he is running as an open member of the Communist Party USA.
Will an article about his candidacy in People's World (PW) hurt him? "The primary goal of the campaign is to win," Estrada responds. "But also to disarm people from some common beliefs about what Communists believe in. We're not running from our principles, nor from the redbaiting. We need to answer those questions, teaching and educating people."
District 1 is located at the southwestern edge of the city, intersected across its middle by Anaheim St., adjacent to the Port of Long Beach. Together with the Port of Los Angeles in neighboring San Pedro, this shipping complex is the largest port in the United States, significantly helping to define the regional economy and accounting for thousands of jobs.
Through his work developing free food programs for the city's homeless, mobilizing against police injustice, and advocating for other working people's needs in the city, Estrada has become a familiar presence, dedicating himself in service to the everyday people that make his city run.
"Years of government inaction, corruption, and lack of solutions to municipal problems," he says, "made it clear that it is time for a bold vision for the future of our city."
City Councilwoman Mary Zendejas got into office through a special election in 2019 and will be defending her seat for the first time next June. PW asked Estrada why he's running against her. Not bold enough?
"There are glaring contradictions in the way Long Beach is run," Estrada replies. "It's a diverse city, racially, ethnically, with good LGBTQ representation. But on economic issues, there's high poverty, homelessness, rent increases, no tenants' rights in a majority rental city. The real estate developers have the final say on what happens in Long Beach, and the people suffer. In District 1, 22-25% are below the federal poverty line. It was time for a candidate to run on a pro-worker program."
Steven's story
Steven Estrada's life is a testament to the resilience and strength commonly found among working-class people. He was born in Glendora, Calif., and raised with an absent father in Riverside, primarily by his grandmother during his formative years. It was from her that he picked up his conversational Spanish, though he claims it's not yet quite adequate enough for him to explain the programmatic points of his campaign. His wife, from Perris, Calif., came from a Spanish-speaking home and it's her first language.
At the age of 19, shortly after graduating from high school in 2010, he enlisted in the U.S. Army as a way of paying for his future education, graduating from basic training in 2011. During his stint in the Army, he rose to the level of Sergeant, qualified as a paratrooper, and deployed twice to the Middle East. PW asked how he reflects back on his military career now, and why he emphasizes his veteran status so prominently in his campaign.
"I feel a strong connection to others who went into the service, though I see it now as exploitative, targeting underserved people. I knew my immediate jobs and assignment, but I was confused and disillusioned about what it was that we were doing. What was the bigger picture? My reading now shows me we were in service to the rich, against poor people in other countries. But service doesn't need to be that way. Long Beach has a large VA hospital, several recruitment centers, and a lot of vets live in Long Beach. There was a Veterans for Peace chapter in Long Beach, and some of us are trying to revive it."
Upon his return to civilian life, he attended community college in Riverside, then commuted for a time to Long Beach State University, finally moving to the city in 2018. He graduated in 2019 with a degree in sociology and trained as a legal assistant. Now a veteran and a father, he uses his skills and experiences as a community organizer "to build worker power."
Since moving to Long Beach, he has helped found mutual aid networks that feed the unhoused population in Long Beach, has aided in the organization of anti-war protests, and been a vocal critic against police violence. His work providing groceries and meals left him wanting something more, a national structure for effecting change, and he started looking into the Communist Party. He's been a member for about two years now.
Steven's party club has been active in the campaign, often going door-to-door wearing Long Beach CPUSA t-shirts. Others are involved as well—"people I knew before, family members, helping with online work and graphics. My mom went to one outreach event and got a whole lot of petitions signed, so she's growing politically, having never been involved before. When we're getting ready to leave the house to do campaign work, my six-year-old daughter asks, 'Are we going out to do Power to the People?'"
As the representative of District 1 on the City Council, Steven Estrada believes it is only through the organization and unity of working people that we can solve poverty, unaffordable housing, and make Long Beach home again. The campaign is "completely grassroots," he tells PW. "We have no affiliation to real estate consulting firms, no large political contributions, such as police unions, PACs, or developers. The campaign depends on people who work for a wage because those are the people we are beholden to should we win."
PW inquired about the campaign's color scheme, and Steven chuckled at the question. "I actually did a lot of research into colors," he answered. "The yellow stands out bright and bold, like the sun, a new era. I didn't like the 'socialist red.' This red is deeper and darker, with a seriousness to it, bold but moderate."
Priorities for Long Beach
The Estrada campaign is focused on a number of key issues that have emerged out of long hours of meet-ups and discussions in the district:
No Poor People in a Rich City. District 1 is in the midst of a poverty crisis that has raised rates of homelessness, increased crime, and economically devastated the community. Estrada proposes major reinvestment in urban neighborhoods by providing free job training, city grants for debt alleviation, and immediate financial relief for the city's unemployed.
Public Transportation Fixes the Parking Crisis. To solve issues of parking and overcrowded streets, public transportation must be transformed. The Estrada plan will increase ridership and decrease the need for parking by investing in making public transportation faster, safer, more reliable, and fare-free for all Long Beach residents.
A Renters' Bill of Rights. The City Council has shown itself to be deep in the pockets of large banks and luxury developers, which have failed to build affordable housing for all. The Estrada campaign proposes to establish a Renters' Bill of Rights that would: grant renters direct control over the types of housing built in the city; protect tenants' rights to organize; cancel back rent due to the COVID-19 pandemic; and end all evictions in the city.
Move the Money. Long Beach spends close to half of its General Revenue budget on policing solutions that have failed to keep residents safe. To address crime, Estrada proposes to address what is at the root of crime. The city must shift funding to bolster mental health resources, fund youth projects, and create sustainable, high-quality jobs to keep communities safe and free from crime.
Planet Over Profit. West Long Beach is home to some of the highest levels of pollution that negatively affect community health and disproportionately impact the working-class and Black and brown neighborhoods. Estrada will fight to make Long Beach green, sustainable, and healthy for all of its residents.
The would-be Communist Councilman
So, what kind of response is he getting as an open Communist in the community? "It's varied. In the most working-class areas without public services, people are more receptive, especially about free public transportation. Nine out of ten are not fazed by my presenting myself as a Communist. There's not a lot of hostility—most of that we see online. We're just now getting the full spectrum of reaction. I expected some public backlash, and I felt I was prepared for it. I think I can handle it."
When he was growing up, Estrada recalls, "I didn't have people to identify with, so I feel the campaign is important for people to see someone running who looks like them, overwhelmingly Black and brown and working-class."
PW asked one final question, based on some of his campaign photos where he can be seen sporting prominent tattoos on both forearms. "I'm not hiding any aspect of who I am. I'm open and honest about everything, not hiding any of the choices I made, like being a veteran. The whole campaign is about that. Actually the imagery is Buddhist and it's about "duality, or dialectical materialism." He still considers himself a Buddhist.
Check out the Estrada campaign: