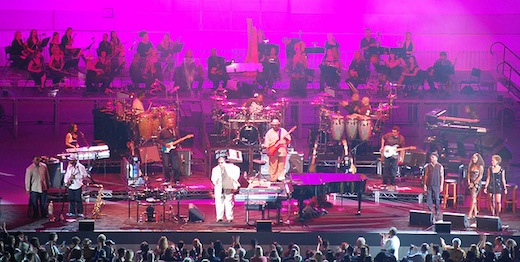 Musical artist Stevie Wonder vowed to "never perform" in the state of Florida while the National Rifle Association-backed "stand your ground" law is in effect.
In a video posted on YouTube, the 63-year-old singer said at a concert in Quebec City, Canada, on July 14, that until the law is abolished in Florida, he will "never" perform there again.
"Wherever I find that law exists, I will not perform in that state or in that part of the world," Wonder said.
(story continues after video)
The "stand your ground" law supposedly allows people to use deadly force if they believe their life is in danger, which led to George Zimmerman's acquittal in the killing of unarmed teenager Trayvon Martin. However, the law does not seem to apply to Black Floridians, critics say, as was the case in 2012 when an African American woman, Marissa Alexander of Jacksonville, Fla., fired warning shots at her husband, wounding no one. While she feared for her life, she got a 20-year jail sentence instead of an acquittal under the so-called self-defense law.
Wonder has often used his celebrity status to celebrate and promote important causes. The great musical genius spearheaded the campaign for a national holiday to honor the Rev. Martin Luther King Jr., writing a song simply titled "Happy Birthday," which became the anthem for the national holiday movement. Wonder also boycotted the state of Arizona for its refusal to recognize the federal holiday, which was observed for the first time in 1986. Finally, in 1992, voters overwhelmingly approved a referendum that included the King holiday in the list of official state holidays.
The Justice For Trayvon movement also got a boost from other artists, including The Boss Bruce Springsteen. At a show in Limerick, Ireland, Springsteen performed his song, "American Skin (41 Shots)," dedicating it to Martin.
"I want to send this one out as a letter back home," Springsteen reportedly told the crowd. "For justice for Trayvon Martin." Originally released in 2001, "American Skin (41 Shots)" was written by Springsteen after the 1999 shooting death of Amadou Diallo. Springsteen played the song for the first time on his current tour in Tampa, Fla. in March, weeks after the state witnessed the shooting death of Martin by Zimmerman. Beyonce, and Young Jeezy have also spoken out for the teenager and his family. Beyonce held a moment of silence for the young man at a recent show, and Young Jeezy penned a song in his honor called "It's a Cold World (A Tribute to Trayvon Martin)."
Photo: Stevie Wonder performs at the Hollywood Bowl in Los Angeles on July 7, 2008. (Burns!/CC)